Key Takeaways:

Microsoft Loop users can now integrate Planner boards directly into Loop pages.
The feature allows users to view and update a plan with the Planner's board view directly within the Loop app.
The new Planner component is available for Office Insiders in Loop for the web, with support for Loop-enabled apps to follow later.
Microsoft has started testing a new Planner component within its Loop web app. This integration simplifies teamwork by allowing Loop users to add links to Planner boards to Loop pages and update them directly from the app.
Microsoft Loop is a popular collaboration platform that launched in preview back in March this year. It allows users to collaborate on projects in real time with Loop components. These components can be shared across Teams, Outlook, Word, and other Microsoft 365 apps.
"If you're actively using tasks.office.com (Planner), you can bring all your existing Planner board views into your Loop workspaces. You can copy and paste Planner links into your emails, whiteboards, Teams channels and chats, and start collaborating from there. We'll introduce new features like recurring tasks and new views to enhance your experience over time," the Office Insider team explained.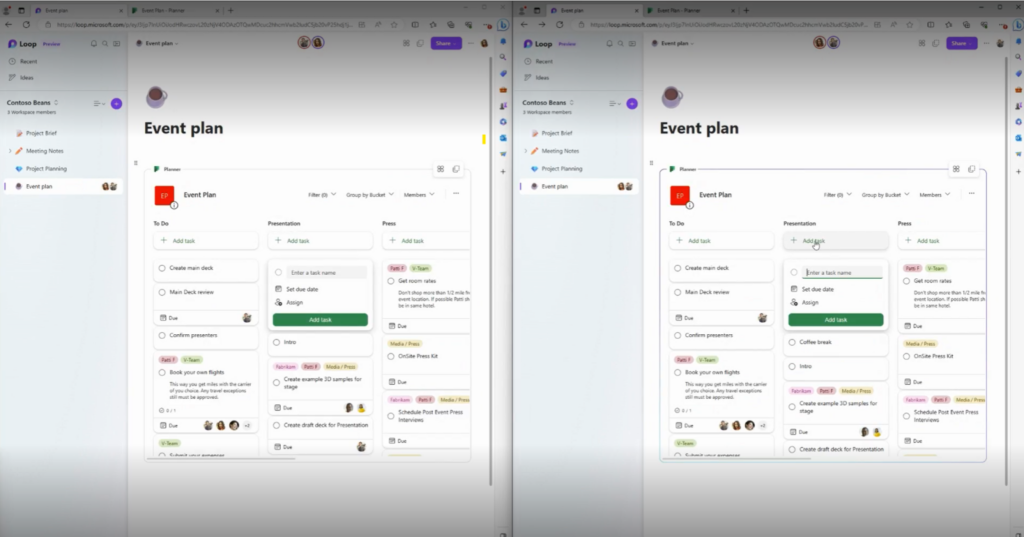 Microsoft explained that users can paste the different Planner links to view multiple Planner boards on the same Loop page. Users can also add new tasks and buckets to their Planner board directly from Microsoft Loop.
Additionally, the new Planner integration lets users add/remove members, assign tasks to other people, edit task details, and add comments. Microsoft Loop users can also drag tasks between buckets and use the Group by or Filter by options for sorting.
How does the new Planner integration work in Microsoft Loop?
Launch the web browser and type tasks.office.com in the address bar.
Create a new plan or open an existing one in Microsoft Planner. Now, navigate to the address bar and copy the link to the plan.
Open Microsoft Loop in a new browser window and open/create a new workspace.
Finally, paste the Planner link into the body of a new or existing Loop page.
Microsoft notes that the new Planner component is currently available for Office Insiders in Loop for the web. However, users will need to sign into their work accounts to paste a Planner link into the Loop pages. The company also plans to add support for Loop-enabled apps, though there is no ETA yet.
In case you missed it, Microsoft Loop has recently added a new integration with Trello and Jira. This release lets users update their Jira and Trello boards without leaving the Loop application, and you can find more details in our previous post.