Microsoft Ignite 2015 Keynote Highlights for IT Pros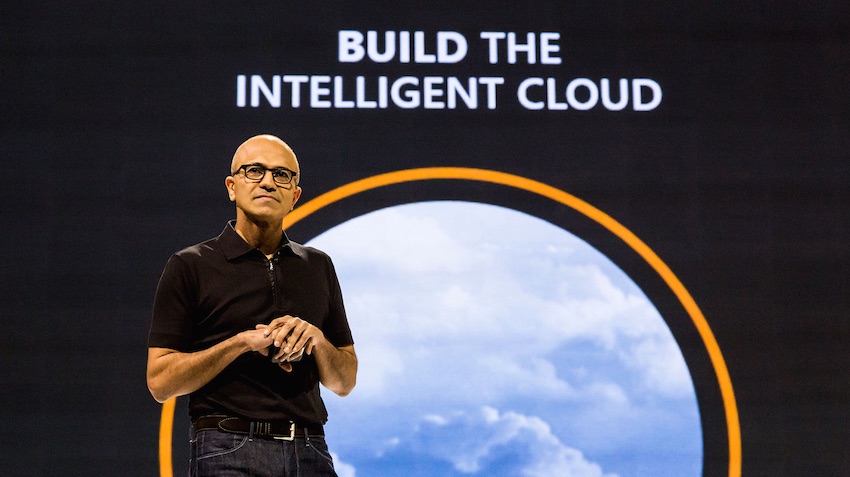 Satya Nadella took the stage on May 4th to launch the inaugural Microsoft Ignite conference in Chicago with his keynote speech. This was a presentation that was aimed directly at IT pros, something that Microsoft has failed to do very well in recent years. In this post I will note what I thought was important from his presentation.

Microsoft Ignite: Themes
Microsoft subtitled Ignite as "Spark the Future". That message was initiated with rapper, Common, walking to the stage through the crowd, and talking about how a person can create inspiring change. Clearly, Microsoft wants us IT pros to be that spark of change. But how? Nadella laid out his 3 interlocking ambitions:
The era of more personal computing: In Microsoft's opinion, the thing that is important is not the mobility of the device, but the mobility of the user experience. Users want to work on one device, and be able to continue that work on another. Technologies that we manage, such as Active Directory and OneDrive for Business, are the enablers of this experience in the business.
Reinventing the process of how we work: Windows 10 is designed for the way we work today. Mobility and cross-device type availability (Universal Apps) enable user mobility, and with these technologies we have enablers for changing how we work together. For the first time, the installed version of Office (2016) will support cooperative editing of documents. Technologies such as Skype for Business will offer new ways to collaborate and communicate.
Building intelligence the intelligent backend for these applications: Today, most of the mobile experience is disconnected and there is little intelligence. What is the point of all the data that is retained by business if that data is not being used? The cloud, Microsoft owned and hosting company owned public clouds as well as company owned private clouds, offers the ability to create the intelligence that turns "big data" into useful information, and integrates the otherwise disconnected experiences of users. The compute and fabrics of these clouds, and the hybrid connectivity that will be required does not magically appear out of thin air.
Satya Nadella described IT pros as the people that will drive change in their employer's or customers' business, make these ambitions possible, and bind the paths forward together. For the first time in years, Microsoft reached out to IT pros and made them feel important. In recent years, the focus has been on developers, making IT pros feel unnecessary in the Microsoft world. Now we know that Microsoft understands that without IT pros there is no path forward for Microsoft. We are the people that will deploy Windows 10, Office 2016, make hybrid services such as Office 365 and Skype for Business work, and build those cloud services (on premises, in public clouds, or more likely hybrid deployments) that deliver intelligence and a unified mobile user experience. Yes, IT pros, we have value!

Microsoft Ignite News
In my own opinion, the biggest news was the official naming of Windows Server 2016 (WS2016) and System Center 2016. Technical Preview 2 (TP2) of WS2016 was launched this week, along with builds for Windows Server Essentials 2016 and Hyper-V Server 2016 (the free hypervisor is in development too). A second preview release of System Center 2016 is also now available.

Microsoft also announced that their on-premises or hosted cloud solution will be evolving from Microsoft Azure Pack to the Microsoft Azure Stack. The name provides clues to important changes. Customer feedback was that those who deployed the Azure Pack loved the Azure-like experience, but it only offered a subset of features from Azure. The Azure Stack is coming with the new user UI from the Azure Preview Portal ("Ibiza"). Very interestingly, a future preview release of Windows Server 2016 will support Azure storage features such as blobs and tables. This will bring Azure's storage system to hosted or private clouds, making things very interesting for IT pros that like to learn!
The public preview of Office 2016 was also launched. Office, like Windows, has moved to a new way of being developed. Other new tools that Microsoft announced include:
Skype for Business Broadcasting
Office Delve for business
SQL Server 2016 preview
Advanced Threat Analytics, monitoring environments for attacks or vulnerabilities
Operations Management Suite, described as EMS for servers, a cloud management solution for servers on any cloud, any hypervisor, and any OS.
The Evolution of Windows
Windows 10 is the "canary in the mine" of Microsoft. Not since Windows 7 have we seen user and business engagement in the development and testing of a Windows client operating system. The Windows Insiders program was quoted many times as a driver of change in the builds of Windows 10 by Joe Belfiore, corporate VP in the operating systems group at Microsoft. As he did last year at TechEd Europe and TechEd North America, Belfiore stressed that Windows 10 needed to be familiar to Windows XP and Windows 7 users, while including elements of change that are required for modern computing.
There were many demonstrations by Belfiore, Julia White from the Office group, and Brad Anderson, each showing off solutions that helped Microsoft accomplish their three interlocking ambitions.
Belfiore demonstrated how a business user could start a PowerBI query, enabled by Azure Active Directory integration with the on-premises AD, with "Hey Cortana …". While I have "The Curse of Zune" reservations about Cortana, this was a great demonstration of how natural spoken language could be used by an ordinary business user to retrieve useful information from "big data" using technologies that IT pros integrate and manage.
Advanced Threat Analytics is a solution for monitoring the security of on-premises environments. Security threats to business have evolved. Patching and running anti-virus are just not enough; the antivirus companies will admit that they cannot keep up with the amount of malware, much of being zero-day threats, that is released every day. Many attacks start with an email attachment or a compromised identity. Brad Anderson discussed how this new solution will complement existing security solutions by scanning for threats. An interesting feature is that Microsoft will be scanning the "dark net" looking for sales of identities from your Active Directory (on-premises and/or Azure) and will alert you to compromised credentials.

Microsoft Ignite Keynote: A Summary
The very long and very full keynote reached out to IT pros to bring them in from the cold and back into the Microsoft family. There has been a realization that, without IT pros, Microsoft cannot deploy the solutions that they want to sell to business. The keynote had a difficult challenge: how to talk to the wide variety of delegates that included developers, IT pros, DBAs, SharePoint admins, and so on? Microsoft went with an approach that I felt like was important; don't talk about products, talk about solutions that are made up of hybrid deployments. This, in my opinion, was very successful, even if over half the room was empty by the end of the over-long keynote.