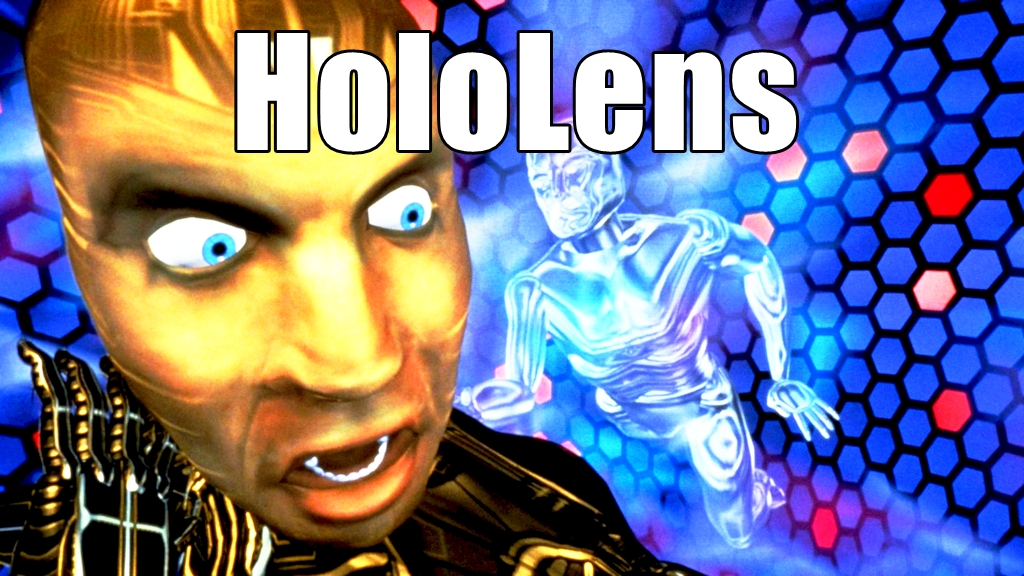 Microsoft HoloLens is now available to all. Redmond wants more businesses and developers to get going with its augmented-reality Windows headset.
No longer do you need an invitation—in the U.S. and Canada, anyway. And along with the latest build of Windows 10 come a container-load of exciting new, enterprisey features.
But it may (or may not) still cost $3000. In today's IT Newspro, we mow the lawn like it's 1992.
Your humble newswatcher curated these news nuggets for your entertainment. Not to mention: Car alarm drops sick beat…
What's the craic? Mary Jo Foley effects sound reporting: [You're fired -Ed.]
Microsoft is starting to roll out [HoloLens] to business customers…beyond developers and a handful of…business partners. [You] have the option of buying up to five devices.
…
The Commercial suite features include Kiosk Mode…Windows Update for Business…BitLocker…Work access over VPN [and] a private Windows Store. … I've asked Microsoft…how much business users should expect to pay…but haven't heard back.

May someone please tell us more? David Meyer may—Microsoft Wants Businesses To Start Playing With…HoloLens:
The HoloLens Commercial Suite…includes the HoloLens Development Edition [plus] features for enterprise users. [They] get mobile device management, [can] encrypt the data on the device, and [can] remotely access their corporate networks.
…
A "kiosk mode" [lets it] run only certain apps…and IT departments can also set up private app stores. [At] $3,000 a pop…for many businesses…that's probably not so expensive.

So who do we know who already has one? Oh yeah, Rafael Rivera has two. He notes Windows 10 Anniversary Update Now Available For HoloLens:
You may recall, the first update for HoloLens…landed in May. … The August 2016 Update…brings Bluetooth controller support…a toggle for Windows Insider…and a heap of [bug] fixes.

Where is our horse's mouth? Microsoft technical fellow Alex Kipman has all the Updates:
We've been absolutely amazed…by the creative…companies building real solutions using HoloLens. … I'm inspired by the experiences you are creating.
…
Some exciting changes are on tap with this release. … Companies are looking for a solution they can confidently pilot and deploy [so] we are introducing the Microsoft HoloLens Commercial Suite.
…
Check out our documentation page for the full list of things we've been working on. … Let's continue to define the future of computing together!

But how did we get here? Adi Robertson adds Anyone (with $3,000) can now buy [it]:
Microsoft kept HoloLens under wraps [and] carefully vetted would-be buyers. … We don't know how many HoloLens kits are actually in the wild.
…
We still haven't seen a consumer edition. … But companies and research institutes…have been working on a wide variety of potential uses.

Such as? Martyn Williams spins Microsoft opens up HoloLens sales:
One such application was demonstrated at [the] Developer Conference. … Japan Airlines showed a HoloLens app that lets engineers get up close with a [virtual] jet engine. The app can…show how different components work together—in a way not possible with a real engine.

Meanwhile, where on Earth is the Pokémon angle? Here's James Farrell, who says Redmond is finally letting HoloLens loose:
If you've not been living under a rock…you've probably heard about Microsoft's augmented reality headset. [You] might be entranced right now with [an] AR game called Pokémon Go, but it was Microsoft's…own AR reality headset that really blew our minds back in 2015.
…
[Last month] Satya Nadella acknowledged the success of Pokémon [but he] has his mind on a grander vision.
Buffer Overflow
More great links from Petri, IT Unity, Thurrott, and abroad:
And Finally
Dying car alarm drops sick beat
[hat tip: Rob Beschizza]

Here's the two-minute extended version
You have been reading IT Newspro by Richi Jennings, who curates the best bloggy bits, finest forums, and weirdest websites… so you don't have to. Hatemail may be directed to @RiCHi or [email protected].
Ask your doctor before reading. Your mileage may vary. E&OE.
Main image credit: New Line Cinema