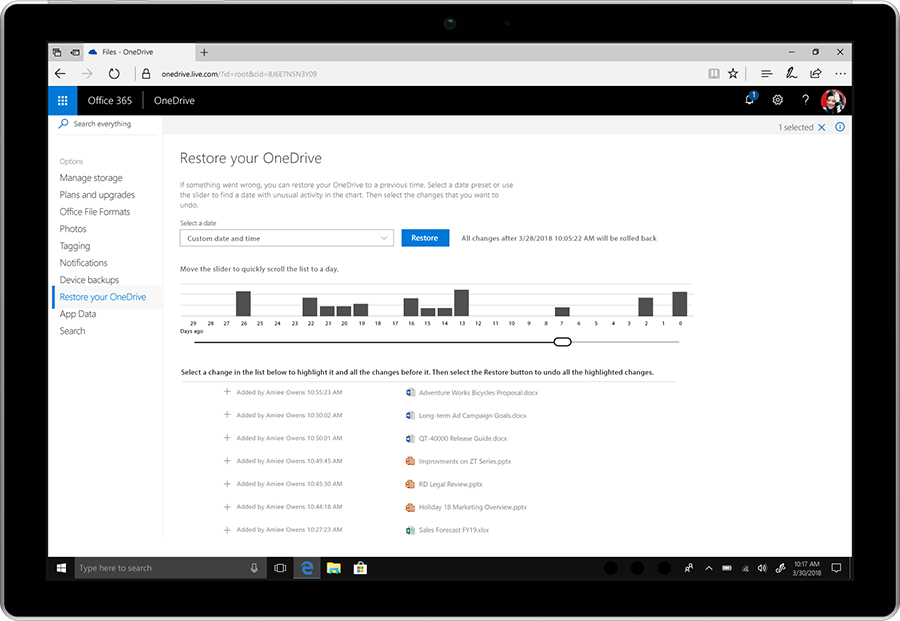 Microsoft's Office 365 platform is a guiding light for the company when it comes to showing how to turn traditional software into a service. The suite of productivity applications has become popular in the corporate space and has strong traction with consumers as well.
Announced today, Microsoft is expanding the advanced protection capabilities of Office 365 previously available to corporate users, to consumers. This includes features like file restore, passwords protected sharing links, email encryption and a lot more.
Microsoft is bringing Files Restore that was previously only available for OneDrive for Business to all OneDrive users which will help you recover from a ransomware attack. This feature lets you restore a file to a previous point in time during the last 30 days – this can help with accidental mass delete, file corruption, ransomware, or another catastrophic event.
In addition to being able to restore files, Office 365 can also detect ransomware attacks and help prevent the spread of the infection. With this feature, you will be alerted if an attack is detected on your data and using Files Restore, recovering a large batch of files will make recovery a lot easier for the user.
One of the big feature requests for sharing content is finally coming to all users as well, the ability to share password-protected links.
On the email side, Microsoft is bringing email encryption to Outlook.com which may sound trivial, but with a wide variety of email platforms and vendors, it can be complex. When using this feature, Microsoft says that the recipients receive a link to a trusted Office 365 webpage where they can choose to receive a one-time passcode or re-authenticate with a trusted provider before viewing the email.
Microsoft's goal with all of these features is to make Office 365 the most robust, secure, and collaborative productivity suite on the planet. With its previous hallmark product, Windows, taking a backseat, Office 365 is stepping up to be the premier service that Microsoft offers to both the consumer and the enterprise.