Microsoft has rolled out new Windows compatibility reports for Microsoft Endpoint Manager (MEM) in public preview. The new capabilities should enable IT admins to assess the application and driver compatibility of all devices prior to a feature update or Windows 10 to Windows 11 upgrade.
First up, the Windows feature update device readiness report details the compatibility risks for each device that could occur during or after the deployment of a feature update/upgrade. Moreover, the Windows feature update compatibility risks report provides a summary of top compatibility risks that need to be addressed across an organization.
"As organizations plan to upgrade to Windows 11, we're committed to ensuring that applications and drivers remain compatible. While Windows has extended our application compatibility promise to Windows 11, we also understand that some organizations want proactive data around compatibility risks to be confident that the specific apps and drivers used in your organization will not be an issue," Microsoft noted.
How to access Windows compatibility reports in Microsoft Endpoint Manager
To get started, IT administrators will first need to sign in to the Microsoft Endpoint Manager admin center. Head to Reports >> Windows updates and click the Reports tab. Finally, choose the Windows Feature Update Device Readiness Report (Preview) or Windows Feature Update Compatibility Risks Report (Preview) option.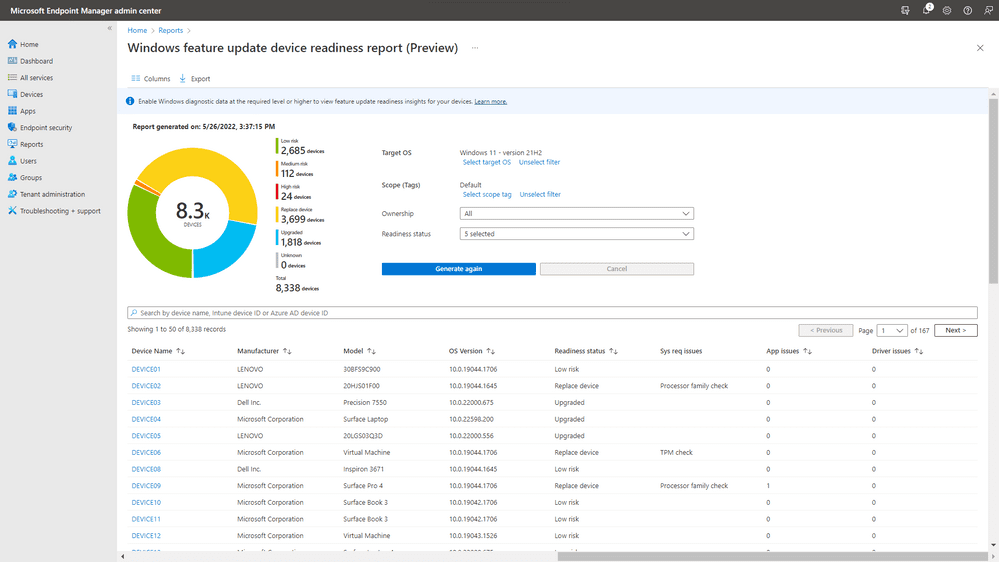 According to Microsoft, the Windows compatibility reports are available for all Endpoint Manager devices running supported versions of the OS. However, users will need an active Windows 10 or 11 Enterprise E3/E5, Education A3/A5, or Virtual Desktop Access (per user) subscription to access them. The licensing requirements and device eligibility criteria are available on this support page.
Microsoft is reminding customers that it will retire its Desktop Analytics service on November 30. The company advises IT Pros to switch to the new Windows compatibility reports to plan upgrades in their environments. It is important for IT teams to ensure that their enterprise devices are "devices are Azure AD joined or hybrid Azure AD joined and that they have tenant attach or co-management enabled."