Microsoft has introduced support for mixed licensing in its Microsoft Defender for Endpoint solution. The new capability allows IT admins to control how licenses are applied to client devices in enterprise environments.
Microsoft Defender for Endpoint is a security solution that provides threat detection and response capabilities to protect endpoints (such as laptops, computers, and servers). Up until now, Microsoft Defender for Endpoint didn't provide support for mixed licensing scenarios. The highest functional subscription would be given priority in the case of multiple subscriptions.
With mixed licensing support, customers can use different Microsoft Defender for Endpoint licenses on different devices without configuring multiple subscriptions. This means that organizations can use a combination of Defender for Endpoint Plan 1 and Plan 2 licenses. IT administrators can access a report with information about the current license state and usage.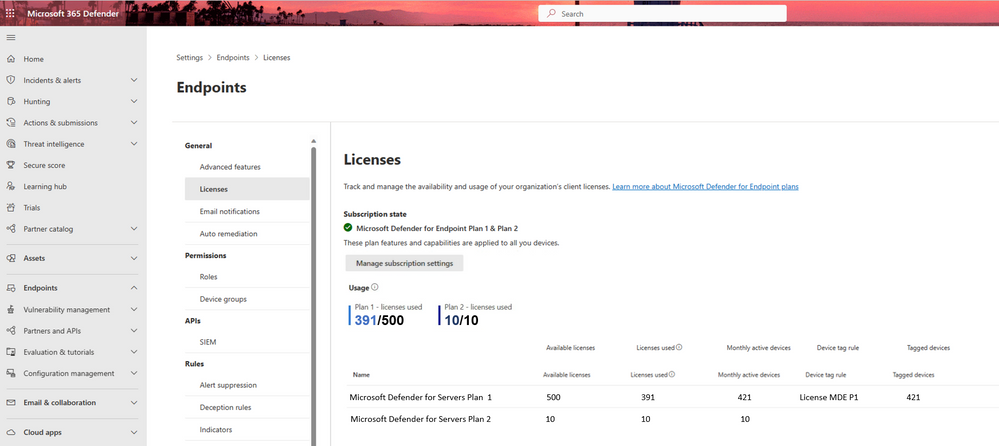 According to Microsoft, mixed licensing support should help organizations to optimize license usage and save costs. The new capability also makes it easier to ensure compliance with licenses in enterprise environments.
Microsoft Defender for Endpoint's mixed licensing support available in preview
Microsoft has acknowledged a couple of limitations as well. Currently, mixed-mode settings only apply to client endpoints. Moreover, it's not possible to assign user licenses in the Microsoft 365 admin center for mixed-licensing scenarios. Microsoft noted that mixed-license scenarios are not supported for Microsoft Defender for Business.
Microsoft says that mixed-licensing support is currently available in public preview for Defender for Endpoint. However, organizations should have active trial or paid licenses for both Defender for Endpoint Plan 1 and Plan 2. Microsoft has published a step-by-step guide to help IT admins enable mixed mode in their tenants, and you can find more details on this support page.