Microsoft has announced the public preview of its new Microsoft Defender for APIs solution. The new powerful tool enables organizations to improve the security and management of their "business-critical APIs."
Microsoft explained that Defender for APIs is available as part of its Microsoft Defender for Cloud service. It's a security solution that protects cloud-native applications against identity-based attacks.
"Now through the integration of Defender for APIs with Azure API Management, security teams can use the Defender for Cloud portal to gain visibility into these business-critical Azure APIs, understand their security posture, prioritize vulnerability fixes, and detect and respond to active runtime threats within minutes – using machine-learning powered anomalous and suspicious API usage detections," Microsoft explained.
Microsoft's new Defender for APIs solution enables IT admins to monitor all managed APIs in a single dashboard. It also leverages AI to analyze details about external, unused, or unauthenticated APIs. The feature makes it easier to detect security flaws and protect APIs in enterprise environments.
Additionally, Microsoft Defender for APIs enables administrators to monitor threat intelligence feeds and runtime traffic as well as access threat detection alerts. It provides security recommendations to let customers enhance their API security posture. This capability should help to harden API configurations to mitigate critical security risks. Other capabilities include API data classification that could be useful for risk prioritization tasks.
Microsoft Defender for APIs provides SIEM Integration
Microsoft Defender for APIs integrates with several security information and event management (SIEM) systems to facilitate threat mitigation activities. The service also provides seamless integration with the Cloud Security Graph in Defender Cloud Security Posture Management (CSPM).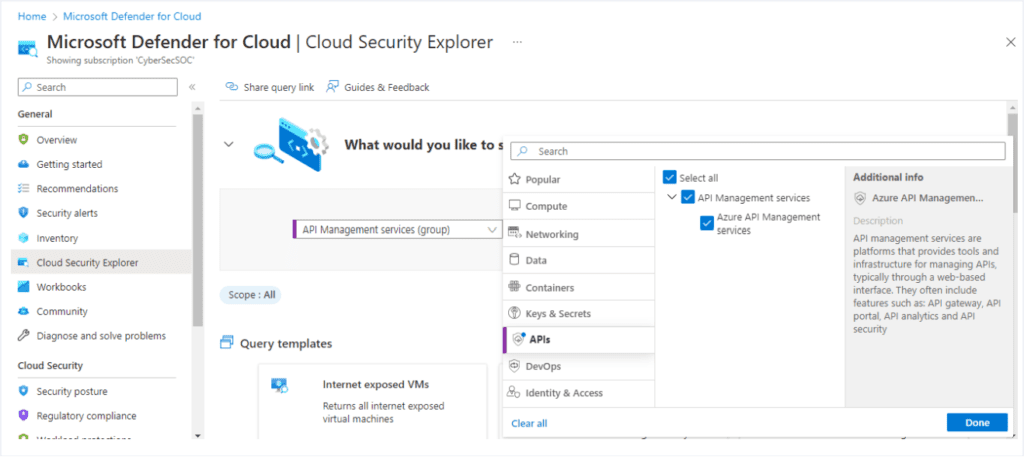 Microsoft notes that IT admins can view security recommendations and alerts within the Azure Portal or Microsoft Defender for Cloud Portal. Microsoft Defender for APIs is available in preview for commercial customers in most Azure regions. Let us know in the comments below if you think that the tool will help security teams to protect, manage and optimize API infrastructures.