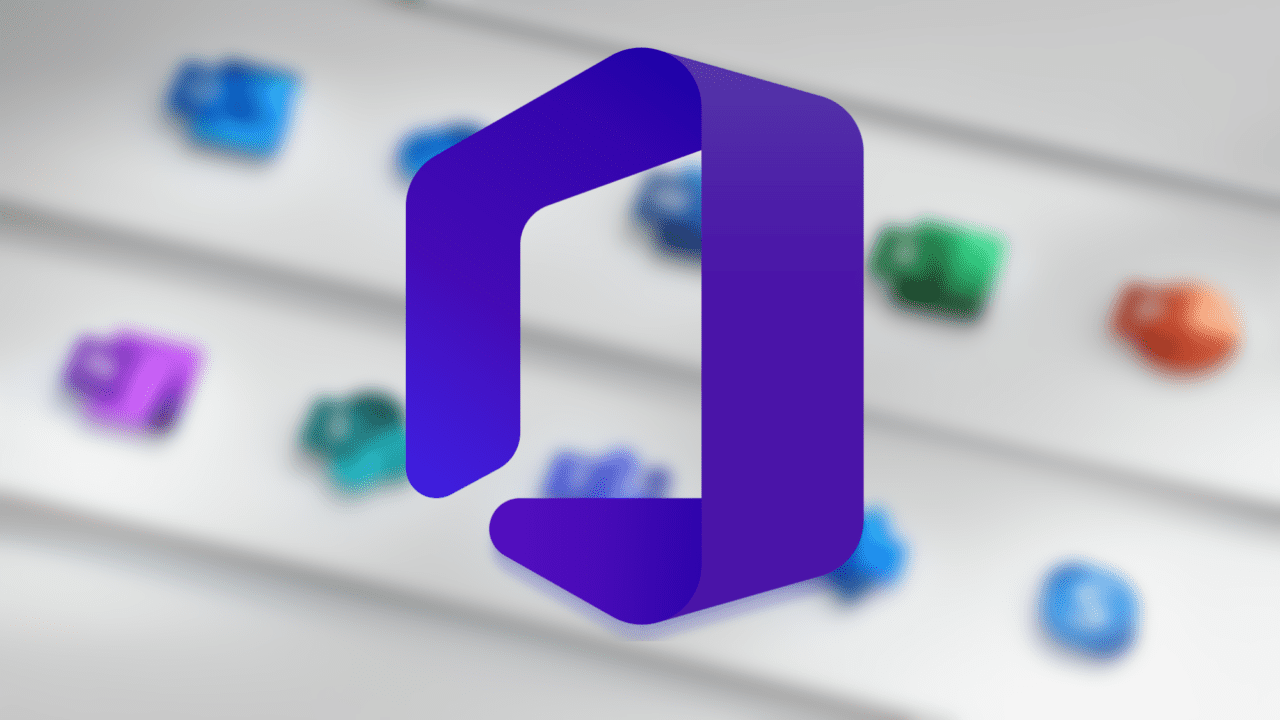 Microsoft 365 E3 and Microsoft 365 E5 plans offer a huge range of benefits and services. Knowing the differences between the two plans makes it easier to decide which one is right for your organization. In this article, I will compare the Microsoft 365 E3 vs E5 plans so you can make the right decision on which is right for your organization.
Microsoft 365 E3 vs E5 plans in review
Microsoft 365, if not the most popular, is way up there in terms of productivity solutions for your organization. There are plans that serve smaller SMBs all the way up to 100,000+ employee enterprises. The solutions serve many vertical markets including healthcare, charities, commercial, etc., with specific subsets of plans – think Microsoft Cloud for Healthcare.
What's the difference between Office 365 and Microsoft 365 E3 and E5 plans?
"Wait, wait…step back. What again IS Microsoft 365?" Originally branded Office 365, it is an all-inclusive suite of diverse cloud applications and services that include Office 365 (apps), Windows 10 and Windows 11, and Enterprise Mobility + Security (EMS).
Why did Office 365 transition to Microsoft 365?
"We changed the name to be more reflective of the range of features and benefits in the subscription, to meet the unique needs of individuals and businesses."
Microsoft 365 includes everything you know in Office 365. Microsoft 365 is designed to help people and businesses achieve more with innovative Office apps, intelligent cloud services, and world-class security.
What Office 365 plans for enterprise are still available?
The following Office 365 plans for enterprise are still available: 
Office 365 E1
Office 365 E3
Office 365 E5
Let's start this off with an overview of the services offered in both Microsoft 365 E3 and E5 plans. This is an excellent starting point for you to get a glimpse from 30,000 ft of what features are available in each plan, and to gather information about the differences between the two and the associated cost differences.
Microsoft 365 E3 plan: Overview
The Microsoft 365 E3 plan combines best-in-class productivity apps with core security and compliance capabilities.
Improve productivity and foster a culture of collaboration with fully-connected experiences.
Transform how you manage your business and enhance customer relationships with integrated workflows.
Proactively protect your employees, data, and customer information with intelligent security.
Here are most of the features, services, and applications included in the plan:
Besides all the services and applications offered in the plan, there are additional Add-on services you can purchase for a subset of your users. Here are a few examples:
Microsoft 365 E5 plan: Overview
The Microsoft 365 E5 plan combines best-in-class productivity apps found in the 'E3' plan but also includes advanced security, compliance, voice, and analytical capabilities.
Extend identity and threat protection with integrated and automated security to help stop damaging attacks
Bring together information protection and advanced compliance capabilities to protect and govern data while reducing risk
Get audio conferencing and calling capabilities in the cloud to enable your teams
Benefit from Power BI capabilities that help you realize significant business value from your data
All the benefits and services listed above in the 'E3' plan are included in this here 'E5' plan. Here are just some examples of the features unique to Microsoft 365 E5.
Power BI Pro licenses
Phone system (PBX capabilities in the cloud with Microsoft Teams)
Audio Conferencing
In addition, similar Add-on services are available on top of the already impressive suite of apps and services. Here are a few examples:
Microsoft Viva Topics
Microsoft Viva Insights (manager and leader insights)
Windows 365
Cost and Licensing
The published 'street' prices are as follows:
Microsoft 365 E3 is $32 per month, per user.
Microsoft 365 E5 is $57 per month, per user.
It probably goes without saying, but it doesn't matter…I'm gonna say it – You can get discounted pricing when purchasing various enterprise or SMB agreements through Microsoft or through a value-added reseller (VAR). And, of course, your per-user cost of E5 as an example will be lower when purchasing 30,000 licenses, vs 300.
Sales channels
Microsoft 365 E3 and E5 are available through the Enterprise Agreement, Enterprise Agreement Subscription, and Microsoft Products and Services Agreement (MPSA) for commercial and government customers, and in the Cloud Solution Provider (CSP) program for customers with cloud-only deployments.
Microsoft 365 also allows Enterprise Agreement (EA) customers to license in a true per-user licensing model, giving them a consistent productivity experience on any device and on any operating system. It also provides increased manageability and simplicity as you will no longer need to count devices for the Platform Enterprise Agreement and cloud services. You can move to the cloud without modifying your EA while eliminating the need for Bridge CALs and True-ups.
Service availability
To help you understand what services are available in each plan, there are several options you have to determine what makes the most sense for your organization. Here are the high-level differences.
Meetings and voice
Microsoft Teams is included in all plans
The Phone system (PBX) and Audio Conferencing features are only included in the E5 plan.
Advanced analytics
Here's the big one. Power BI Pro is only included in the E5 plan.
Identity and access management
This is also relatively straightforward.
The E3 plan includes Azure Active Directory Premium Plan 1 and the E5 plan included Azure Active Directory Premium Plan 2.
Threat protection
Information protection
Just three items here…
Azure Information Protection P2 -> E5.
Microsoft Defender for Cloud Apps -> E5.
Compliance management
Don't worry, this is the last category! (Phew…)
Rules-based automatic retention policies, machine learning-based retention, records management -> E5.
Advanced eDiscovery, advanced audit -> E5.
Insider Risk Management, communication compliance, information barriers, customer Lockbox, privileged access management -> E5.
Supported devices
As long as you use supported Windows 10 and Windows 11 devices, you should have no problem using, for example, Microsoft 365 Apps for enterprise. You'll be fine using the numerous services and applications included in your Microsoft 365 service plan.
You can use desktops, laptops, tablets, smartphones, and all-in-one computers for your organization.
Security features
As well as being able to purchase different Microsoft 365 service plans, there are security and compliance add-ons available to enhance your base licensing service options. The two core items are included in the E5 plan. For those customers that don't want to or can't take the plunge from E3 to E5, they can choose these:
Microsoft 365 Security

This includes all the solutions in Microsoft 365 Defender – Microsoft Defender for Endpoint, Cloud Apps, Azure AD Premium 2, and Identity & Office 365.
By adding these solutions to Microsoft 365 you can reap the rewards from keeping your organization more secure with advanced security and identity protection tools to support a Zero Trust security model. And by enabling rapid threat detection and response to reduce your risk always benefits everyone across your organization, including your business partners.

Microsoft 365 Compliance

This provides information protection, classification, and governance capabilities to help organizations adhere to data protection and compliance regulations. This includes Azure Information Protection and Microsoft Defender for Cloud Apps.
Let's look at the various security features included in the Enterprise Mobility & Security (EMS) suite. These include:
EMS provides an identity-driven security solution that offers a holistic approach to the security challenges in this mobile-first, cloud-first (Thank you, Satya) era. The included suite of technologies not only helps you protect your organization but also identity breaches before they cause damage.
Management features
As an IT Pro, responsible for the management of a Microsoft 365 service plan, your new home page in your web browser will be the 'Microsoft 365 admin center'.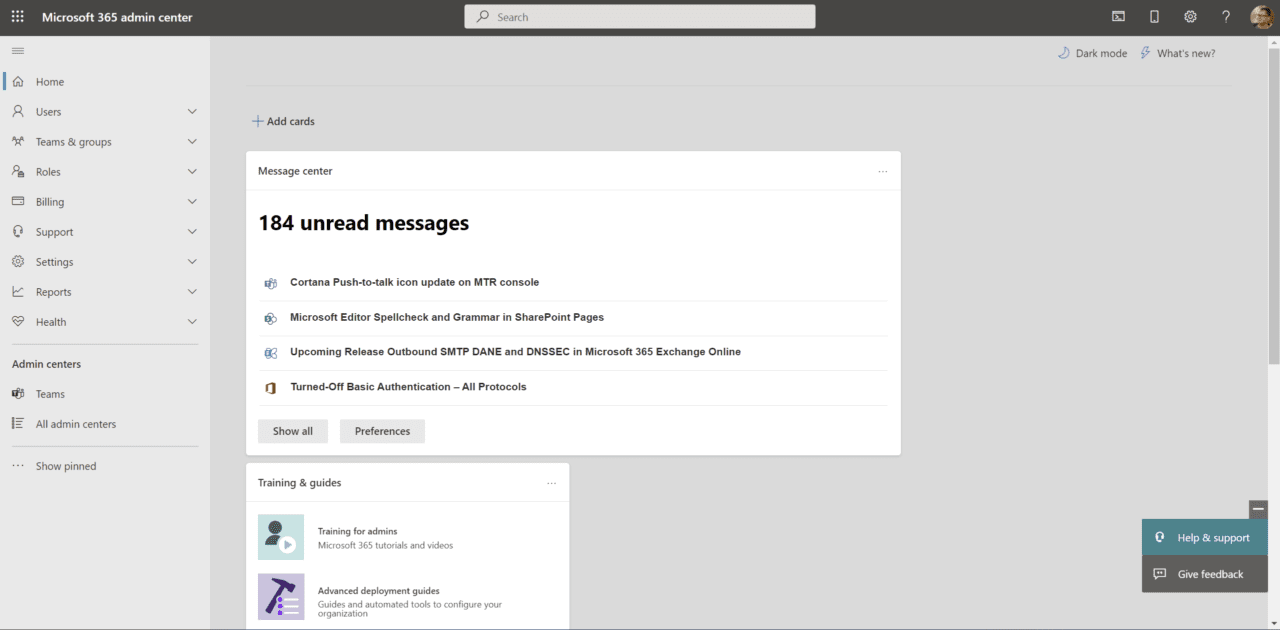 You use the Microsoft 365 admin center to set up your organization in the cloud, manage users, manage subscriptions, and much more. You can learn how to get to the admin center and learn about available features and settings.
Table 1 – The features and settings you'll find in the left-hand navigation of the Microsoft 365 admin center
| | |
| --- | --- |
| Menu | What's it for? |
| Home | This is the landing page in the admin center. You'll see where to manage users, billing, service health, and reports. |
| Users | Create and manage users in your organization, like employees or students. You can also set their permission level or reset their passwords. |
| Groups | Create and manage groups in your organization, such as a Microsoft 365 group, distribution group, security group, or shared mailbox. Learn how to create and manage groups. |
| Resources | Create and manage resources, like a SharePoint site collection. Learn how to create site collections. |
| Billing | View, purchase, or cancel subscriptions for your organization. View past billing statements or view the number of assigned licenses to individual users. Learn how to manage billing. |
| Support | View existing service requests or create new ones. Learn more in Contact support for business products – Admin Help. |
| Settings | Manage global settings for apps like email, sites, and the Office suite. Change your password policy and expiration date. Add and update domain names like contoso.com. Change your organization profile and release preferences. And choose whether partners can access your admin center. |
| Setup | Manage existing domains, turn on and manage multi-factor authentication, manage admin access, migrate user mailboxes to Office 365, manage feature updates, and help users install their Office apps. |
| Reports | See at a glance how your organization is using Microsoft 365 with detailed reports on email use, Office activations, and more. Learn how to use the new activity reports. |
| Health | View health at a glance. You can also check out more details and the health history. See How to check service health and how to check Windows release health for more information. |
| Message center | Keep track of upcoming changes to features and services. Microsoft posts announcements here with the information that helps you plan for change and understand how it may affect users. |
| Admin centers | Open separate admin centers for Exchange, Skype for Business, SharePoint, Yammer, and Azure AD. Each admin center includes all available settings for that service. |
Data Management
Use Microsoft Information Governance (sometimes abbreviated to MIG) capabilities to govern your data for compliance or regulatory requirements.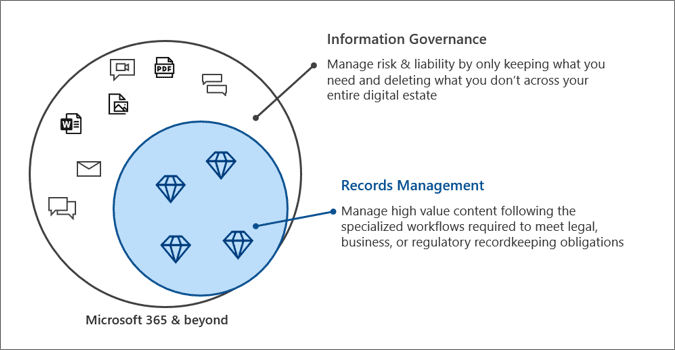 To help you comply with advanced data governance, Microsoft has designed a workflow to guide you through an end-to-end process to plan and implement capabilities across Microsoft 365, including secure access, threat intelligence, information protection, sensitivity labels, and data governance. For more information, see Deploy information protection for data privacy regulations with Microsoft 365.
Can you upgrade from Microsoft E3 to E5?
Well, conditionally, yes. When your business changes or you need more features, you can upgrade plans. The easiest way to do this is to use the Upgrade tab in the admin center. However, using the Upgrade tab isn't supported in all situations. In some cases, you might be able to change plans manually.
I would suggest you visit the Microsoft 365 'Upgrade' plan site to determine if your environment and plan details will work.
You can also change Microsoft 365 plans manually.
How do I upgrade my Office 365 license?
There are a few avenues you can pursue to upgrade your plan. Here are a few examples:
Contact your reseller, if you have one. They will be able to handle the logistics of getting pricing on the number of users you need at a higher plan, say, the 'Microsoft 365 E5' plan.
Purchase new plan licenses directly. In the Microsoft 365 admin center, click the 'Billing' category, then Purchase Services.