In the not-too-distant past, many IT professionals considered robust device management systems a luxury they couldn't afford. Sure, solutions such as Microsoft's System Center and Symantec's Altiris have been on the scene for years. These solutions tended to be reserved for large organizations that could afford the overhead of not only licensing them, but of training their staff to support them. Now, in the era of BYOD, consumerization of IT, tablet computing, and the like, device management is no longer a luxury. Almost all organizations, be they small or large, corporation or non-profit, require some form of device management in order to effectively deploy, manage, and protect their IT assets.
Desktop Central is a device management system from ManageEngine that fits the bill perfectly for many organizations. This is evidenced by their 55,000-strong customer base including high-profile organizations such as Duke University, Sony, and the New York Times. I downloaded, installed, and used Desktop Central for a couple of months, using it to manage a half-dozen servers, a plethora of desktops, and a handful of mobile devices, including iPhones and iPads running iOS 6.x.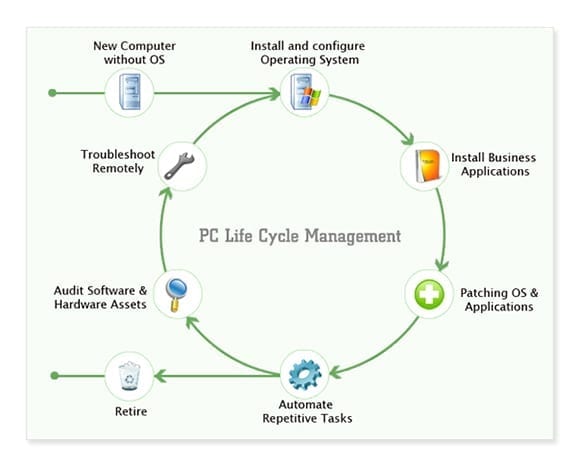 Straightforward Installation
I've encountered few installations that are more straightforward than Desktop Central v8. After running the downloaded file, it took just a few clicks until everything was installed and ready to go. Once installed, everything in Desktop Central is done through a web interface. Opening up the main web page, logging on, and following the Getting Started wizard makes installation an absolute no-brainer.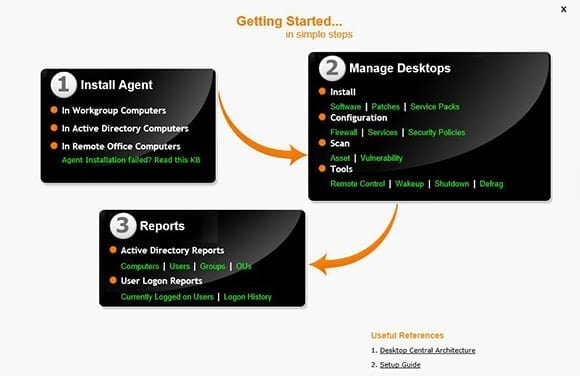 To my surprise and satisfaction, I had my AD domain configured and the management agent installed on my first Windows 2008 R2 server in less than four minutes. Configuring the remaining servers and workstations for management went just as smoothly. My network includes a mix of Windows Server 2008 R2, Windows Server 2012, Windows 7, and Windows 8 computers and not a one had a hiccup with the remote agent install.
My first order of business after deploying agents to my systems was to assess the Microsoft patch status of those machines. Clicking the patch management tab and running the Patch Summary Report exposed 6 missing updates on one of my Windows Server 2008 R2 machines.

Installing said updates required just a half dozen more clicks. Desktop Central supports patch deployment scheduling, but I chose to deploy immediately. Everything worked as expected.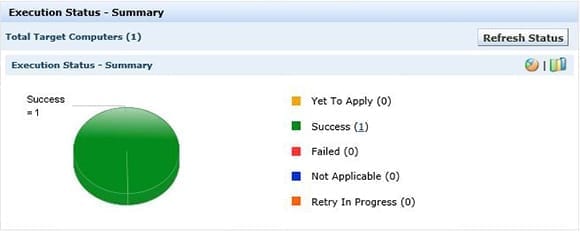 Software distribution is a key requirement of any device management solution. Shoe leather software deployment is so passé. But before any software can be deployed from Desktop Central a software repository must be defined. I chose to use an existing network share that I configured in the software using standard UNC format.

Desktop Central Configuration
Configuration of Software Deployment settings and tasks is done on the aptly named Software Deployment tab. Desktop Central provides a pre-defined list of apps for deployment. This is a great feature as it preconfigures all the necessary silent installation switches and other settings necessary for the MSI or EXE package being deployed. Of course, just about any software can be deployed, but for apps not in the list configuring the correct switches is all up to the admin. While a surprising number of relatively esoteric apps are present, I did notice that some popular apps, such as WinZip, are conspicuously missing. Lucky for me, during testing I wanted to deploy Adobe Acrobat Reader 11.02, which is present in the predefined list of apps.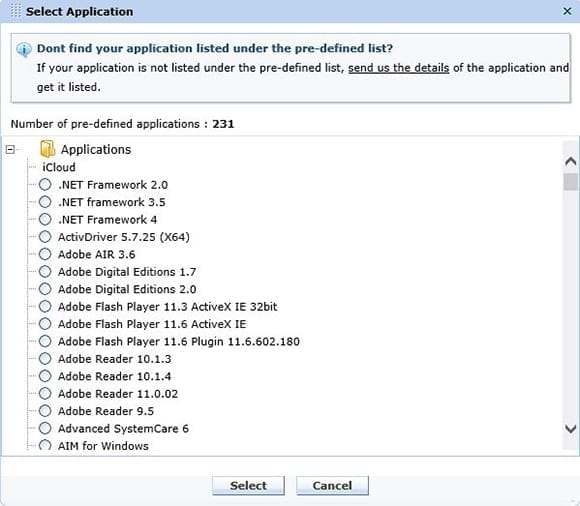 I created a package for deployment by selecting Adobe Reader from the list, verifying the settings, and clicking to add the package. There's nothing more to it.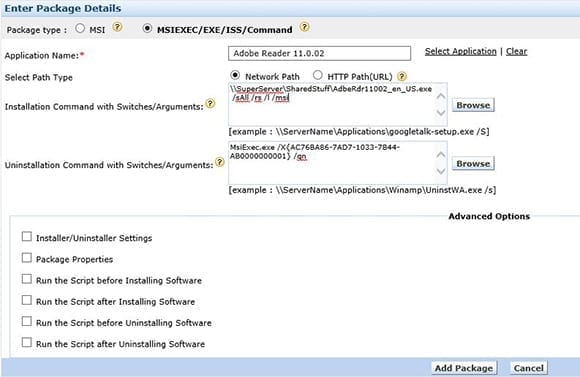 Pushing the software out involved creating an Install software – Computer configuration task similar to the task I created earlier to deploy Windows updates. Given my legendary lack of patience I, of course, chose to deploy immediately rather than schedule for a later time. I opted to deploy by computer, but Desktop Central also supports deploying by user.

A couple minutes later, I refreshed the task status and received a confirmed success message. Of course, I verified by logging on to the target PC and confirming Adobe Reader was present and accounted for.

Mobile Device Management
A big consideration for many IT admins when evaluating a device management solution is how well it handles tablets and smartphones. In fact, I can't think of a single IT environment that doesn't have to deal with mobile devices to some degree. Desktop Central v8 supports both iOS and Android devices with management going deeper than just setting basic restrictions. For instance, Desktop Central's mobile device management (MDM) provides app distribution and management along with personal vs. corporate data segregation. These are critical features in any BYOD environment.
Setting up MDM is not as straight forward as configuring the other features of the software. To get started, it requires opening ports on the firewall and creating DNS records to allow MDM traffic from the Internet to find its way home. I tested management of a couple iPhones and iPads, all running iOS 6.x, so the next step in configuration involved obtaining and installing an APNS certificate. ManageEngine tries to ease the pain with an included helpful video and text instructions along with a couple batch files to speed everything along. Even so, there are still a few hoops to jump through and patience is definitely required.
Once the APNS certificate was installed, enrolling an iPad was simple and fast. After enrollment, the iPad gained a new App Catalog App that facilitates distributing corporate sanctioned apps. These include standard free and paid App Store apps along with custom in-house developed apps.
All the standard MDM profile capabilities are present, including staples like "require a passcode," "setup email," and "configure WiFi." However, the crown jewel in Desktop Central's MDM is the reporting! The built-in reports, charts, and graphs makes it possible to learn more in five minutes about an organization's mobile landscape than could be done in days using other methods. The Corporate Wipe feature, erasing corporate data while leaving personal data intact, is a welcome addition to the standard complete wipe capability.

As of this writing, licensing for the professional version of Desktop Central starts at $545.00 per year for 50 computers and one user. Mobile devices are additional at about another $15 per year for each device. This is awesome pricing for small-to-medium-size companies, but it could get pricey for large enterprises. Luckily, ManageEngine has volume license plans available. Exercising their benevolent side, they even offer a free version of the product that's capable of managing up to 25 computers and 2 mobile devices. All told, from where I stand Desktop Central lives up to its stated goal of providing 90% of the features found in the big-boy products at 10% of their cost.
ManageEngine Desktop Central Breakdown
Pros:
Administer PCs with or without an Active Directory network
Extensive help system
Schedule software and patch installations
Patch both Microsoft and non-Microsoft software
Full mobile device management for both Android and iOS devices
Very cost effective
Cons:
Does not perform bare metal OS deployments (requires separate product – OS Deployer)
Initial setup of MDM is fairly involved
The bottom line:
This  is an easy-to-use product with great features and a price point putting it within reach of any organization.