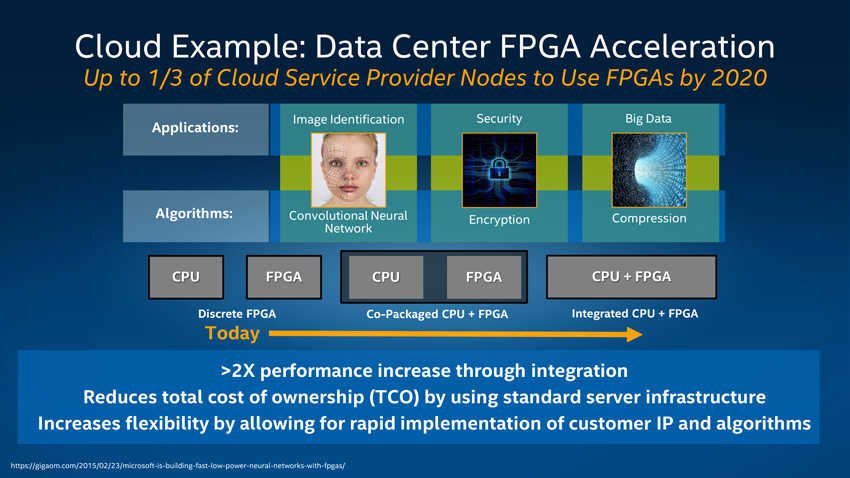 Microprocessor giant Intel announced on Monday that it will acquire Altera, a maker of specialized integrated circuits, for $16.7 billion. The heady sum is indicative of Intel's need to bring Altera's technology in-house, so that it can more easily expand its datacenter and Internet of Things (IoT) offerings. But the deal also reflects Intel's inability to expand its lucrative domination of the desktop PC market into new markets.
"Intel's growth strategy is to expand our core assets into profitable, complementary market segments," Intel CEO Brian Krzanich explained in a prepared statement. "With this acquisition, we will harness the power of Moore's Law to make the next generation of solutions not just better, but able to do more. Whether to enable new growth in the network, large cloud data centers or IoT segments, our customers expect better performance at lower costs. This is the promise of Moore's Law and it's the innovation enabled by Intel and Altera joining forces."
The Altera deal is valued at about $16.7 billion because Intel is offering $54 per share in cash, a premium of over 50 percent. The deal will be financed with cash Intel has on hand and some new debt. Intel expects to close the deal within 6-9 months and isn't expecting any regulatory hurdles.
From a technical perspective, Altera makes a specialized integrated circuit called a field-programmable gate array (FPGA), which is interesting in that their operation can be modified after delivery to a customer installation, and they tend to be even more suitable for smaller designs than traditional SoC (system on a chip) designs. But because Altera's FPGA circuits are compatible with Intel's latest 14mm chip design process, these parts can be seamlessly integrated (sorry) with Intel's existing processor and chipset architectures. In other words, the purchase allows Intel to bring a key part of the customer delivery in-house.
Intel has been partnering with Altera since 2013, and the microprocessor giant expects to see the FPGA technology deployed to over one-third of all cloud service provider nodes by 2020. Today, Intel says, the CPU/chipset and FPGA elements on customer deliveries are made by separate companies but packaged together at the time of sale. By integrating these components together, it will be able to save time and money for these customers and evolve the technologies together. It expects to achieve a 2X performance improvement as a result of this integration by 2020.
Intel already dominates the market for cloud-based servers. But integrating FPGA technology with its microprocessors will also enable the firm to target the IoT market, where specialty chips not based on Intel technology are currently the norm. Here, too, Intel expects to lower costs, speed time to market, and dramatically improved performance.
Altera already markets products based on the rival ARM architecture, which has assumed Intel's role in mobile. Intel says it plans to continue to support and develop Altera's ARM-based and power management product lines.
Intel, like Microsoft, has had difficulty adjusting to an increasingly mobile world that is dominated by non-traditional personal computing devices, and its own designs for phones and tablets have garnered little attention or sales. And like Microsoft, the firm has basically given up on the smart phone hardware market, with Mr. Krzanich noting Monday that smart phones "are not one of the areas that is likely to be a growth engine for the company."