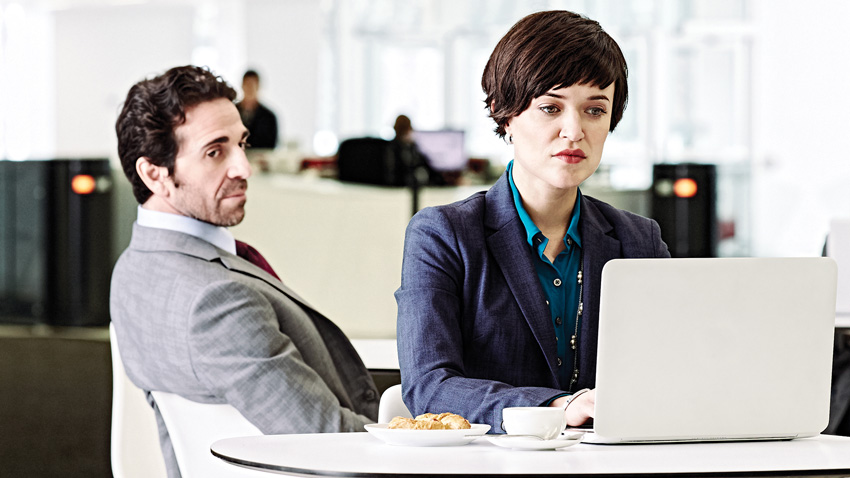 For many years, Microsoft, its platform partners, and independent third parties have worked to secure PCs in every conceivable way. But HP and 3M are teaming up to combat a form of digital theft that is so obvious in retrospect that I'm surprised no one has tackled this problem before in such an integrated fashion.
It's called "visual hacking," and if that term isn't familiar to you, you will at least understand what it means: the simple act of looking at someone else's PC, tablet, or phone screen and obtaining—inadvertently or otherwise—private corporate data.
"With more and more PCs being used in public places, visual hacking—the act of collecting confidential information by looking at someone else's screen—is a paramount security risk in today's business environment," HP Commercial PC vice president and general manager Alex Cho said in a prepared statement. "We're working with 3M to deliver world-class solutions that not only protect the privacy of the individual user, but also provides security for valuable company assets."
Visual hacking is as old as the PC industry, of course, and companies like 3M have been selling protective covers that darken or blur the screen to prevent casual data theft for years. But with the rise of millennials in the workforce and the "bring your own device" (BYOD) movement, people are out in the world accessing private corporate data in increasing numbers. And for a generation of workers for whom work is not so much a place—the traditional office—as it is a thing that they do regardless of location, protecting screens from prying eyes is a much bigger concern.
According to HP's Mike Nash, HP has been working with its commercial customers for years to ensure that the PC maker was providing the tools they need to protect their data. But in recent years, the discussion has turned to "visual hacking," with almost two-thirds of customers telling Nash that at least some sensitive data had been exposed outside the workplace. And a separate Ponemon Institute study that employed a "white hat" hacker showed that almost 90 percent of all "visual hacking" attempts were successful, leading to the theft of confidential information.
Businesses that are concerned about this type of theft can of course buy screen filters from 3M and other businesses. But with this new partnership, HP and 3M will work together to integrate physical screen filtering directly into PC screens, starting with HP's commercial offerings. They expect to deliver the first PCs with this technology by mid-2016.
Integrating screen filters this way could prove challenging, as there are issues to overcome related to multi-touch, but HP says the solution will be made available on both touch- and non-touch devices.
And there are huge upsides to this integration, not the least of which is the possibility of policy-based control of the functionality. I expect to see this technology makes its way to consumer-based PCs a well—again, given the prominence of BYOD—not to mention non-PC devices.