With the staggering amount of iPods, iPhones, and iPads already in use, the problem of how to transfer iTunes sync relationships between an old PC and a new PC becomes a bigger issue — a much bigger issue, indeed.
Imagine for a moment that you have three iPhones and two iPads in your house, all set to sync with your household PC. In iTunes, you have tucked away hundreds of songs in dozens of playlists, a few movies, and oodles of apps all organized on in folders on your devices. Organizing the folders to meet your needs took hours. But then one day you buy a shiny new PC. You install iTunes and hook up an iPhone, but a dialog box pops up to inform you that the device already synchronized with your old computer, and that if you continue it will replace that information with the nothingness that is on the new PC. In this article, I will show you how to transfer your itunes library from one PC to another.
Transfer Your iTunes Library in Less than an Hour
One would think (or hope) that Apple makes it easy to move iTunes and all your downloaded information from your old PC over to the new one. Think again. Now, don't get me wrong — it certainly is possible, especially if you have oodles of time and patience. Luckily, CopyTrans TuneSwift, a third-party solution from the folks at WindSolutions, easily resolves that pesky problem.
CopyTrans TuneSwift will migrate virtually everything in iTunes from one PC to another, or even from a PC to a Mac. This includes music, movies, apps, tones, books, playlists, and sync relationships. To test the process, I recently moved my sizable iTunes library complete with ten device sync relationships from one PC to another in less than an hour. Great job Windsolutions!
If you ever need to do the same, pick up a copy of CopyTrans TuneSwift and follow this step-by-step guide.
Back up Your iTunes Library
First, make sure iTunes is closed. CopyTrans TuneSwift can't work its magic if anything is accessing the iTunes library.
Download the CopyTrans Control Center software. Install the software, agreeing to the license terms when prompted.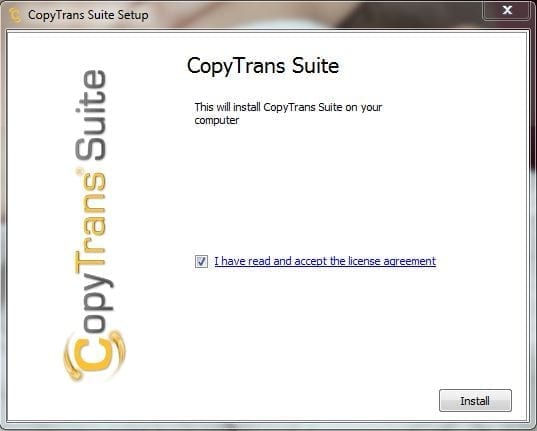 Next, you'll be prompted that an Internet Connection is required. Click Test Connection, then click OK when reminded to allow your firewall to let the connection pass.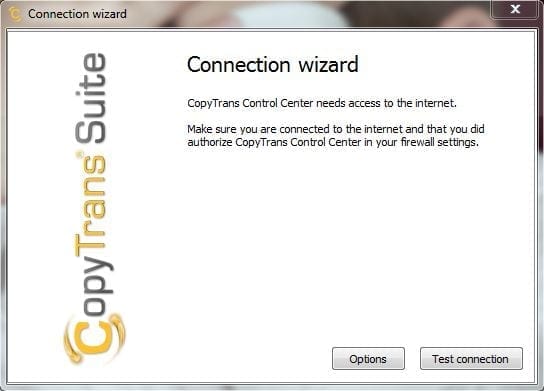 If everything goes well, you be prompted that your connection test is successful.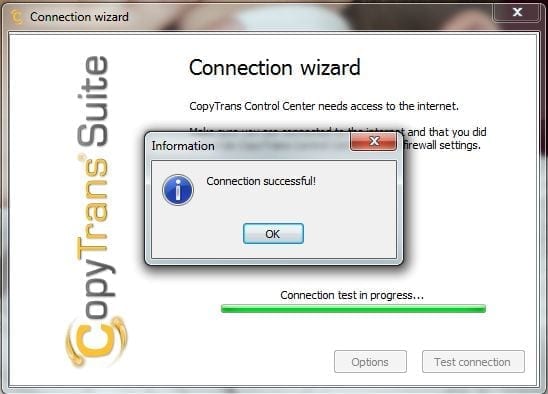 In the CopyTrans Control Center highlight and click CopyTrans TuneSwift.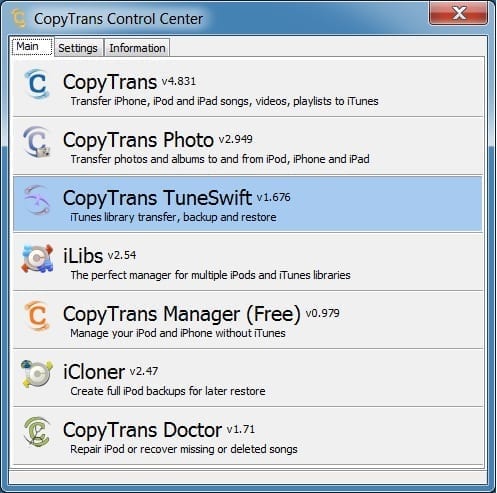 The first time you do this, CopyTrans TuneSwift will download, and you'll see a green progress indicator at the bottom of the Control Center window.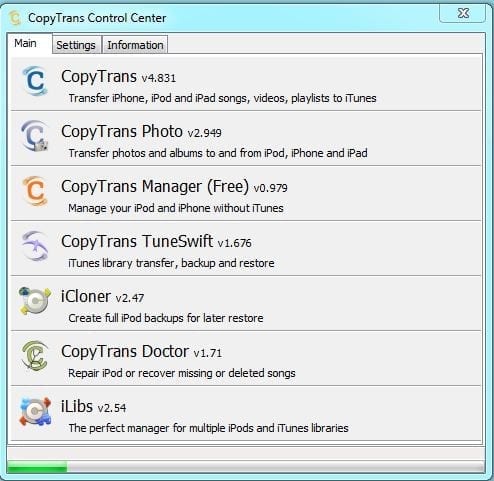 Once complete, CopyTransTuneSwift will launch. It gets even easier from here.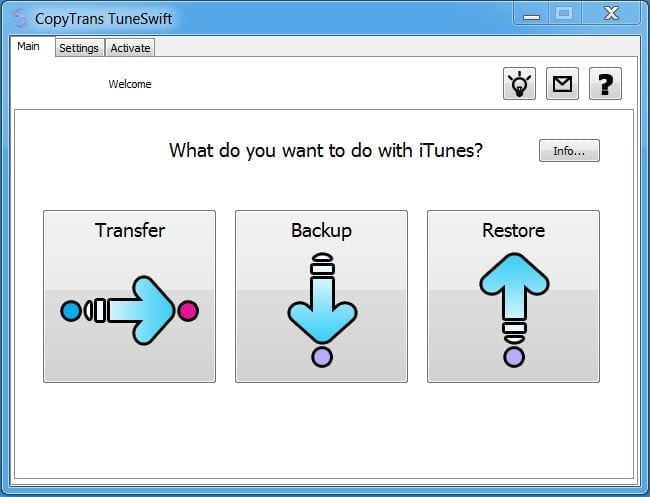 Click the Transfer button, then click PC (if moving to a Mac, select that option).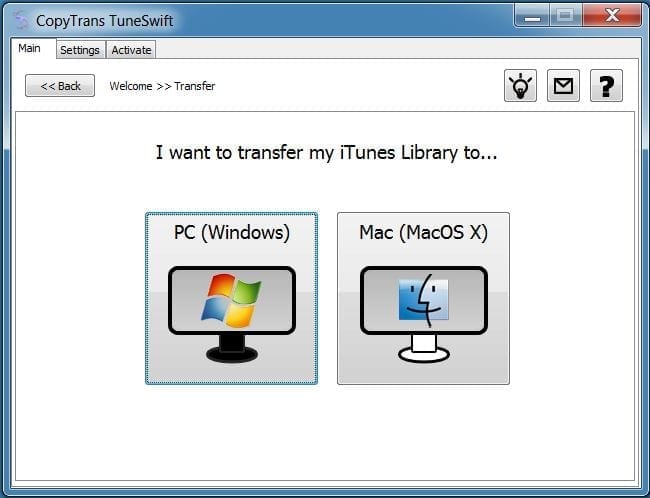 Click New Computer.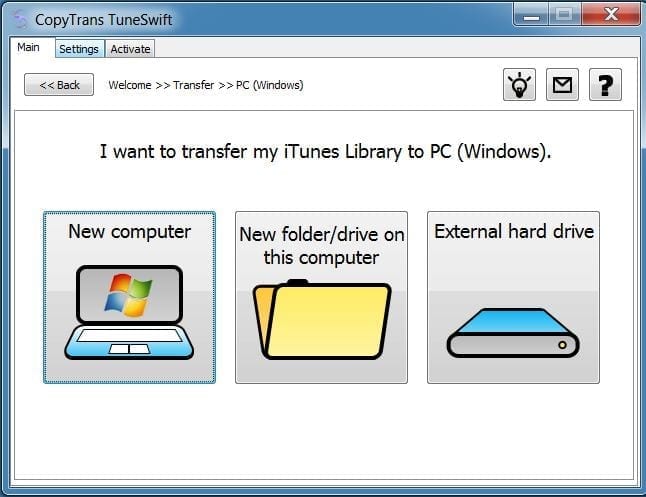 Click Browse and select an external drive in which to store your in-transit backup files. This can be a flash drive or network drive; whatever it is, it must be large enough to hold all of your data.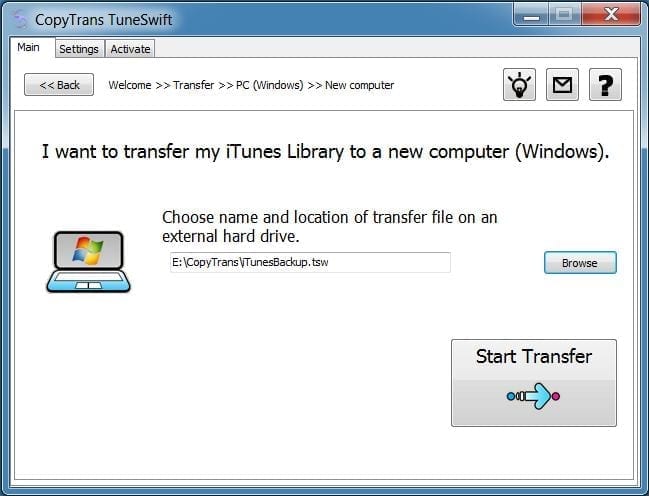 Click the Start Transfer button, sit back, and relax. You'll be kept apprised as the application moves through its first five steps. It will then ask you if you want to validate the backup; click Yes.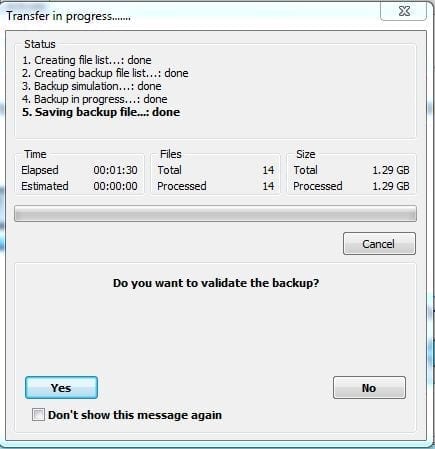 The system will validate the backup and tell you it's complete.
Restore Your iTunes Library
Now it's time to restore the backup on the new PC. Following the same instructions in step one, download CopyTrans Control Center on the new computer and open CopyTrans TuneSwift. Once it's running on the new PC, click the Restore button.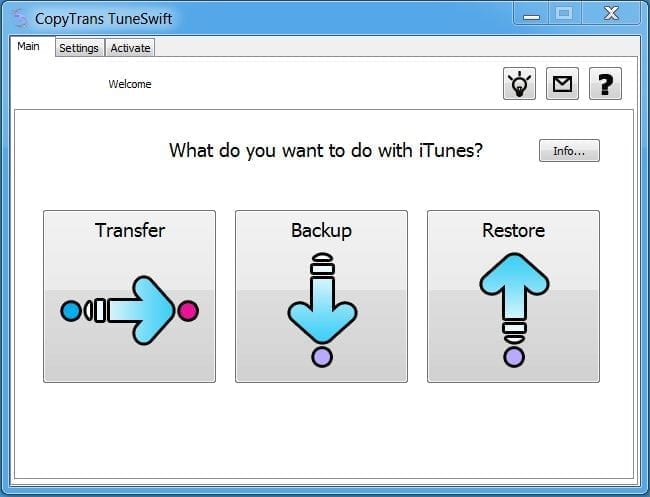 Select the location of the backup file you made earlier, then verify that the default iTunes library location listed is correct. In most cases, the default should be fine.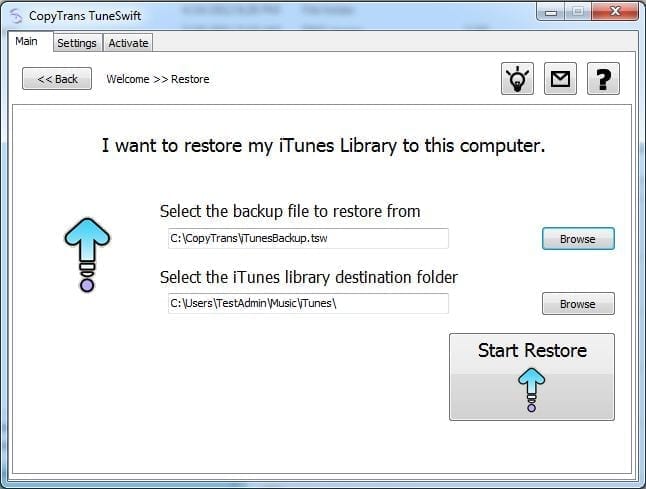 Click Start Restore. When asked, click Yes to validate the backup.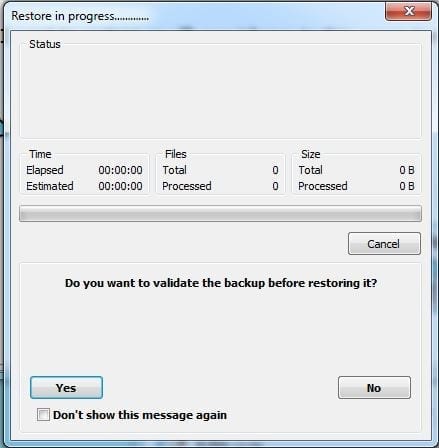 When everything is complete, click the checkbox to Close CopyTrans TuneSwift and open iTunes. Click OK and enjoy the sweet feeling of success!­­­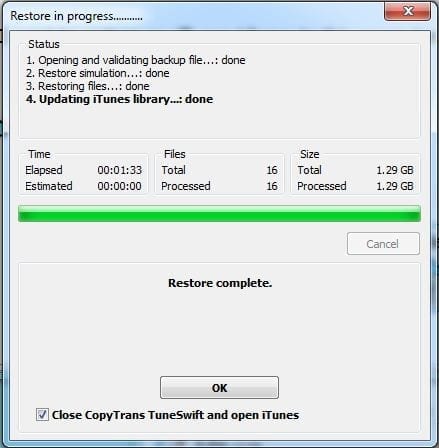 Keeping Synched and Sane
Granted, there are different ways to get the same result, but this is the easiest and fastest way that I have found to move an iTunes library from one computer to another without losing sync relations or app folders. This is a topic I'm frequently asked about, and it's also something a lot of people grumble about since it's not an intuitive process that's worked into iTunes. After facing this same problem, I found this to be the best solution. I hope it works for you as well as it worked for me!