During Microsoft Ignite 2021, Voices matter: Reconnect with Microsoft Teams Calling, Microsoft introduced a new technology that allows for connectivity from other telephone providers into Microsoft Teams called Operator Connect.  You might be thinking, "we've been doing that for years?!" and you'd be right.  Partners and customers have been able to integrate Session Border Controllers (SBC) and telecom providers directly to Teams for quite some time using Direct Routing. However, Microsoft has introduced a simplified method of integrating a hand full of telephone providers globally.
Ultimately there are three ways of obtaining Microsoft Teams calling, these options include:
Microsoft Teams Calling Plans – Where Microsoft is your operator
Operator Connect – Allows simplicity and seamless integration into qualified operators
Direct Routing – Use your existing infrastructure, supported in over 180 different countries across the globe.
Each method has its own benefits and pedigree.  The end solution will need to be weighed against commercial obligations and technical requirements.
Teams Calling Plans:
Teams Calling plans were the first method of provisioning telephone calling into Microsoft Teams. In recent times the calling plans country availability has been expanded significantly into Singapore, New Zealand, Romania, Czech Republic, Hungry, Slovakia, Norway, and Finland, taking the overall total to 26 markets. This expansion of markets started from the middle of April 2021 and should be completed by the end of June 2021.  These additional markets already build upon Australia, Austria, Belgium, Canada, Denmark, France, Germany, Ireland, Italy, Japan, Netherlands, Portugal, Porto Rico, Spain, Sweden, Switzerland, United Kingdom (U.K.) and the United States (U.S).  Calling plans allow us to utilize Microsoft as our carrier to make and receive phone calls. However, using Microsoft Calling plans isn't always commercially attractive or meet the technical requirements of an organization.
Operator Connect:
Operator connect is a new addition to the already sizable means of connecting Microsoft Teams to a PSTN service. Rather than having to implement a Direct Route to integrate into Microsoft Teams to bring your telephony, Microsoft is working with telephone carriers to bring their services seamlessly into Microsoft Teams through the graphical user interface/admin center rather than introducing the technology through PowerShell first, as done historically.
Setup can be completed in minutes. Once the operator is engaged the provisioning service is enabled and management is done via the Teams Admin Center
There is no requirement for additional infrastructure as the Microsoft Phone System provides the telephone private branch exchange (PBX) service. The service is hosted and managed by Microsoft and the telephone providers
Microsoft works closely with the telephone providers to supply technical support with a commercially backed Service Level Agreement (SLA)
Microsoft also peer directly with the providers to the Azure data centers to provide a 1:1 network connection to enhance the overall resilience and quality of experience
Available providers who are working their way through the accreditation are:  BT, Deutsche Telekom, Intrado, NTT, Nuwave, Orange Business Services, Pure IP, Rogers, Swisscom, TATA, Telenor, and Verizon
Why use Operator Connect?
What if your existing provider is on the list above and you are contractually obliged to remain with them for some time, but you want the most out of Microsoft Teams?  Historically, we could introduce a Session Border Controller (SBC) into the environment, and this would allow Microsoft partners and service providers the ability to connect to a Direct Route into Microsoft Teams. The difference now is that Operator Connect allows you to maintain your relationship and managed services with your incumbent supplier while using Teams as your telephone system. There is no requirement for integration between your provider and a direct route or a Session Border Controller (SBC) should you be with an accredited provider.
You can utilize your telephone operator and maintain your existing relationship/contract and use Microsoft Teams as a softphone.
Infrastructure Overview: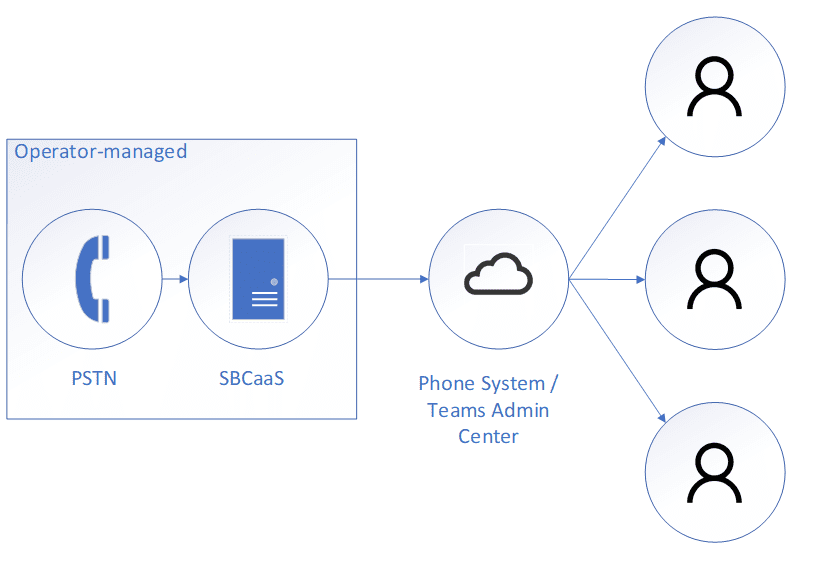 How to setup Operator Connect:
The first step is to find out if your telephone providers have been qualified by Microsoft to integrate into Microsoft Teams.
To do this, log in to Microsoft Teams Admin Center.  From the Voice tab you will be able to find the Operates section.  It should be noted at the time of writing this the Operator Connect functionality is still in preview and will be made generally available shortly.
Select your operator from the Operators Tab within the Teams Admin Center.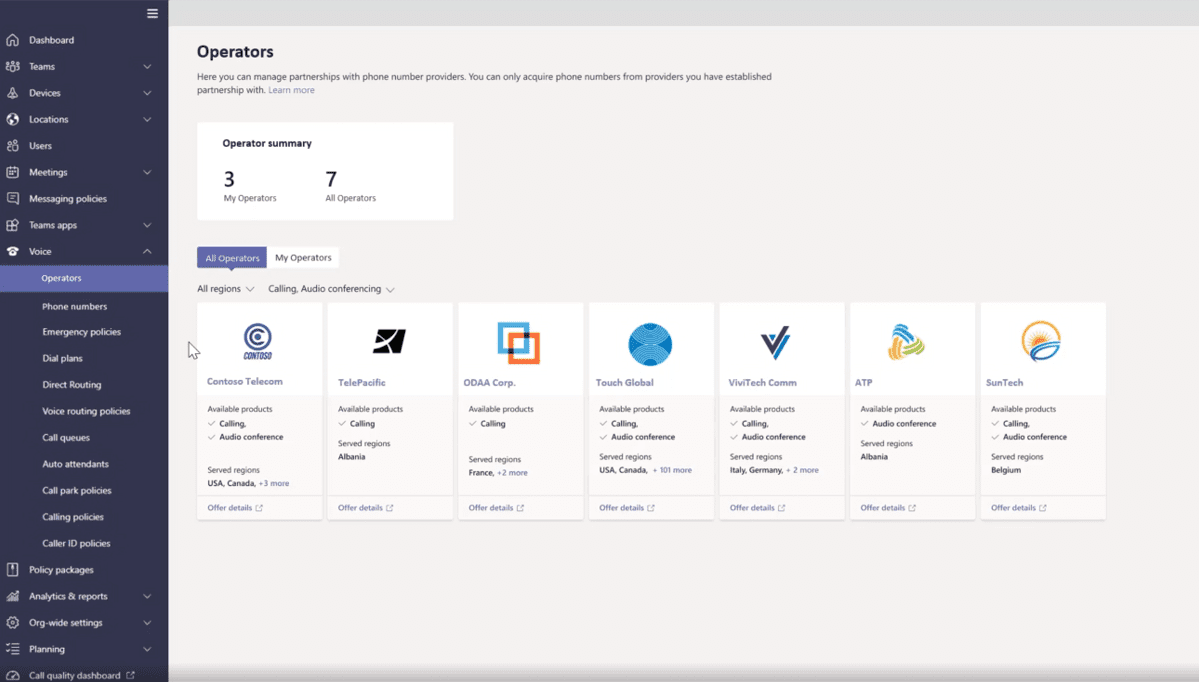 If you're uncertain which services can be provided or which services are available, you can filter on the region and functionality.  Within this sub-menu you can filter by parameters such as in this example location is united and the functionality is Calling and Audio Conferencing: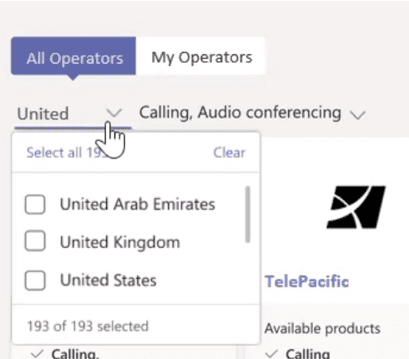 Once filtered, choose the appropriate operator.
Input your details:
Add the information accordingly such as Name, Email, and telephone number.  Ensure you accept the data transfer notice, and the Operator can contact me checkboxes are ticked.  Without ticking these boxes, the system cannot allow an external connection and you won't be able to proceed.  Once complete click the Add as my operator button.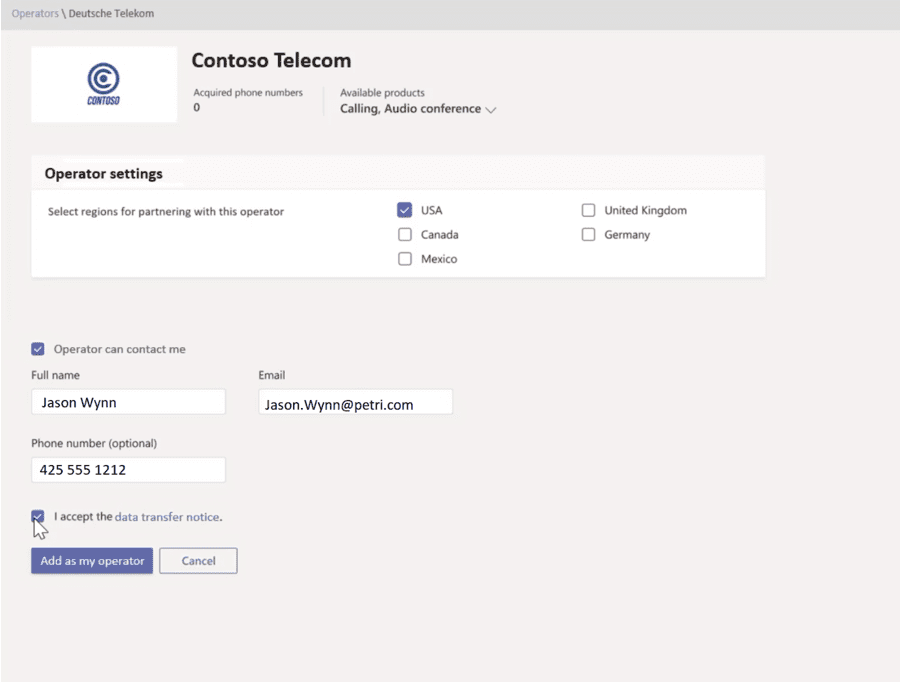 The operator's list will then be updated:
Once the connection is completed, the existing managed partnerships will be added to the My Operators tab. After a period of time, the import of the telephone numbers will occur.
The My Operators tab will also show what acquired and migrated numbers have been added into the Microsoft tenant.  In addition, you can see when the latest changes were made and the administrator who completed the work.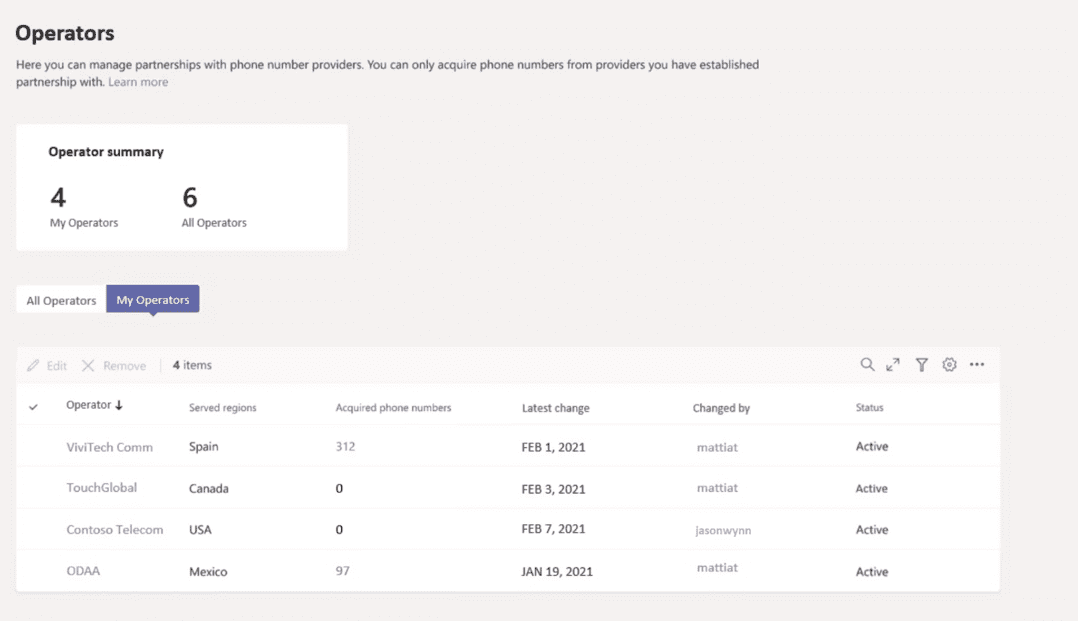 Once the phone numbers are uploaded by the Microsoft telephone system the numbers will be made available within Teams.  The numbers will then become available to be assigned on the Phone Numbers tab within the Teams Admin Center. The assignment of numbers can be completed within the Phone Numbers tab. The number types can include users, service, and conference numbers.  Numbers can be assigned once the appropriate licenses are applied to the users.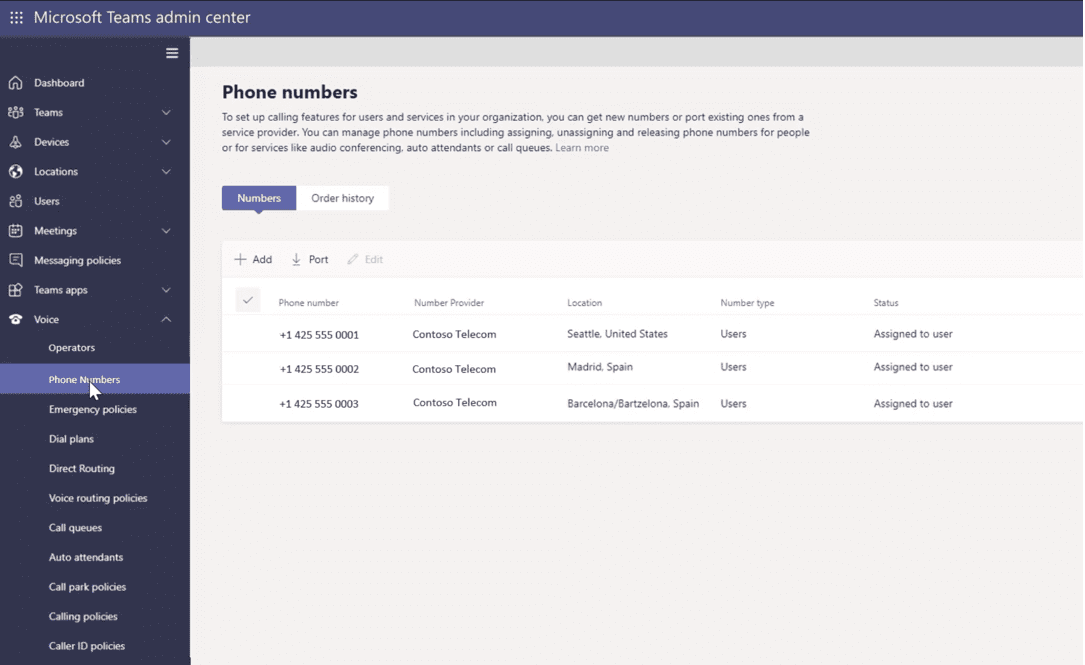 This completes the steps of provisioning Operator Connect including the injection and assigning the telephone numbers