How to be the first to Know About Azure Storage Explorer Updates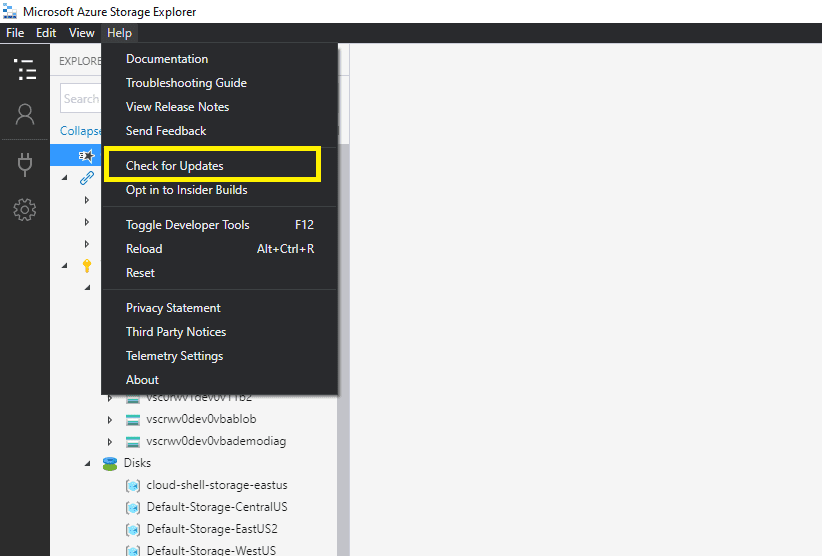 The Azure Storage Explorer is one of my most regularly-used Azure tools aside from the Azure Portal itself. If you are not using it, I'll give you some pointers in this post on where to install it but also how to be the very first to know if an update is available.
How to install Azure Storage Explorer
Azure Storage Explorer is a downloadable application for Mac OS, Windows and Linux. Interaction with the application is relatively straightforward and I have it on basically every computer I use regularly.
There is one behavior you should be aware of regarding network access for storage accounts. I generally recommend using network access for storage resources where you have a specific set of IP addresses permitted to access an Azure Storage account, those rules will apply to connections made in Azure Storage explorer as well. So keep that in mind.
How to update Azure Storage Explorer
You can check for updates manually in the Azure Storage Explorer user interface. This may also be occasionally a pop-up message, and I recommend keeping the application up to date. The manual update view is shown below:
Image #1 Expand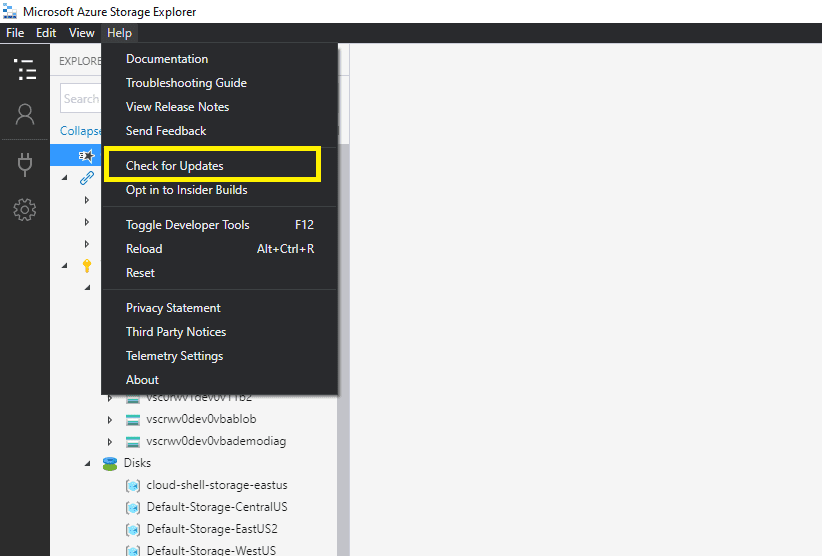 Updates are not exactly fun, but generally a good idea. This is especially important as Azure is continually adding new services and capabilities. Tools outside of the Azure Portal, such as Azure Storage Explorer may interact differently with updated option in Azure if not kept up to date.
If you are in the Azure Storage Explorer settings, I also recommend you select the "Logout on Exit" option as shown below. This is a nice account access behavior, sure it adds re-authentication back in next time you open Azure Storage Explorer but I think that is a good idea.
Image #2 Expand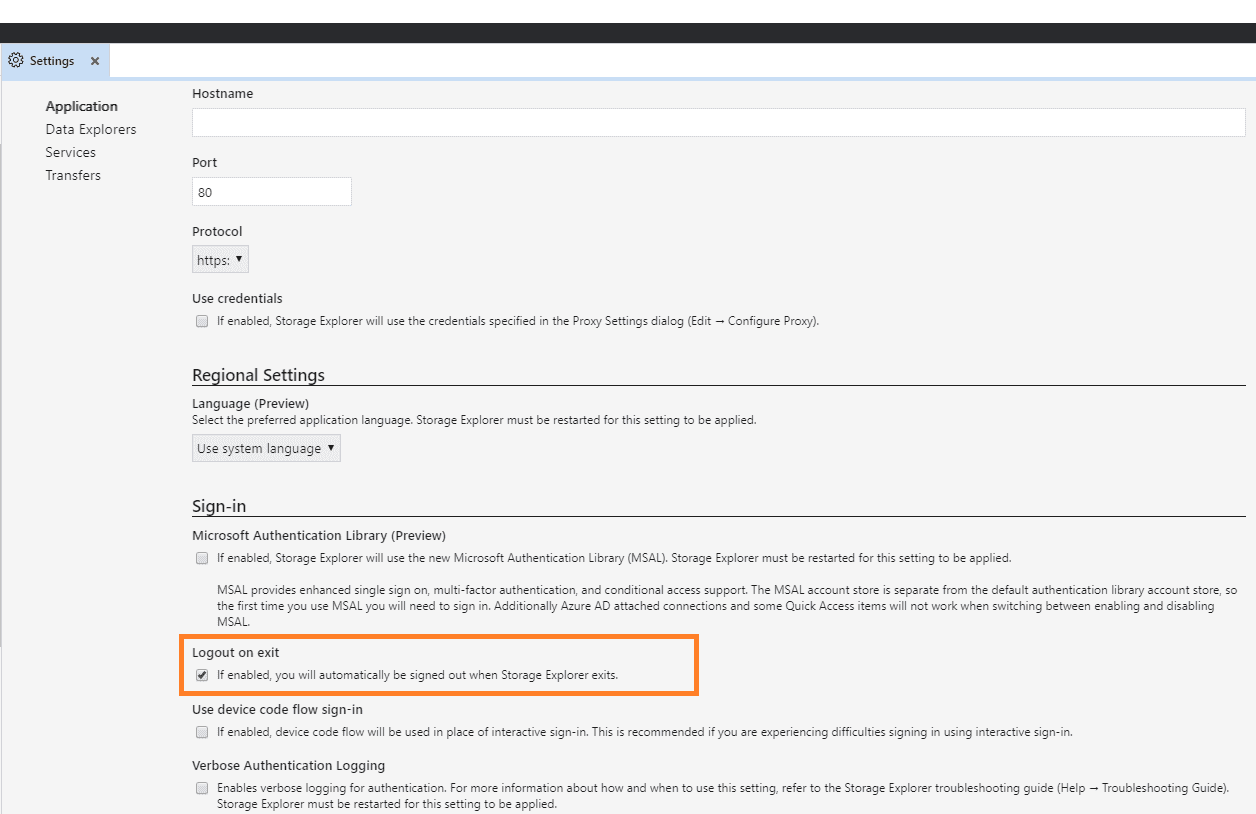 Be the first to know for Azure Storage Explorer Updates
This is a trick I found somewhat by accident, but for a number of projects, I follow closely I have started watching the projects in GitHub. Azure Storage Explorer is a project in GitHub and you can subscribe to it by watching and you will get updates via email with the latest on the newest versions coming in the tool. The figure below shows the GitHub project for Azure Storage Explorer:
Image #3 Expand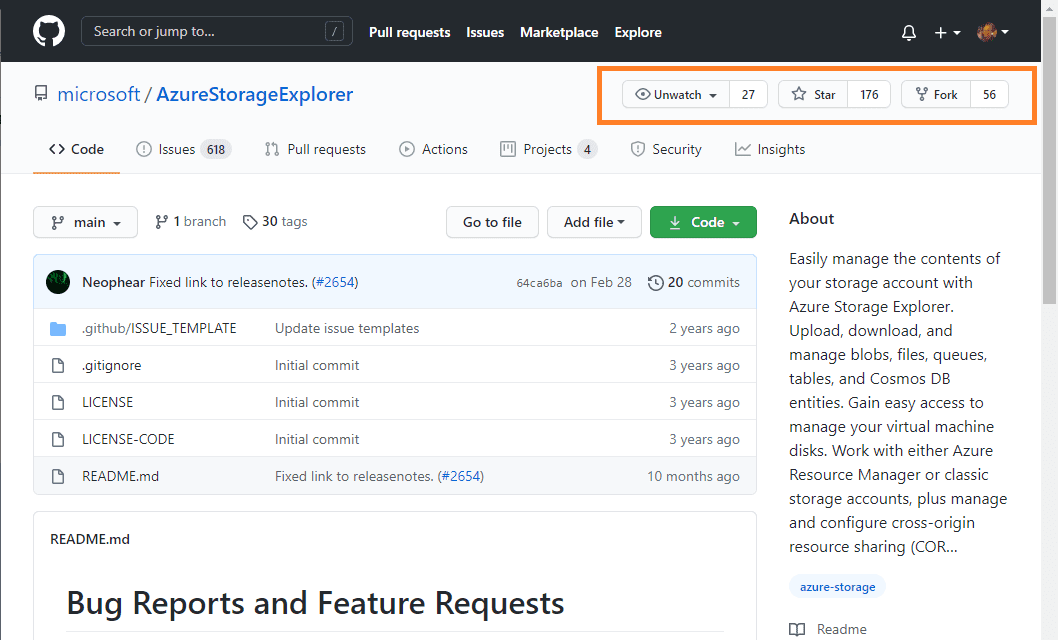 Notifications of Updates to Azure Storage Explorer
When you are watching this project you will get the first look at the new capabilities coming to the tool. The email I received below came in on 15-December 2020 has a nice recap of new capabilities but also a list of fixes and known issues:
Image #4 Expand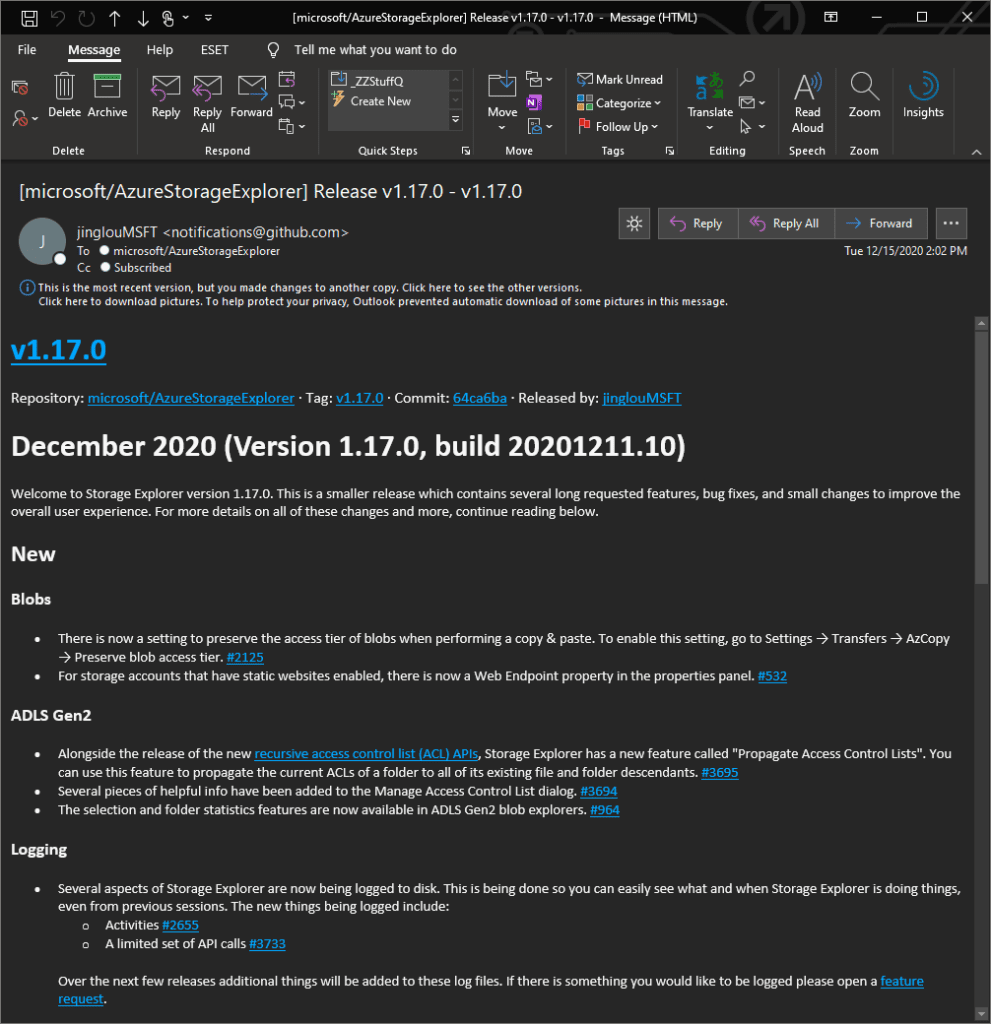 This information is very helpful in ensuring that this daily administration tool is working as expected. But not all updates are available ASAP to all installations, so sometimes you may not get the notification or check for updates in the application. For example, on 23-December I would do a check for updates option from a recent version it doesn't necessarily say that the 1.17.0 is available yet. I can manually go and reinstall the newest one, but being alerted in GitHub with these emails will be the most accurate and timely way to be notified of updates to Azure Storage Explorer.