This month sees a bumper crop of interesting announcements, despite the expected lack of Windows news at Ignite. Microsoft officially announced Windows Server 2022, Windows 10 21H1 is now available for pre-validation testing, Project Reunion reaches general availability with version 0.5, and Windows 10X is reportedly delayed until the second half of 2021.
Classic Edge support has ended
Support for the legacy version of Microsoft Edge ended March 9th. It shouldn't come as a surprise as Microsoft has been warning about it for some time. For more information, check out Microsoft's blog post here.
Edge 89 released
Microsoft released version 89 of its Edge browser at the beginning of March. Sleeping tabs is now fully available in this release and it should improve performance by reducing resource usage. Version 89 also gets the optional vertical tabs feature, some improvements to the PDF reader, new Group Policy settings, startup boost, and intensive resources throttling.
Microsoft says that startup boost should improve load times by up to 41%. And intensive resources throttling reduces resource usage by prioritizing your active tab. It works by throttling JavaScript. And it doesn't impact other background processes. You can find the release notes for Edge here.
Microsoft fixes Windows 10 printer issues, or does it?
You may have heard that March's Patch Tuesday cumulative update (KB50000802) for Windows 10 caused printing issues for some users. Some PCs crashed when trying to print. Microsoft released an out-of-band patch to fix the issue but appears to have inadvertently created more printing issues along the way. To address the new issues, Microsoft released another out-of-band patch.
Out-of-band update to address unexpected results when printing from some apps or to some printers Microsoft identified an issue that affects Windows 10 devices which applied the March 2021 security update released March 9, 2021 and the out-of-band updates released March 15, 2021, and a resolution has been expedited. Affected devices might receive unexpected results when printing from some apps or to some printers. Issues might include missing or solid color graphics, misalignment/formatting issues, or printing of blank pages/labels. An out-of-band optional update is now available on the Microsoft Update Catalog and on Windows Update.
The out-of-band patches are only recommended for devices experiencing the issues. The fixes will get rolled up into April's cumulative update for everyone else.
Windows Server 2022 officially announced at Microsoft Ignite
Windows Server is still very much a thing. Don't forget that Azure runs on Windows Server. Yes, more than 50% of workloads are now Linux but they are running on top of Windows Server Hyper-V. Microsoft announced the availability of a preview version of Windows Server 2022 at Ignite. It will include improvements to containerization, AES-256 encryption for SMB, Support for TLS 1.3, and it will be available as part of the Secured-Core program to help prevent firmware attacks.
For more information on the changes coming to Windows Server 2022, check out these articles on Petri:
Windows Server 2022 Now Available in Preview
Improved Containerization Features Coming in Windows Server 2022
Windows Server 2022 Secured-Core and Azure Hybrid Services Block Kernel Level Attacks
Power Automate Desktop now free for Windows 10
Microsoft made its Power Automate Desktop program available for free on Windows 10 at the beginning of the month. Power Automate Desktop comes with 370 prebuilt actions that users can use to build flows to automate tasks across different desktop applications. You can download Power Automate Desktop here.
Windows 10 21H1 now available for testing
The next feature update for Windows 10, version 21H1, is now available for commercial pre-release validation. This update contains just a few new features for enterprises:
Windows Hello multicamera support to set the default as the external camera when both external and internal Windows Hello cameras are present.
Windows Defender Application Guard performance improvements including optimizing document opening scenario times.
Windows Management Instrumentation (WMI) Group Policy Service (GPSVC) updating performance improvement to support remote work scenarios.
Windows 10 21H1 is available through all the standard channels, including Windows Update and there is a downloadable ISO file. You should note that Microsoft considers a device a commercial device if 'it is not running the Home edition of Windows 10, is being managed by an IT administrator (whether via Microsoft Endpoint Manager or a third-party MDM tool), or if the device has a volume license key, a CommercialID, or is joined to a domain.'  Organizations will be able to get free support from Microsoft here should they run into problems with the update. Windows 10 21H1 is expected to reach general availability in May.
Microsoft Edge gets a new release cycle
Starting with Edge version 94, Microsoft announced that its Chromium-based browser will be getting a more rapid 4-week major release schedule. The change is being made to reflect Google's updated release cycle for Chrome. Currently, Stable Channel versions of Edge are released every 6 weeks. That will change to 4 weeks starting in September 2021. Enterprises will still be able to opt for a longer cycle with an Extended Stable release schedule every 8 weeks. Extended Stable releases will see Microsoft release security updates every 2 weeks.
Windows 10X reportedly delayed until second half of 2021
According to Windows Central, Windows 10X is being delayed until the second half of 2021. Zac Bowden reports that his sources have said Microsoft is pushing back the launch of Windows 10X to "ensure the product is ready and robust for a smooth release". Zac goes on to write that he believes Microsoft will now sign off the shipping build of Windows 10X in late spring and that single-screen devices should start shipping later in the year.
Windows 10X was originally supposed to be signed off in December 2020, but that didn't happen. Bowden reports that Windows 10X will initially target low-cost PCs for the educational and enterprise sector. Win32 app streaming will be provided by Windows Virtual Desktop and Cloud PC. For the rest of us, Microsoft is preparing new features and modern user experiences as part of the Windows 10 Sun Valley feature update.
Project Reunion 0.5 now available
Project Reunion is Microsoft's effort to unify modern UWP app capabilities with the Win32 API. This month, Microsoft released the first production-ready version of Project Reunion. Version 0.5 also includes WinUI 3. In short, apps using Project Reunion can use Win32 and UWP features at the same time. Before this update, UWP features were only available for modern apps on Windows 10.
Features are being decoupled from the OS so that developers don't need to wait for users or enterprises to upgrade Windows. The latest Project Union release lets developers create desktop apps using WinUI and .NET5 Win32 apps. Support for WebView2, which is based on Chromium, is included; as is ARM64 support. Microsoft said in its announcement:
You've told us that typically you have to wait for your users to update to the latest Windows OS before you can consider adopting the latest features and integrating them into your app. For some of you that could mean a 1-2 year delay in a new feature being available, you being able to adopt it, and users seeing it in apps. Now, you can take the latest Project Reunion release whenever you want to get the latest features and can feel confident that they'll work for all your users on Windows 10 version 1809 – which is the current Enterprise LTSC – and newer.
Uno Platform 3.6
Microsoft also announced the availability of Uno Platform 3.6. It allows developers to use WinUI 3 to develop apps for Windows 10, iOS, Android, macOS, and the web. Uno Platform is an open-source project by Microsoft and it works together with Project Reunion.
Windows Insider builds
Windows Server got an updated preview (build 20324) March 31st. There's no real information about what changes have been made in this update. Microsoft refers Insiders to see changes made to preview builds that were released in the second half of 2020, namely builds 20201 and 20206. Microsoft also released a Windows Feature Experience Pack (120.2212.3530.0) to the Beta & Release Preview Channels with improvements to reliability of displaying the candidate list for users of the Input Method Editor (IME).
We're starting to see some of the visual changes that will be part of the Sun Valley update for Windows 10 in the second half of 2021 come through in Insider builds. Windows 10 Insider Preview Build 21327 got some visual updates to the new News and Interests flyout on the taskbar. The build also includes many changes to system icons to align them with Microsoft Fluent Design.
Windows 10 21H1 got a couple of updates for users on the Beta Channel. Just minor fixes to improve the overall experience.
Windows 10 Insider Preview Build 21332 saw some changes again to the News and Interests flyout on the Dev Channel. But more interestingly, this build brings the option to paste as plain text from clipboard history (WIN+V). I can't wait for that personally. And 3D Viewer and Paint 3D will no longer be preinstalled on clean installs. Did anyone use them anyway?
Again on the Dev Channel, Windows 10 Insider Preview Build 21337 brings some welcome updates to the virtual desktop experience. Users can now reorder virtual desktops and customize the desktop wallpaper for each virtual desktop. That's been a long time coming and I'm sure it will make many people happy. This build also brings changes to File Explorer. The default layout now has extra padding between elements. Users will be able to toggle back to the previous layout. And some more good news. Notepad is now, once again, updated via the Microsoft Store. And Windows Terminal and Power Automate Desktop are included as an inbox apps! And Live previews for websites pinned to the taskbar from Microsoft Edge are rolling out to all Insiders.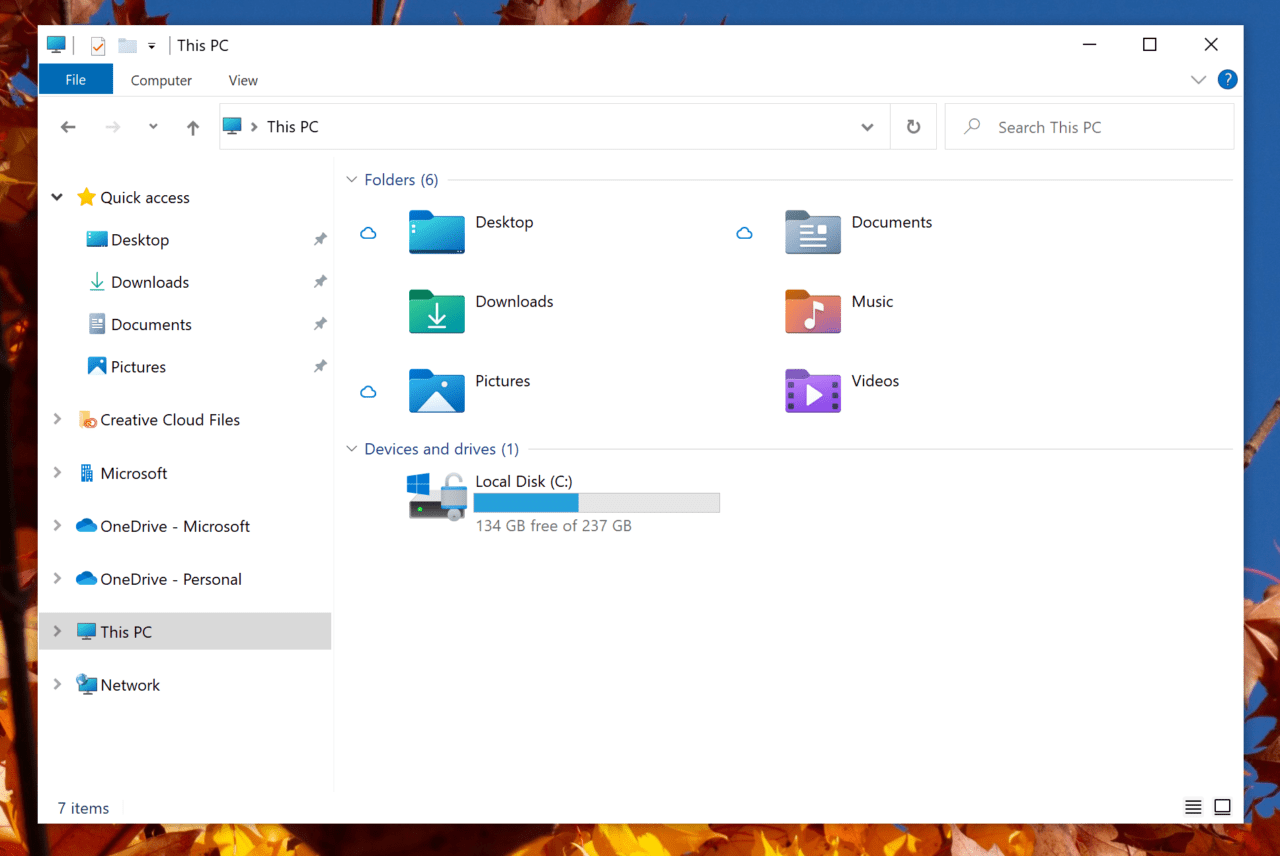 Finally this month, Windows 10 Insider Preview Build 21343 gets updated system icons in File Explorer. Other changes in this build include improvements to Windows Sandbox and Microsoft Defender Application Guard (MDAG). Microsoft says that in previous builds, the container runtime matched the host. Starting with this build, Microsoft is introducing a new runtime that is designed and optimized for container scenarios. Microsoft says: "It is lightweight and allows faster launch times for both Windows Sandbox and Microsoft Defender Application Guard." And Windows Sandbox now includes the Chromium-based version of Microsoft Edge.
One last change in this build. In File Explorer, you can now use CTRL + Left / Right arrow to move the cursor between words in the file name, as well as CTRL + Delete and CTRL + Backspace to delete words at a time, when renaming files.
And that is it for another month!