In this post, I will show you how to deploy an already deployed StorSimple appliance as a file server/NAS.
 

 
Why You Should Deploy a StorSimple as a File Server
An interesting scenario with StorSimple is to use it as a file server. Your shares are created from the Azure Portal but managed locally. They are normal Windows shared folders that offer the usual features of SMB networking. They also potentially have great speed. There are a few scenarios that you can consider, including the small business and branch office.
Many small businesses, even those using cloud services such as Office 365, continue to run a domain controller, accounting application, and file server on servers. Hopefully, these are virtual machines. If all three roles are running on a single virtualization host, no matter what virtualization that was, it would normally require 3x the virtual licenses. This requires the host to be licensed twice for Windows Server Standard. You need 2x the virtual licenses per Standard license assigned to a physical machine. However, if the file server was a StorSimple appliance:
It would not require a virtual license. The customer would only need the host to be licensed once for Windows Server Standard for the domain controller and application server.
The customer gets the storage scale, cost, backup, and DR benefits of StorSimple.
Larger businesses with branch offices can also benefit in a very similar way. The appliance can offer file services in each branch office and use the cloud for scale out, automatic backup, and a DR solution. This has a recovery time objective (RTO) of a couple of minutes. The deployment of a cloud-managed appliance will simplify and reduce the IT costs of branch office deployments.

Configuring the StorSimple
After you deploy the virtual appliance, you will perform a number of steps, which were documented in a previous article. One of these steps is when you configure the StorSimple, either as a file server/NAS or as an iSCSI storage appliance. Make sure you choose the File Server option.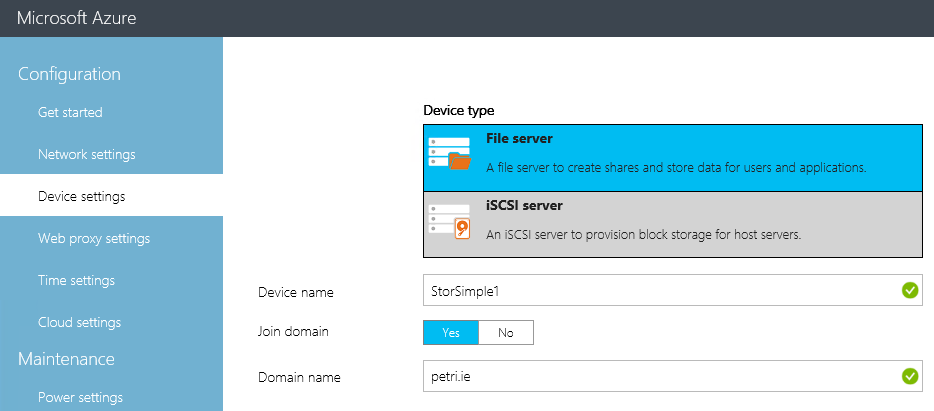 It is advised that the appliance should be added to a domain. This will allow you to manage shares and security in a traditional method.
We will continue the process from when the appliance is configured in the Azure Portal and we can start to provision shares. Open the StorSimple Device Manager and browse to Shares. For this example, we will treat the StorSimple appliances as a block of storage, which is managed by a centralized view. You can always browse into the virtual appliance in StorSimple Device Manager and then into shares for that device.
Click + Add Share. You are asked to select a device in the Add Share blade. The rest of the options appear after you select an appliance to create the share in:
Share name: This is the name of the folder and share that will be created.
Description: This is a useful description for the share.
Type: It will be either locally pinned, where all of the data is hot, or tiered with the usual mix of hot and cold data.
Capacity: This is the size of the share, which is between 500GB and 20TB. Make note, tiered shares will span local and Azure storage and 10 percent of the share will reside locally.
Default permissions: This is either a user, which is not recommended or a group that will be granted full rights to the share. This is recommended. It is specified as domain_name\group_name. We will grant user rights at a later time.

 
 
Click Create and Azure will provision appliance and cloud storage. It will also enable and permission the share. The creation only takes a few seconds.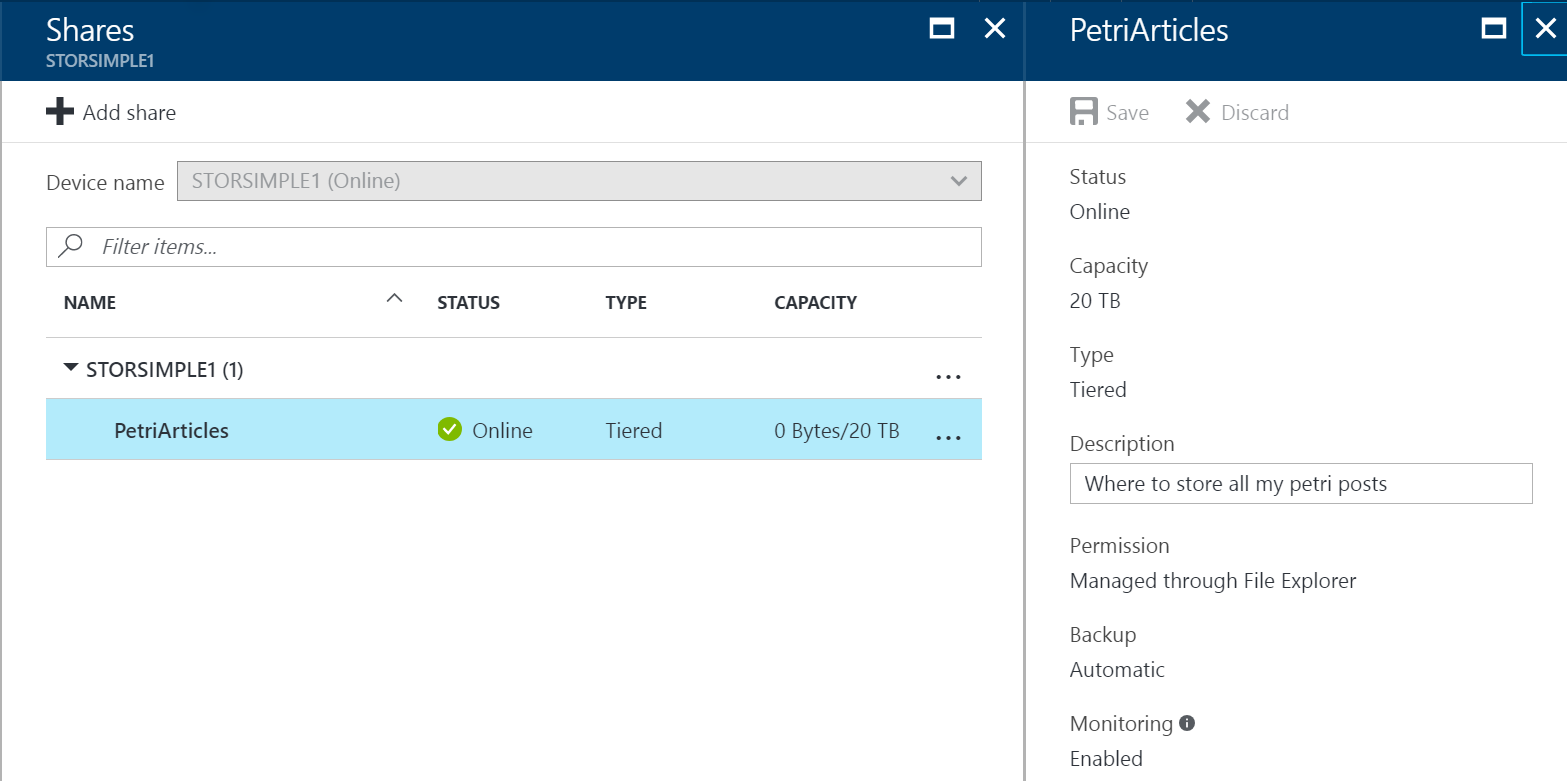 You will perform all of your share and folder administration as you would have always done. Use Computer Management while connected to the StorSimple. Use File Explorer by browsing to the share from your PC.