Choosing the Right Microsoft 365 Tool for Managing Your Tasks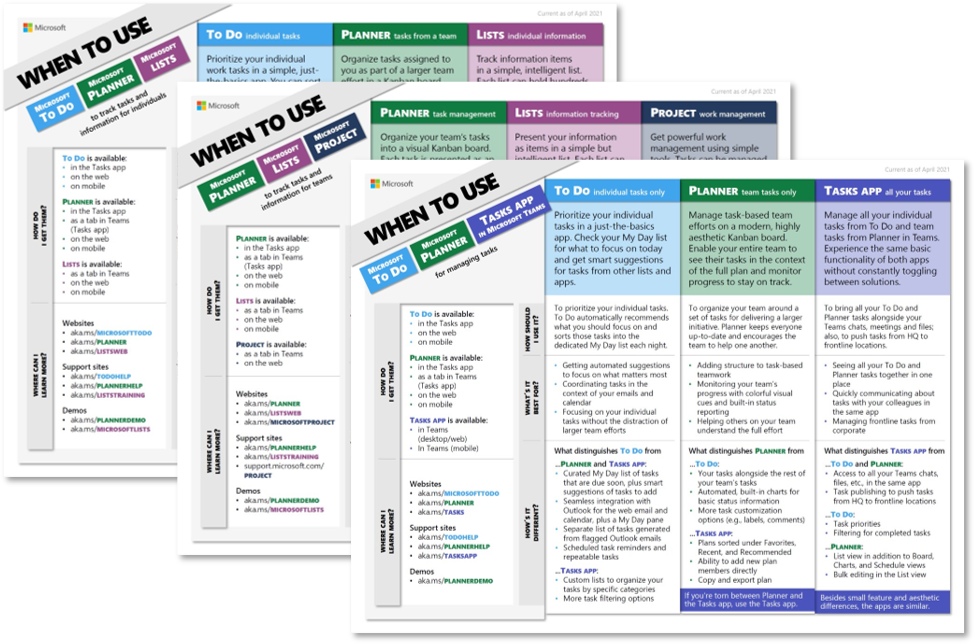 OK, quick: How many Microsoft 365 services and apps are available to you and your users to help manage their work? Don't worry, it's a trick question, in the realm of having to ask, "What quarter are we in?" That's because Microsoft is semi-admitting that they've released some newer tools over the past year or so, and maybe didn't do the best job rolling them out and explaining their intent. Well, they are rectifying the situation by releasing a single-page PDFs to help explain 'When To Use' the arsenal of tools.
Last year, Microsoft launched the new Microsoft Lists and Tasks in Microsoft Teams. Many users and customers, rightfully so, noticed a good deal of overlap with existing tools: Microsoft To Do, Microsoft Planner, and Microsoft Project for the web. There was a good deal of confusion and questions sent Microsoft's way, best summed up in this lovely phrase I've personally heard many times over the past few years…"What tool should I use?"
Today, Microsoft is answering these questions with some handy, concise, and helpful guides. These one-page documents focus on different work scenarios and the Microsoft 365 tools that work best with them: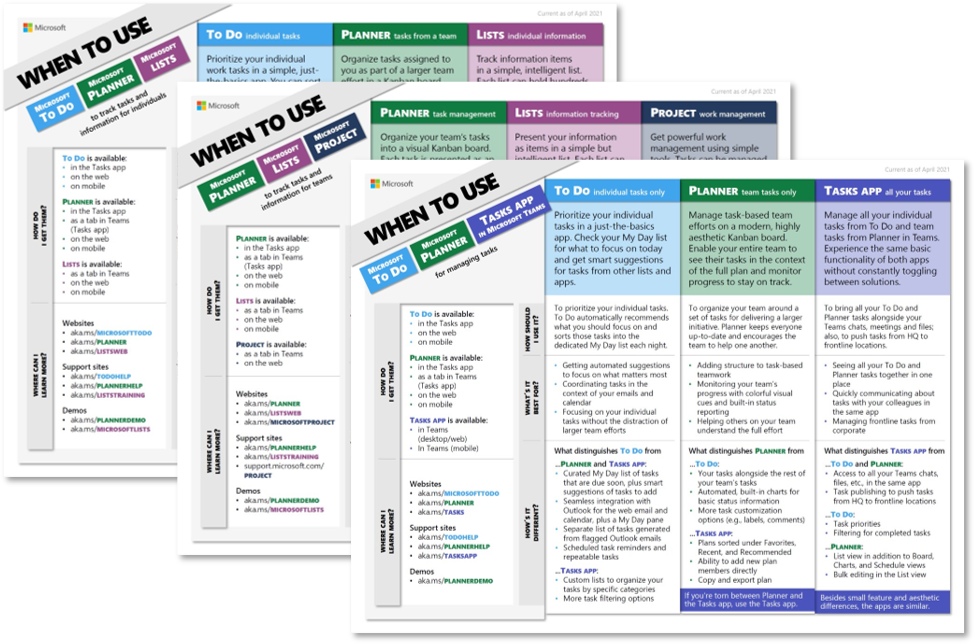 The goal for these guides is to help you answer that age-old question posed above; they're not meant to be fact sheets. Those details are available via support pages, included on the 'When to use' pages. Instead, the 'When to use' guides focus on the best use for each tool and what distinguishes it from the others. The guides are broken up into four main sections:
General tool description
How should I use it? The overall purpose of the tool
What's it best for Scenarios where the tool excels (Hah, get it?)
How's it different Features that distinguish the tool from others
There's also a pair of sections about how to obtain and use each tool (How do I get them?) and how you can find out more (Where can I learn more?).
As you read through the guides, if you find a tool is missing a feature or obvious use case, it's generally because there's another tool that's better or best suited for that workflow. Microsoft's goal is to help you and your users decide which tool is best for managing your work, not giving you a comprehensive how-to of these tools.
These 'When to use' guides are a part of Microsoft's ongoing effort around task management. Due to ongoing work style changes, and a good deal of workers pseudo returning to workplaces, Microsoft 365 helps streamline all the tasks, resources, and team collaboration requirements. You can stay up to speed on all things task management in the Planner Tech Community blog forum.