Online meetings are becoming an even more regular part of daily work life as many of us move to 'work from home'. Whether you are a small business or large corporation, online meetings can enable teams to work remotely more effectively and maintain a sense of community and connectedness.
Video conferencing technology has been around for years, but many still complain of poor experiences and that video calls can't replace face-to-face contact. Video conferencing can never fully replace having everyone in the same room, but it is possible to improve the experience.
Here are four key points to bear in mind when conducting online meetings with your colleagues or clients.
1. Choose the right software
Rule number one: pick the right tool for the job. Let's talk about some popular video conferencing apps.
Skype
I want to start with Skype because it is widely used, it is free, and it is well established. But it's worth remembering that Skype is primarily a consumer product and not a business tool.
Skype supports group meetings with up to 50 participants and you can share your screen. Skype can be used in a web browser, so conference calls can be started without participants downloading software. The host just needs to distribute a link so that participants can join the call. There are also chat and file sharing features.
Skype's group video call experience sometimes leaves a lot to be desired. It's common that a participant's video drops out of the group view. And that the only way to get them back is to disconnect yourself from the call and rejoin.
Microsoft Teams
Skype for Business Online (SfBO), the cloud-based business version of Skype, is being phased out and replaced with Microsoft Teams. Despite only being around for 3 years, the online meeting features in Teams are an improvement over SfBO.
Teams is more tolerant of poor network conditions, including mobile 4G networks than SfBO. It's less likely that you will experience dropped calls. And Teams has a more useful mobile client. Teams supports the ability to share your screen, on a mobile device and PC. And you can blur your background for additional privacy on videocalls.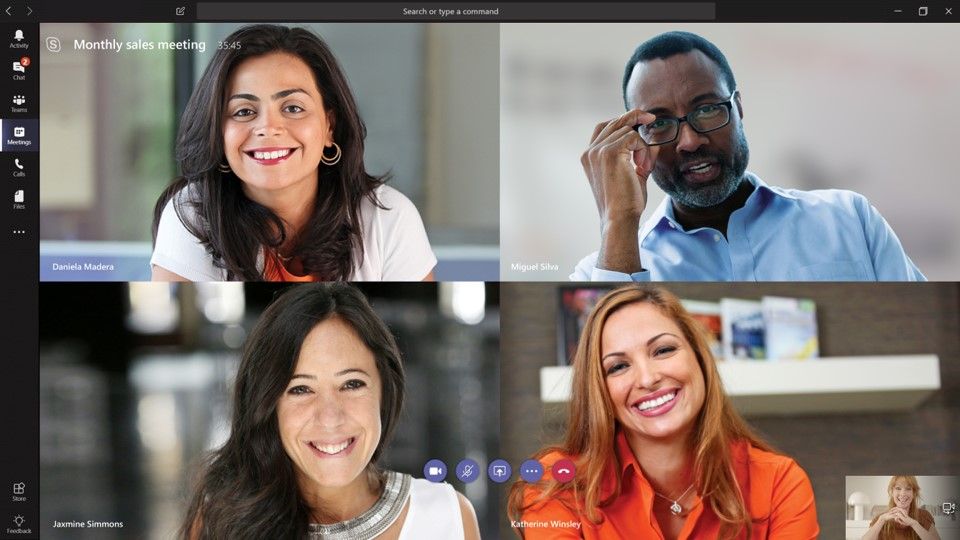 But Teams isn't a dedicated video conferencing tool. It is a communication app that brings together many of the services included in Office 365. At the time of writing, Teams lacks some of the advanced features found in dedicated video conferencing software like Zoom. And because Teams has so many features, it might not be the right choice for groups that need a video conferencing tool only.
Zoom
Unlike Teams, Zoom is a dedicated online video conferencing platform. It has several different subscription plans, including a free option that limits meetings to 40 minutes if there are three or more participants. Zoom is simple to use, and it targets companies using Skype for Business Online and Cisco Webex.
Zoom offers more advanced video conferencing features than SfBO and Teams. One standout feature is Breakout Rooms, which lets hosts create sessions where participants communicate together but are separated from the main meeting. Not to be confused with Room Systems, the host can jump in and out of the Breakout Rooms as needed.
Breakout Rooms is especially useful in teaching scenarios. Microsoft Teams does allow multiple meetings to be active simultaneously. And for participants to move between meetings. Although the end-user experience isn't as smooth as Breakout Rooms.
Integration with Microsoft Teams sees Zoom become part of the Teams interface, from where you can start and schedule meetings. Scheduled Zoom meetings sync with Outlook and you can invite participants from your Teams contacts.
GoToMeeting, Webex, and more
Aside from the video conferencing solutions mentioned above, there are many others on the market. Each with their own pros and cons. Some worth mentioning include:
GoToMeeting
Google Hangouts Meet
Cisco Webex
2. Make sure network performance is adequate
The bandwidth required for group videocalls depends on several factors, like video resolution, audio quality, video layout, and video frames per second. Poor quality networks that suffer from jitter or packet loss can result in static, cutouts, and voices that sound distorted or robotic.
Bandwidth recommendation
Taking Teams as an example, Microsoft recommends 500kpbs/1Mbps (bandwidth up/down) for standard definition group video calling and 1Mbps/2Mbps for high definition group video calling (540p videos on 1080p a screen).
Backhauling Internet traffic over a wide-area network (WAN)
Microsoft also recommends that users accessing Office 365 services, like Teams, should have a connection directly to the public Internet. Companies that backhaul traffic to a central location for security reasons often experience latency that results in a poor user experience for cloud-based services. Microsoft's global network is spread geographically around the world to ensure there is an access point close to users.
For more information on Microsoft's global network, see Getting the best connectivity and performance in Office 365.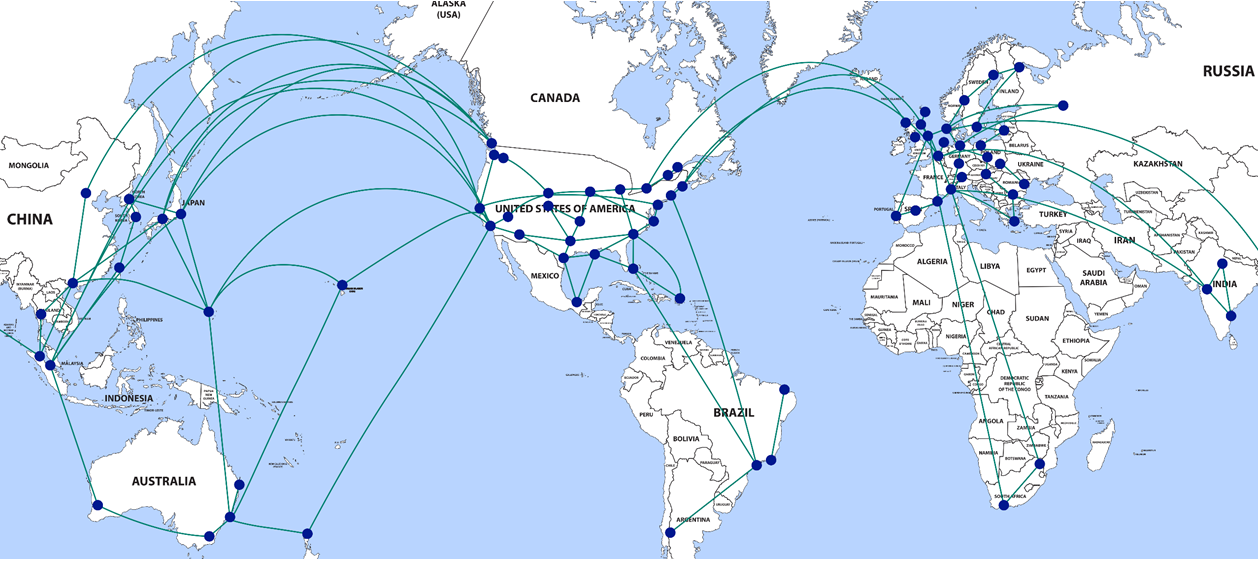 Mobile networks, virtual private networks, and Wi-Fi
Using a mobile Internet connection, or a mobile Internet hub, is likely to be less satisfactory than a wired connection to a router. VPN networks and Wi-Fi are not usually designed or configured for transmitting real-time media. If you are connecting using a virtual private network (VPN), a split-tunnel configuration should be used to make sure that video-conferencing traffic is sent over the Internet and not the VPN.
QoS or Wi-Fi Multimedia (WMM) can be enabled on Wi-Fi networks to help improve real-time streaming. If your equipment supports it, the 5Ghz range can provide better performance for video calls. But 5Ghz is often poorly supported by Intel Wi-Fi adapters and it may require more densely placed access points.
3. Buy a good quality headset
If you can't be heard clearly, or there is significant background noise or distortion, it becomes tiring for other participants to listen and more difficult for them to focus on the call.
Built-in microphones and speakers
In addition to your voice, your notebook's built-in microphone will pick up background noise and the room acoustic. Both are distracting for other participants. Secondly, the microphone may also pick up the sound of other people speaking on the call and feed the noise back into the audio chain, creating an echo or feedback.
In-ear headphones and hands-free devices for mobile phones
Cheap in-ear headphones often have microphones so that you can receive phone calls when listening to music. Along with hands-free devices for mobile phones, microphones supplied with in-ear headphones don't usually provide the audio quality required for video calls. If you want to use in-ear headphones, invest in a good quality model with a high-quality microphone.
Noise cancellation
If you can't find a quiet environment for hosting or joining video calls, look at headsets with built-in noise cancellation on the microphone. Some models have noise cancellation on the headphones as well. If there is no noise cancellation on the headphones, over-ear models have better noise isolation from your environment than on-ear types. But over-ear headphones can be uncomfortable to wear for long periods.
4. Mute your microphone when not speaking
Finally, mute your microphone when you aren't speaking. Nobody wants to hear you making coffee or the dog barking in the background. Plus, feedback and room acoustics might be heard in the audio chain while you are not speaking. Especially if you are using your notebook's built-in microphone or have a cheap headset.
If your headset has a built-in mute button, make sure that your video conferencing software shows that you are muted. Other users should be able to see the status of your audio. You can also be sure that nobody can hear you when you think you are muted.