Windows Server 2022 Now Available for Evaluation and to Volume License and Azure Customers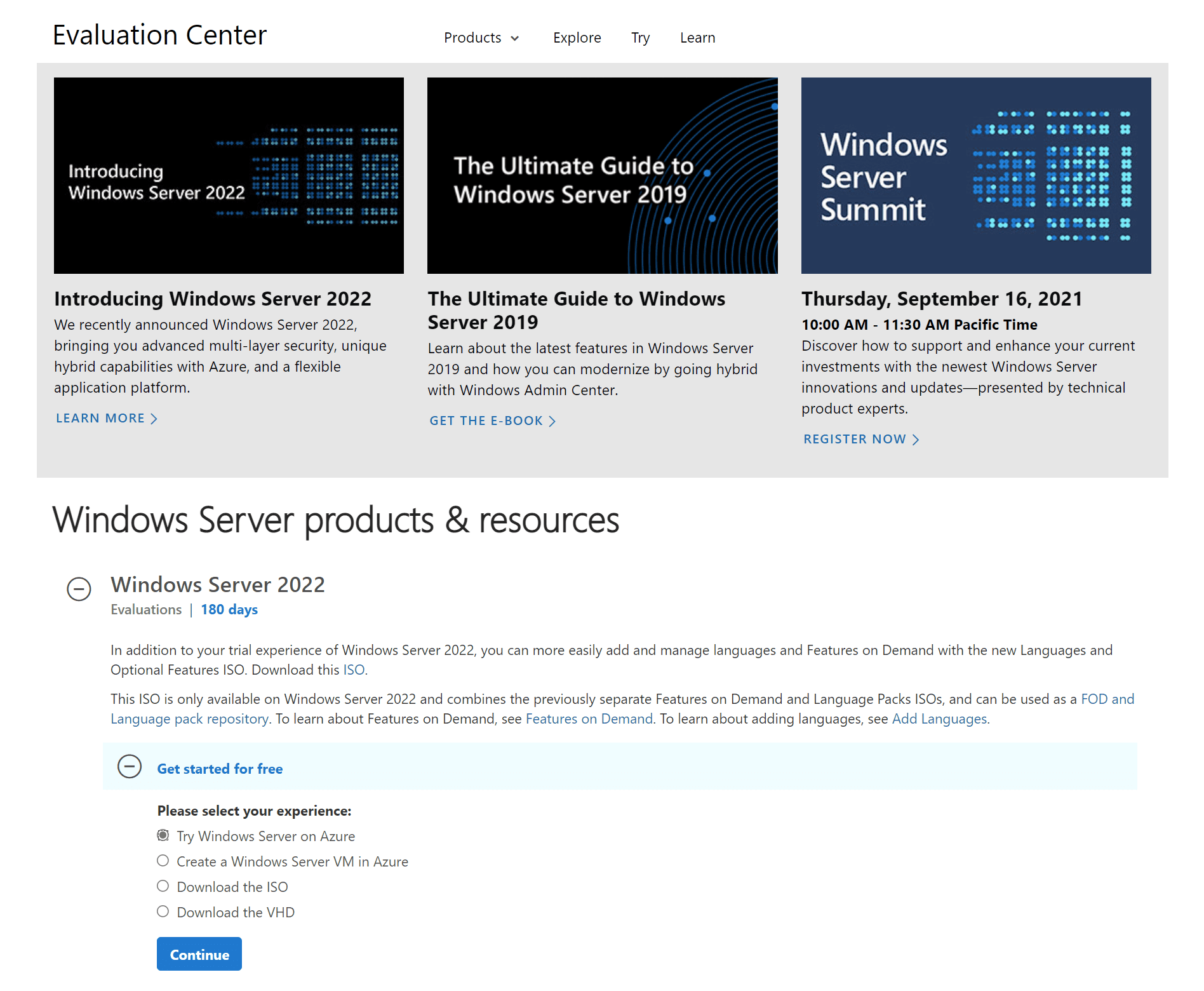 Back in June this year, Microsoft sent the final Windows Server 2022 bits to OEMs for testing. And without so much as an official announcement, Microsoft has made the next version of its server product available to mainstream users. Windows Server 2022 will only be available on the Long-Term Servicing Channel (LTSC); unlike recent versions of the product. Windows Server 2016 and 2019 both had releases on the Semi-Annual Channel (SAC), although without support for the Desktop Experience server role. Windows Server SAC releases were designed to bring the latest container innovations to customers who needed them before the next LTSC release.
Starting August 18th, Windows Server 2022 is available in the Volume Licensing Service Center. And it's available in Standard, Datacenter, and Datacenter: Azure Edition SKUs. You can now also provision Windows Server 2022 virtual machines (VM) in Azure and download an evaluation from Microsoft's website here.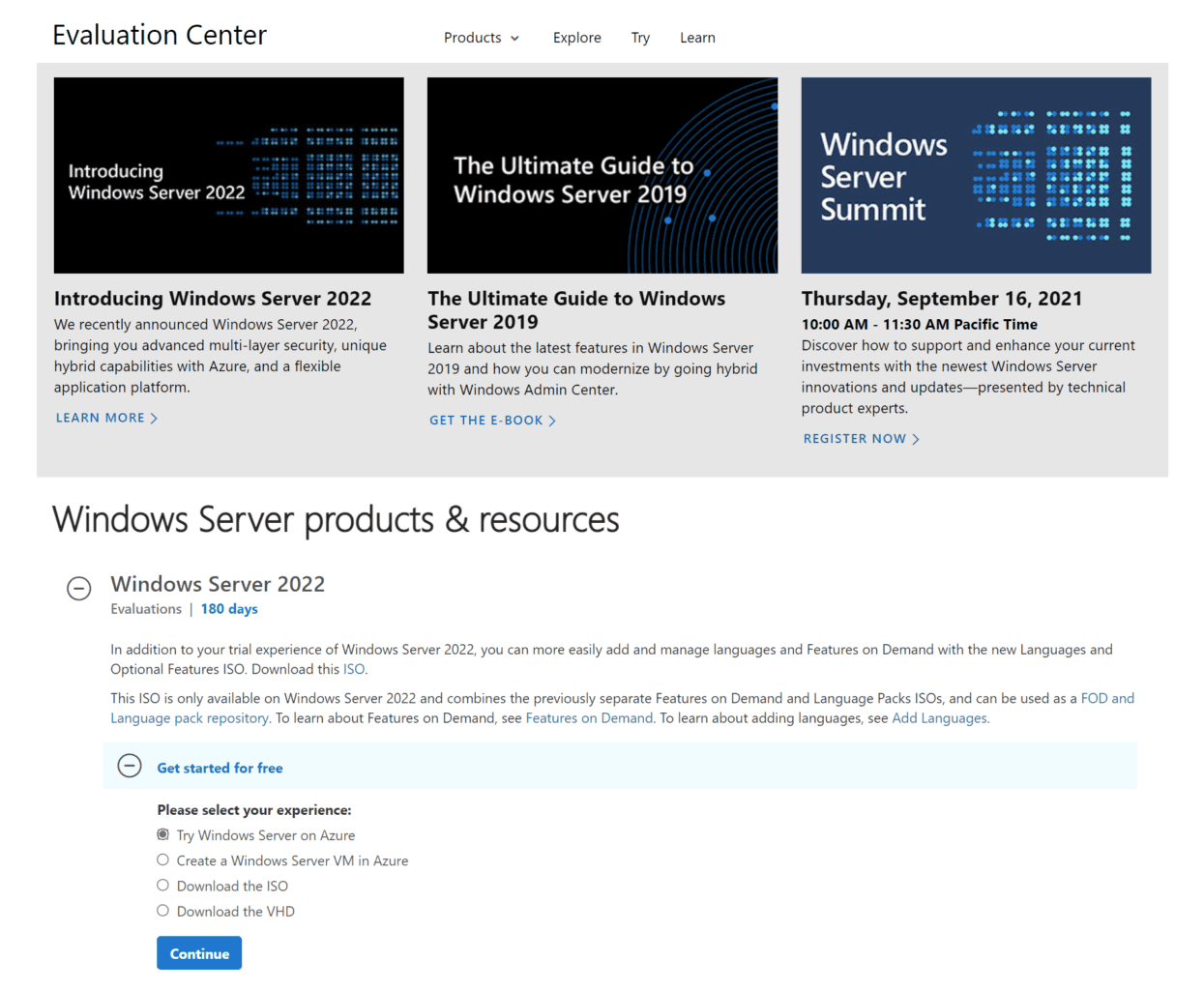 Microsoft also updated its product support page for Windows Server 2022. Mainstream support started August 18th, 2021 for five years, ending October 13th, 2026. Extended support is for an addition five years and it ends October 14th, 2031.
Windows Server 2022 – Datacenter: Azure Edition
Microsoft is pushing Azure as the best platform for hosting Windows Server 2022. And for the first time, there will be an 'Azure Edition' of Windows Server connected to the 2022 release, which offers features not available outside of the Azure public cloud and Azure Stack.
Windows Server 2022 closely integrates with cloud services like Azure App Service for building fully managed .NET apps, Azure Automanage for simplifying operations for Windows Server virtual machines (VM), Windows Admin Center (WAC) in the Azure portal, and Azure Kubernetes Service (AKS) on Azure Stack HCI.
The Datacenter: Azure Edition offers the latest hybrid and compute features, and it works in the Azure public cloud and on Azure Stack HCI 21H2. The Azure Edition includes hotpaching (see below), SMB over QUIC, and Azure Extended Networking.
Microsoft announced that hotpatching will also be available for Windows Server 2022 Server Core for customers using Azure Automanage. The Azure cloud service is used to orchestrate installation of security patches on top of a baseline cumulative update, which is released every 3 months. The baseline update requires a reboot. But security patches issued between baseline updates can modify code running in memory without a reboot.
Best of class security with Secured-Core Server program
Following in the footsteps of Windows 10 and its Secured-Core PC program, Windows Server 2022 is the first edition of Server to benefit from Secured-Core. With a combination of identity, virtualization, OS, and hardware defenses, Secured-Core servers have protection at both the hardware and software layers. Using Windows Defender System Guard, which is built-in to Windows Server 2022, Secured-Core servers provide organizations with assurances of OS integrity and verifiable measurements to help prevent firmware attacks.
Windows Server 2022 also brings TLS 1.3 by default, providing faster and more secure HTTPS connections. Server 2022 also gets Secure DNS with DNS over HTTPS (DoH).
Fileserver security and speed improvements
Server Message Block (SMB) AES-256 encryption comes to organizations looking for the most secure connections. East-West SMB encryption controls are included for internal cluster communications. And in this release, organizations can enable encryption for Remote Direct Memory Access (RDMA) without compromising performance.
Should I upgrade to Windows Server 2022?
Many organizations won't have to worry about licensing Windows Server 2022. It will be included in their licensing agreement with Microsoft. Businesses that are planning to upgrade from Windows Server 2016 should make the jump straight to Windows Server 2022. You can find the system requirements for Windows Server 2022 here.
If you want the best security, make sure you are running Windows Server 2022 on compatible hardware. Many organizations rely on Windows Server for critical infrastructure roles, like Active Directory (AD) domain controllers and fileservers. And you shouldn't overlook the security of these devices because if compromised, you're going to have a much bigger problem than one server out of action.
New Windows Server 2022 features that improve integration with Azure, for organizations running a hybrid cloud scenario, could also prove beneficial. Although it's worth checking to see which features are also available for Windows Server 2016 and 2019; not all of them are exclusive to Windows Server 2022. And some Windows Server 2022 features are only available when it is running in the Azure cloud. So, upgrading to Windows Server 2022 might also be worth the effort if you are planning on migrating physical server devices to run in VMs in the cloud.