Hands-On with Windows Phone 8.1: Navigation, Mail, Calendar, and Maps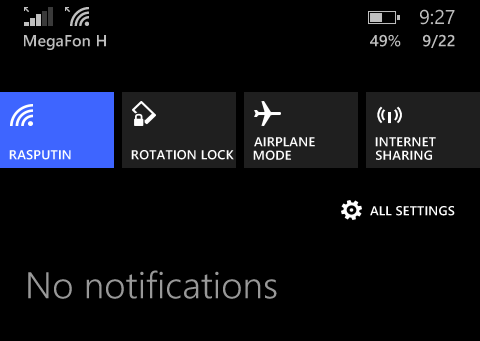 A recent vacation gave me the perfect excuse to put Windows Phone 8.1 through its paces, and in this first article of a two-part series, I look at the built-in Windows Mail and Calendar apps, HERE Maps, Cortana, working offline, and security.
On my last vacation in February, my sole technological companion was a budget Android tablet. It met most of my needs, only falling short on a couple of interoperability issues with my camera and a NTFS-formatted USB drive, both issues that I'd anticipated. But after having been hesitant for many years following a bad experience with what was Windows Mobile, in spring I bought a Lumia 520, as I was keen to check out Windows Phone 8.1. Since that day, the Lumia has been such a joy to use that not only has the Android tablet been gathering dust in a cupboard, but I'm gradually becoming more attached to the smartphone as I discover how it can help in everyday life.
As a reward for good behavior, I treated the Lumia to a vacation in Greece and left the tablet at home. I also packed my notebook as I wanted to write this article and a couple of other pieces — tasks that would require a more capable device. What follows are my impressions of Windows Phone 8.1 in real-world use, including the built-in apps and those bundled exclusively for Lumia. My thoughts on the third-party app problem will wait for another time.
Windows Phone or Just Windows?
Despite some of the drawbacks compared to more mature phone OSes, such as the less than stellar selection of apps in the Windows Store, none have proven deal breakers, though your mileage may vary. Not only is Windows Phone 8.1 beautifully designed, but moreover provides a seamless extension to my primary computing device, largely because of the tiled Modern UI and apps that are shared across both platforms, including Windows Mail, Facebook, Tweetium, Nextgen Reader and Internet Explorer.
Another reason to talk about some of the features of Windows Phone 8.1 now is that many of them are likely to appear in Windows 9, such as Cortana, Storage and Wi-Fi Sense, for example. There is also evidence that Microsoft is gradually dropping the 'Phone' moniker, and though some might argue that Microsoft should drop 'Windows' from the name instead, to prevent scaring off those who remember Windows Mobile, it makes sense to stop differentiating as the kernel and so many of the APIs are already shared.
Start Screen and Navigation
The Start screen is the key visual differentiator between Windows Phone 8.1 and other phone platforms. Having used iOS and Android, admittedly in quite limited capacities, the ability to customize the Start screen with live tiles provides a fresh and useful take on the smartphone experience.
While there are some quirks that still need resolving, such as the inability to pin some settings to the quick start bar in the Action Center, I find navigating around Windows Phone easier than Android. For example, I can search or quickly jump to apps listed alphabetically, rather than swiping through an endless list. Alternatively, if you don't have an app pinned to the Start screen, then you can get Cortana to open it for you.
But the most useful aspect of the Start screen is the ability to pin live tiles to it. Not only can you do this for apps, but also you can do this to create shortcuts to specific app pages. For example, if I know that I'll need quick access to specific information in OneNote, I can pin a note directly to the Start screen. Similarly, I can do the same for a contact, a favorite place in HERE Maps, and the list goes on.
Tiles can be resized, where the bigger they get, then the more information that's able to be displayed. The only feature I'd like to see added is a backup of the Start screen layout to OneDrive, so that when I restore my phone and move to a new device, I don't have to recreate the Start screen from scratch.
In a forthcoming update to Windows Phone, it will be possible to create live folders on the Start screen, which are collections of apps or pinned shortcuts. These live folders will be especially useful for those with cluttered Start screens or for phones with displays larger than the 520.
Windows Mail and Calendar
You'll be glad to hear that both the Mail and Calendar apps are more or less adequate, but Windows Mail has a couple of gotchas when dealing with mail offline. First, you should make sure that any folders you want to access have been synced locally. By default, only common folders such as Inbox, are available offline. Secondly, once a folder has been synced, any attachments must be manually opened to ensure they will be available.
It's nice to see that I can accept meeting requests in Windows Mail and that the appointments are automatically added to my calendar. But that brings me to the Calendar app, and it's basic. If you have anything more than the simplest schedule to manage, then the layout makes distinguishing different events and appointments difficult. The Calendar app needs to look more like its Windows 8 counterpart. Tasks are also hidden away in the Calendar app's menu, but for consumers at least, Cortana reminders are a better alternative to Outlook-based tasks.
HERE Maps
Nokia's HERE Maps is the default mapping app on Lumia phones, and considering how much Bing Maps for Windows Phone sucks, that's a godsend. Bing Maps still lurks under the surface and is required for some of the phone's functionality, but by-and-large HERE is the app you should turn to for your day-to-day mapping needs. There are two other applications under the HERE banner available for the 520: Drive and Transit. Additionally there's an augmented reality app called HERE City Lens, but it is only available for devices with a compass.
Despite the improvements HERE Maps brings, it still falls short when compared to Google Maps. For instance, you can't measure the distance between two points on a map, and there's no scale to give you a quick idea of distances, and there's no street view. Nevertheless, I found HERE more than capable of getting me from A to B. The only problem I faced was setting out on the wrong path when I couldn't be sure what direction I was facing in, but that's more to do with the 520's lack of compass than an issue with the app.
HERE Maps was able to find everything I asked of it, even though sometimes the locations weren't marked directly on the map, but could be located by performing a search. HERE Maps calculates routes effectively and happily updates suggested routes should you change starting location. And a major plus is that maps can be downloaded so that the app is fully functional without an Internet connection, a feature that I found to work more reliably than in Google Maps, where downloading maps for offline use can be extremely hit and miss.
In the second part of this series, I discuss Mobile IE, Cortana, Storage & Data Sense, security, and working offline with Windows Phone 8.1.