What's New with Universal Printing in Windows 11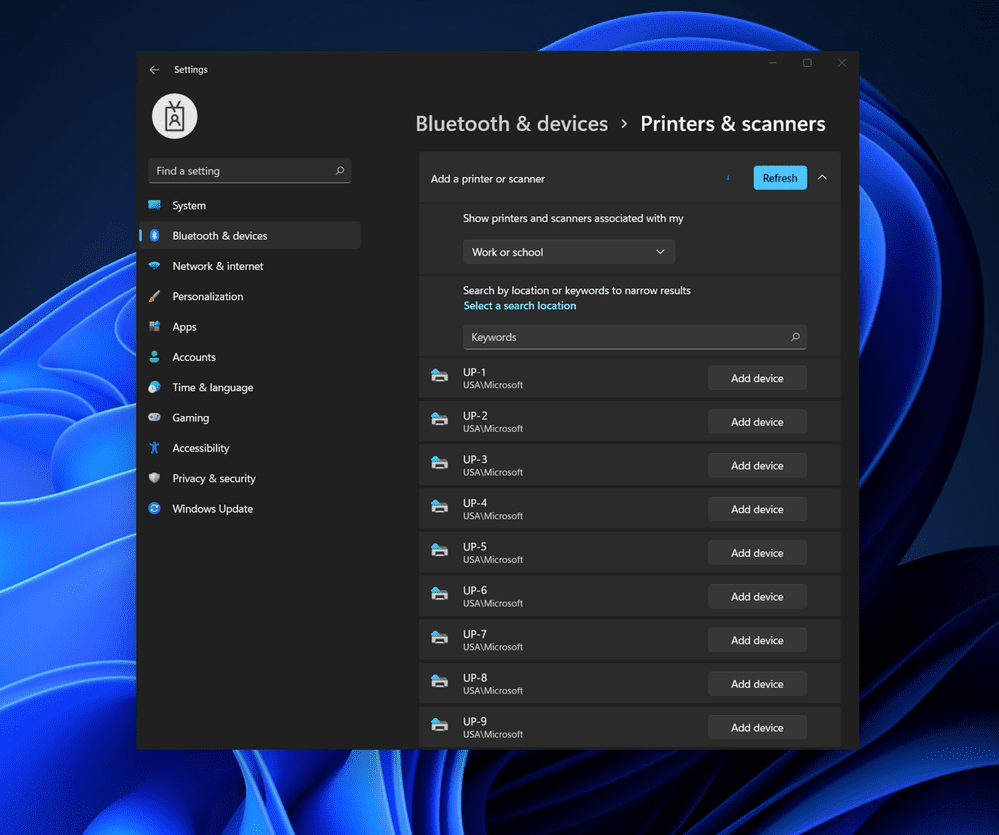 There are some exciting improvements on the way for Universal Print coming in Windows 11. In addition, it's not just Universal Printing that is improving. Microsoft has made several nice enhancements to printing in general, too; let's take a closer look.
Universal Print is a modern printing solution that your company can utilize to work with cloud print services from Microsoft. You no longer have to worry about and maintain print drivers on all your users' devices. This is WONDERFUL news for IT Pros! Microsoft developed a 'Universal Print' driver that rules them all. The only catch…you need a Universal Print-ready printer. Of course, there's always a catch. You can read more about these new printers and what they offer in the Tech Community Blog.
With Windows 11, Microsoft is upgrading the user experience with printers in multiple ways. As you can see above, they've updated the Printers section of Settings to go with the overall UI changes in Windows 11. They've also added some energy and environment-friendly changes to the Universal Print driver that will cut down on waste and add a layer of privacy for users. Users can now add a PIN to a print job so that only they can print their potentially sensitive print job.
With Windows 11, Microsoft is also adding support for Print Support Application (PSA) in Windows. This new inbox driver offers support for the standards-based Mopria printing protocol. This enables a seamless print experience and removes the need for users to install additional software or custom drivers for these Mopria-certified printers. Also, the Universal Print driver in Windows 11 can be supplemented with additional driver functionality by printer manufacturers or Managed Print Software (MPS) solutions; this can be provided conveniently in the Microsoft Store.
Admins can install the default PSA or another vendor's PSA if necessary for a Universal Print-ready printer using Microsoft Endpoint Manager. This functionality is also coming in Windows 10, version 21H2 this fall. On a consumer Windows 11 device, PSA will also be available outside the Universal Print configuration. Apps will install from the store when the home user connects a printer to the home network. The advanced settings in the traditional print UI will be hidden in Windows 11; the PSA will take those duties over. Nice! The main advantage? No additional print drivers to worry about. The stability and security of the device are enhanced because of the tighter integration between the PSA and the print device.
Microsoft is also bringing some enhanced support for the Internet Printing Protocol (IPP) to Windows. This started back in 2018. With Windows 11, they are adding IPP over USB to offer more hardware support. Windows also supports directed discovery of IPP printers. This enables IPP and PSA for Windows Server 2022 for Point and Print customers who want to continue to use Windows Server as their print infrastructure.