Windows has had a slow start to 2023. But nevertheless, there are some interesting pieces of news to share, including a 39 percent drop in Windows revenue from PC makers in FY2023 Q2, tabs coming to Notepad, an updated design for File Explorer, and more.
So, let's get started.
Windows revenue plummets 39 percent in FY2023 Q2
There was a 39% drop in revenue for Windows and Windows-related services from PC makers in Q2 of financial year 2023. During the pandemic, the move to remote working required organizations to hurriedly adapt to the new circumstances.
In the rush to find solutions that worked on scale for remote access, organizations purchased new hardware for workers that were previously exclusively office based. And post pandemic, as we head back to some kind of normality, the demand for PC hardware has declined sharply.
So, the drop in revenue is an adjustment back to pre-pandemic levels and it shouldn't be a cause for alarm. Windows hasn't been an important business for Microsoft for years.
Windows 11 22H2 rolling out automatically to non-managed devices
Non-managed Windows 11 users, i.e. those devices not part of an enterprise environment, on the original release from fall 2021 will see devices upgraded to version 22H2. The original release of Windows 11 reaches end of support October 10, 2023.
Microsoft no longer selling Windows 10 downloads
Microsoft updated its Windows 10 product page to state that it will no longer sell downloads of Windows 10. Retailers will continue to sell downloads while digital stocks last.
Microsoft Edge version 109
Microsoft released an update to its Edge browser. Version 109 brings a new text predication feature that Microsoft describes like this: "To help you write faster and with fewer mistakes, Microsoft Edge provides word and sentence predictions for long-form editable text fields on web pages". It's currently available in English only and in the following regions: U.S., India, and Australia.
Cleary U.K. users write English so well that they didn't need to be included in this initial rollout. Odd. But Microsoft does intend to expand the feature to more regions in the future.
This update also brings account linking between personal MSA and work and school accounts. The idea is to let users continue to earn Microsoft Rewards points even if they are logged in to their work or school account. Account linking must be enabled by IT for the feature to be available for end users.
Windows File Explorer to get redesign
Windows Central reported this month that File Explorer is apparently getting a redesign that will better integrate with Microsoft 365. Two internal mockups revealed by Windows Central show a redesigned header and a modern file directory box, search box, and a new Home button.
The Home page gets better integration with Microsoft 365, adding a feed for 'recommended files', with larger thumbnails so you can more easily identify the files being presented. Not unlike what you see on the Office.com homepage today.
The new integration with Microsoft 365 will allow users to see emails and comments connected to documents shared in Microsoft 365. The extra details will be available in the updated Details pane or by glancing files.
According to Windows Central, the redesign should be rolled out before the end of 2023. So, I guess that means as part of Windows 11 23H2 or a 'Moment' update.
Microsoft Edge also getting updated design
Not to be left out, Microsoft Edge 'Phoenix' is a reimaging of the browser that better fits the Windows 11 UI. Revealed by Walking Cat on Twitter, the new design has been around internally at Microsoft since last summer and it is being built in sections.
Some of the new design aspects, like rounded corners on the browser window, can be enabled by setting flags in current Insider preview versions of the browser.
Microsoft is also testing a new feature called Tab Center, which provides a breakdown of browser usage over time and other metrics. Microsoft is also experimenting with a split window feature in the Canary Channel. It lets you open two tabs side-by-side in the same tab. The feature can be abled with a flag on current Canary Channel builds.
Windows Insider Program
Windows Insider builds 22621.1095 & 22623.1095 get an updated Search box on the Start menu with more rounded corners to match the design of the Start box on the taskbar.
Windows 11 Insider Preview Build 25272 gets a refresh button on the Windows print queue!
Live kernel memory dumps in Task Manager
Windows 11 Insider Preview Build 25276 brings the ability to create live kernel memory dumps from Task Manager. This adds to the existing capability to perform memory dumps for user mode processes.
Cloud storage update
Starting February 1st, 2023, Microsoft says that cloud storage across Microsoft 365 apps and services will include Outlook.com attachments and OneDrive data. So, effectively Microsoft is reducing the amount of data users get in OneDrive by sharing it with Outlook.
Notepad gets tabs
Yes, Notepad is getting tabs! And unlike File Explorer tabs, you will be able to drag tabs out of their own window.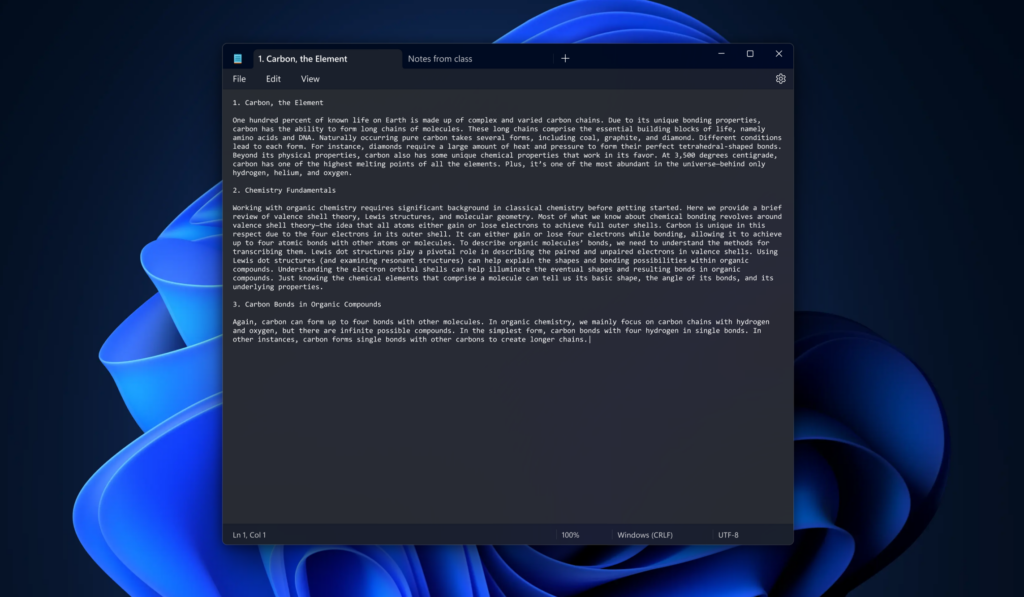 New widgets for Facebook Messenger, Spotify, and Phone Link
Microsoft brought new widgets to Windows 11 for Facebook Messenger, Spotify, and Phone Link this month. The Windows App SDK 1.2 lets developers create their own widgets for Windows 11.
Update to Windows Subsystem for Android
There were several updates to the Windows Subsystem for Android on Windows 11 Insider channel builds, including:
Update to Android 13
Improved boot and mouse click performance
Reliability improvements to application resizing and opening media files in Windows
And that's it for another month!