It's been a big week for all of us at the Petri IT Knowledgebase (and Petri's parent company, Blue Whale Web) as we launch an all-new site design with a host of new features and functionality. A small team of editors, designers, programmers, and server experts have been toiling over our new site design for the past several months, and we're happy to show you the results of our collective efforts.
In addition to all of the technical improvements to the site itself, we're making improvements in other areas as well. We're bolstering our coverage of several key topics, including Windows 10, PowerShell, Office 365, IT security, Microsoft Azure, Amazon Web Services, and Google Cloud Platform. I'm also happy to formally announce that IT experts (and Microsoft MVPs) Jeff Hicks and J. Peter Bruzzese have joined us as Contributing Editors, while Blair Greenwood joins us as Senior Editor. I'll dive into all of these changes in more detail below, but let's start with the improvements to the site itself.
What's New with the Petri IT Knowledgebase
While our new site launch is the most visible example of our most recent efforts, we've been working hard on a number of other fronts. Here's a quick recap of what the Petri IT knowledgebase team has been up to over the last few months:
April 2014 – Petri / Blue Whale Web Inc. (parent company) acquired by George Coll and Blue Whale Web LLC
May 2014 – Petri forums split into stand-alone domain (forums.petri.com)
July 2014 – Main Petri site migration from .co.il domain to .com domain
October 2014 – Ground-up Petri site redesign / relaunch with upgraded web hosting
So what does the new Petri.com actually offer readers? Read on to learn more about the improvements we've made to the site, or feel free to jump back to the new Petri.com homepage and explore the new site at your leisure.
The New Petri.com: Feature Highlights
Our new website design boasts a lot of new features, but here are some highlights.
Extra-wide article pages and images: Many Petri readers have been urging us to increase the amount of content on our article pages, while simultaneously reducing navigation clutter and intrusive ads. Our new article page template features a flush-left design that removes the left navigation frame entirely and opens up the page for more content. The new article template also allows us to use larger image sizes, which increase from 580 to 850 pixels wide.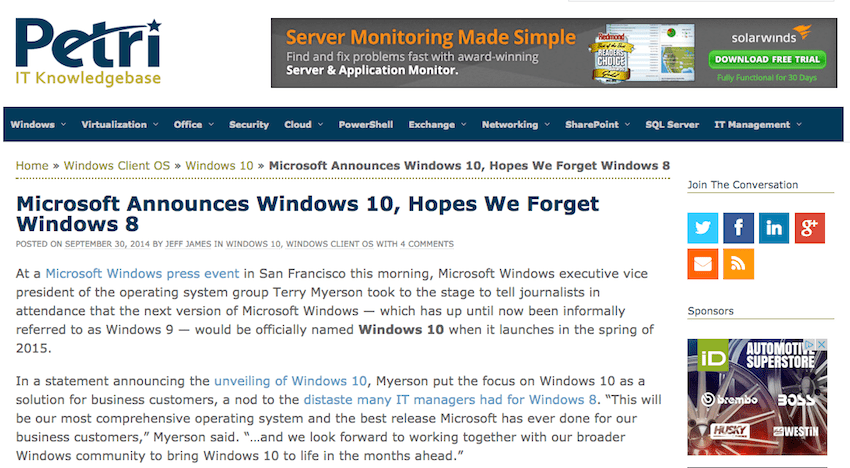 Improved handling of code samples and scripts: We have a lot of articles about scripting and PowerShell on the Petri IT Knowledgebase, and we knew our existing method for handling them wasn't ideal. Our new design features a much more flexible and usable approach to handling scripts and code samples, and makes it easy to cut, copy, and paste from posted examples. It also highlights variables and other code segments in the scripts themselves, making it much easier to walk through and understand posted samples. It's a perfect accompaniment to all of our upcoming PowerShell content from Contributing Editor Jeff Hicks.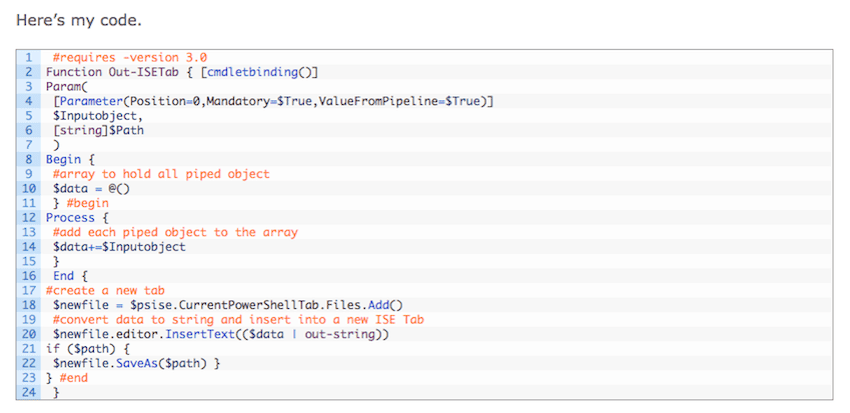 Redesigned site navigation: To support all of the new content categories we're covering (see below) and to provide a better site navigation experience, we've revamped our main navigation menu with both new categories and a multi-level top-down approach that makes it easier to find articles focused on a specific topic.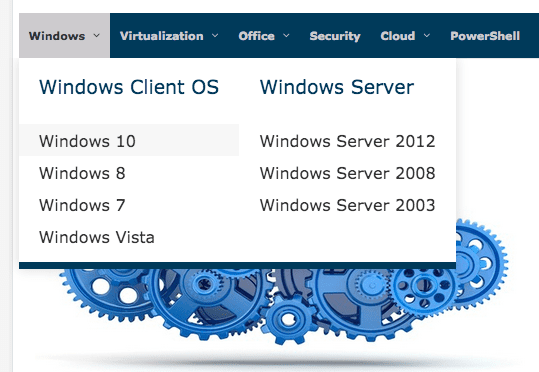 Faster page loading: Our new site design loads faster and is more responsive, and we've also updated our web hosting solution for even better performance during peak traffic periods. We've also decided to use the Amazon CloudFront content delivery network (CDN) for high data transfer rates and low latency.
The New Petri.com: Content Topics
The world of IT is always changing, and we're adapting to meet that changing reality. Thanks to the hundreds of emails, article comments, and reader survey feedback notes we've received from readers over the last year, we're altering our content mix a bit to meet what readers are looking for. We've added a dedicated Windows 10 resource page, we're bolstering our coverage of Office 365, and we're also doubling-down on Windows PowerShell. Mobility and IT security topics are also getting more attention from us, as is cloud computing. The cloud has gone from being an ephemeral, nebulous buzzword to being a reality for many companies, so we're building up our coverage of Microsoft Azure, Amazon Web Services, and the Google Cloud Platform.
The New Petri.com: Editors and Authors
Covering new topic areas is important, but even more important is getting the right people to write about those topics. That why I'm happy to announce that Microsoft Office 365 MVP J. Peter Bruzzese is now a Petri Contributing Editor, and he'll be heading up our Office 365 coverage. We're also excited to have Jeff Hicks — a Microsoft PowerShell MVP — pitching in with writing even more great PowerShell content for us.
Jeff and Peter join an already robust team of Petri contributors, including site founder Daniel Petri, Hyper-V expert Aidan Finn, Windows Server guru Russell Smith, VMware vExperts Phoummala Schmitt and Melissa Palmer, and other IT experts and tech journalists like Michael Simmons, John O' Neill Sr., Jonathan Hassell, Stuart Burns, Krishna Kumar, Kunal Mehta, Peter De Tender, Sean Wilkins, Simon Bisson, Mary Branscombe, and more.
Last and certainly not least, I'm happy to report that Blair Greenwood joined us earlier this year as our Senior Editor. Blair comes to us from Penton Media's Windows IT Pro, SQL Server Pro, and DevPro Connections publications. Blair will be a great asset to our team, and I hope you'll all join me in welcoming her.
Most Important of All: You
One of the things I've enjoyed most in my career as an editor and journalist in the IT industry is getting the opportunity to meet and interact with so many IT professionals over the years. You're the reason that the Petri IT Knowledgebase exists, as our goal has always been to provide solid, reliable content that helps IT professionals work smarter, do their jobs more effectively, and help them advance their careers.
So while we're unmistakably proud of our new website, we wouldn't be here without you, the Petri IT Knowledgebase reader. That why we've kicked off our Petri IT Hero Contest along with our site redesign. Everyone reading this has encountered someone that has provided assistance to solve a tech problem, or served as the resident office IT guru that everyone sees to solve a thorny IT issue, or someone that has served as a coach and mentor for your IT career. That's why the Petri IT Hero contest is designed to reward both Petri readers and your IT heroes, so I hope you'll take the time to enter the contest by nominating that special person who has helped you most in your IT career.
Finally, I hope you'll give us feedback on our new website by adding a comment to this post, or by visited a related thread in the Petri forums that is soliciting feedback on our site as well. Feel free to add a comment in either place. Tell us what you like, and what you think we can still can improve on.
Constant change is the only constant in the world of IT, so we'd be thankful if you could help us keep changing, adapting, and improving the Petri IT Knowledgebase to meet your needs.