The Top 7 Microsoft News Stories of 2014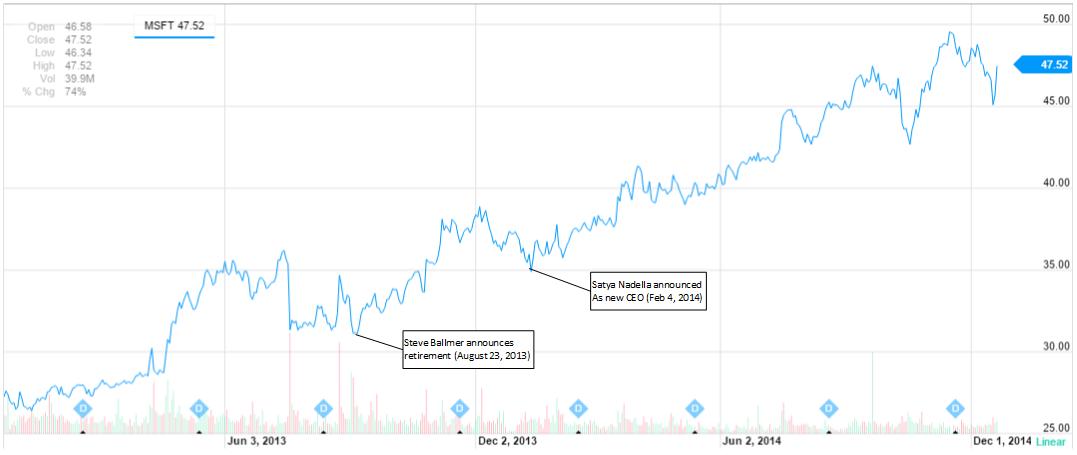 It has been an exciting year for Microsoft watchers in 2014. Here's a quick review of some of the things that caught my eye in the last 12 months.

1. Satya Nadella Succeeds Steve Ballmer as CEO
I was on vacation in Florida with some friends when one of them, a Microsoft employee, let out a wild shout of joy. On February 4th, Microsoft announced that Satya Nadella was selected as the newest CEO of Microsoft:
With a perspective based on more than two decades at Microsoft as someone who pushed to make dynamic changes happen, both in the company's products and its culture, Satya Nadella says he is both "honored and humbled" to succeed Bill Gates and Steve Ballmer as the third CEO of Microsoft. – Source: Microsoft
The reign of Steve Ballmer never satisfied the stock markets, no matter how much profit Microsoft earned each quarter. He brought Microsoft back from the brink of a forced split by the US Department of Justice, and he navigated the rocky seas of the European Commission, rescuing Microsoft from the repercussions of Bill Gates' alleged monopolistic misadventures. But no matter what Ballmer did, he could not move the Microsoft under his decade as CEO … until the moment he announced his retirement.

Investors suddenly felt optimistic. Gone was "cloud first" and antagonism to all things non-Microsoft under Ballmer and in came Satya Nadella with "mobile first, cloud first" with an understanding that Microsoft is a minor player in devices and cloud. I don't know if it is a result of Ballmer's "One Microsoft" or what Nadella may have done since but the Microsoft of today is very different to what it was 48 months ago.
Microsoft has
released Office for iPad
. Office for Android is in a private beta. And this is before "Gemini", the next version of Office for Windows touch devices is released! Customers and the market are much more optimistic about the ever-profitable Microsoft, and the share value reflects this.
2. Women in IT (and Nadella's Foot in Mouth)
Nadella has been the Kim Kardashian of IT in 2014; there's hardly an event that he doesn't turn up at to talk "mobile first, cloud first." There was a time when I thought to myself: Nadella needs to come up with something new or go away for a while. The message had become repetitive and boring.
Nadella turned up at the Grace Hopper Celebration of Women in Computing conference in Phoenix, AZ, USA, where he was interviewed on stage by Maria Klawe, one of Microsoft's board directors. Klawe asked Nadella what his advice would be for women that were uncomfortable with asking their boss for a promotion or a pay rise. Softball question, right? Remember, this is Microsoft and communications is not their strong point!
Nadella's response about "having faith that the system" went down badly. My first clue of a problem was a rushed apology by Nadella on Twitter that came out soon afterwards.

And then the tech and general news media went on fire. This lead to a series of appearances and apologies. Nadella went on to explain that his advice was based on his experience. You can tell that Nadella is a quiet man and he doesn't do well at trying to be a star on stage. He's quite modest, and it doesn't surprise me that he's the sort that has let his body of work speak for him.
My advice to Nadella is:
Appear at fewer events
Find some new talking points
Don't appear at events you haven't been prepared for
3. Skype Translate
There are those who think that Microsoft does not innovate. I know that this is total rubbish; I see and understand the work that Microsoft has done with Windows Server, Azure and more. A recent video that Microsoft shared demonstrates that this is still a company with huge research capabilities that can bring us innovations such as Kinnect, Machine Learning, and Skype Translate.

I was listening to the hosts on Windows Weekly on TWiT talk about Skype Translate when I realized that Microsoft could make those tear-jerking adverts we associate with Apple and Google with this new beta technology. Imagine it: grandparents in Spain getting to talk to their American grandkids that haven't learned to speak Spanish yet on Christmas Day, shown in the middle of an NFL game during the holiday season. That's the sort of impact you associate with a tackle by J.J. Watt.

4. Xbox One Slow Burn Success
The launch of Xbox One was a disaster, leading to the nickname "Xbone". The focus on media playback and integration, the originally planned restrictions and requirements, sub-1080p game graphics, the forced inclusion of Kinect, and the pricing, were all the sorts of thing that we associated with the Windows 8 era of Microsoft.
From the point of launch, the Xbox One trailed the Sony PlayStation 4. The launch of the Xbox One in Japan was a disaster. Month after month, the news was the same: Sony beat Microsoft. The life of Sony and Microsoft consoles (8 or so years) implies that this is a marathon, not a sprint, and to be honest, both of these products will be judged by their manufacturers, not by hardware sales, but by profits from software and services. In terms of Xbox, that includes things like Xbox Live Gold subscriptions, media sales/rentals, and games developers subscribing to Microsoft Azure (see Titanfall).
Microsoft removed the forced bundling of Kinect in the summer, reduced the price, and came up with some new game bundles. Halo: The Masterchief Collection gave Microsoft a compelling exclusive late in the year, and this coincided with Microsoft winning the current generation console sales war in the USA and UK for the first time (while trailing Sony slightly in worldwide sales).
5. Windows 10 Technical Preview
I have used Windows 8 and Windows 8.1. I have stood on stage and evangelized it. And yes, it has problems. Microsoft did quite a bit to help Windows 8.1 with the April 2014 update rollup, and offering Windows with Bing for free to hardware OEMs has given consumers the ability to pick up a sub $100 Windows tablet that includes $69 of Office 365 Personal!
But despite Microsoft's best efforts, most enterprises upgraded to Windows 7 instead of Windows 8.1 when they replaced Windows XP (deadline of April 8th, 2014). Windows 10 leaks flowed out of Microsoft and appeared on watcher and leak blogs. Then Microsoft revealed Windows 10, not the expected Windows 9, on September 30th at a private, on-streamed press event in San Francisco.
The big news was that Microsoft has listened to feedback from consumers and especially from business users. The Technical Preview was release the following day and was focused on business users with a keyboard and mouse. The big news: The Start Menu was back. Yes; there are lots of other changes but that's a big headline. We saw the Windows Insiders program bring back public feedback (no sign of that being effective yet) and we saw evidence of Microsoft's expected new method of frequent releases via 2 updates to the original build. The road has been rocky for testers, but that's the nature of this kind of early release that hasn't been seen since the 1990's.
We can expect a consumer preview to be announced and shown at a streamed press event in Redmond, WA, on January 21st, with RTM and GA in the second half of 2015.
6. Microsoft Product Reliability Woes
Not everything has been so rosy in the Microsoft world. One of my personal frustrations has been product quality. Exchange admins have complained about poor patch and update quality without fanfare for as long as anyone can remember. Windows Server & System Center customers have had issues since the release of the 2012 generation of products. And in the last year, we've finally seen headlines been made. Patch Tuesday of December of 2014 was a particularly messy affair.
The issues expand outside of Microsoft too. Those of us using Windows Server 2012 R2 Hyper-V on HP, IBM or Hitatchi blade servers are locked into using NICs by Emulex. It took Emulex around 9 months to acknowledge that there was a critical bug that caused network outages if VMQ was enabled. It wasn't until September when OEMs finally started to release stable firmware and drivers that fixed the issue – after many false starts.
We have two issues:
Poor update quality from Microsoft: Someone needs to speak out here and the false promises of the past need to be followed up.
Poor product quality from certified partner products: It's clear that drivers and firmware are not tested sufficiently. Microsoft needs to have a super HCL that forces data center product vendors to adequately certify their products in a Microsoft data center deployment, with all the bells and whistles turned on and stress tested.
And unfortunately, the problems don't stop there. Azure has had a series of significant outages, the worst of which was on November 18th, that affected most customers around the world, some for a few hours, and some poor unlucky folks in the West Europe (Amsterdam) region for a few days. On the positive side, Microsoft has been quite open about the root causes of the issue (poor processes, human error, and faulty communications). But on the negative side, isn't cloud supposed to be more reliable and not suffer outages for hours/days?

7. Microsoft versus the US Government
While we're talking about cloud … in 2013 Edward Snowden pulled back the curtain on how the governments of the USA, UK, Germany and more are aggressively spying on everyone they can. The emphasis has been on the activities of the alphabet soup of US policing, security, and intelligence agencies, and the many revelations have scared many non-USA customers away from US-owned cloud services.
Many incorrectly believe that you're safe from US jurisdiction by using a local Microsoft, Google, Amazon, or any-American-hoster datacenter. That's baloney, because US laws are written in a way to give their agencies access to data in any US-owned facility anywhere in the world. Proof came when the American FBI got a warrant for an Outlook.com mailbox hosted by Microsoft in Dublin, Ireland.
The USA and the European Union (including Ireland) have an agreed method for legal search and assist that is sometimes referred to as MLAT (Mutual Legal Assistance Treaty). The Irish government has responded positively to every instance that the USA has requested assistance in Ireland. So it was quite strange when the FBI decided to force Microsoft via the courts to cough up a customer's data from a foreign data center. Microsoft resisted, and continues to resist with the support of the Irish government and fellow American corporations.
If Microsoft loses then this case will destroy US-owned cloud services around the world. The silly thing is that if the FBI had used MLAT then they would have quickly and quietly gotten the evidence that they were seeking (it appears to be a valid case) because Ireland would have assisted and Microsoft would have been happy with the use of local legal systems that their customers have faith in. But for some strange reason, the FBI decided to stubbornly flex their muscles and take the difficult and slow road while an alleged criminal evades prosecution. Isn't that something the US Senate should be asking questions about?
Here Comes 2015
2014 was a fun year with lots of headlines, many of which I've not mentioned. We have new versions of Windows (10), Windows Server, System Center, Office, and the increasing rises of Xbox One, Office 365, Azure, and the super conference, Microsoft Ignite, to come in 2015. And that's just the stuff we know about!