The New Microsoft Whiteboard App is Here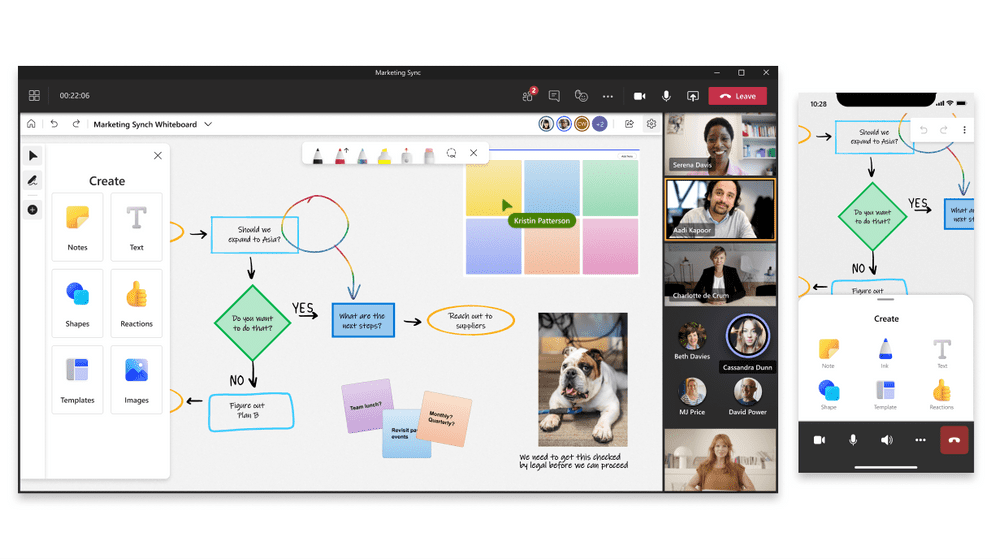 Yes, it's new! And there are a LOT of new features in the new Microsoft Whiteboard app, which reached general availability at the end of September.
For starters, Microsoft is rolling the new Whiteboard interface experience out to the web, Teams, and Android platforms. The last 18 months have seen the evolution of hybrid work develop into a new reality, being adopted across many different companies, industries, and employee types.
The new Microsoft Whiteboard app includes the following new features:
A new modern look and feel
More than 40 new templates
12 new sticky notes
Note grids
8 reactions, such as like and smile.
The ability to insert images and shapes
New inking tools
The ability to format the background
Object alignment and rotation snapping
And the ability to send objects to front and send to back
Microsoft Whiteboard has been on a steady journey of evolution since its inception a few years ago. I'm going to cover the most exciting and transformative features that will have the most chance of enhancing your productivity amongst your teams, colleagues, and guest users.
The new Microsoft Whiteboard app is available today
As I stated, the features shown here are available now on the web, in Microsoft Teams, and Android. These new enhancements are coming to Windows and iOS later in October.
Fresh modern look and feel
You will easily notice a brand-new user interface when launching the new web app.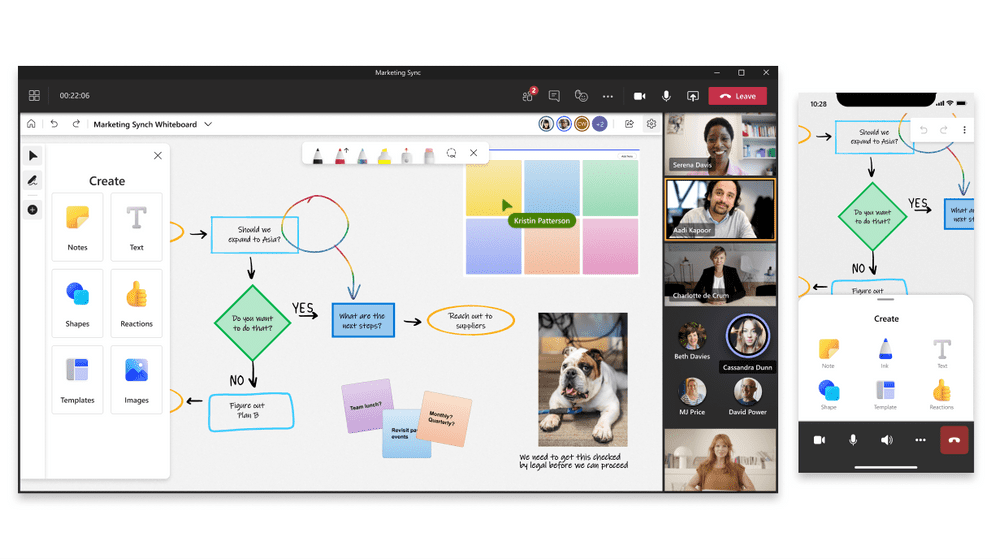 40+ new Microsoft Whiteboard templates
Microsoft has announced a wide array of new Whiteboard templates. You can now expand the breadth and impact of your Whiteboard sessions with templates around scenarios like brainstorming, rituals, problem solving, group discussions, and many more.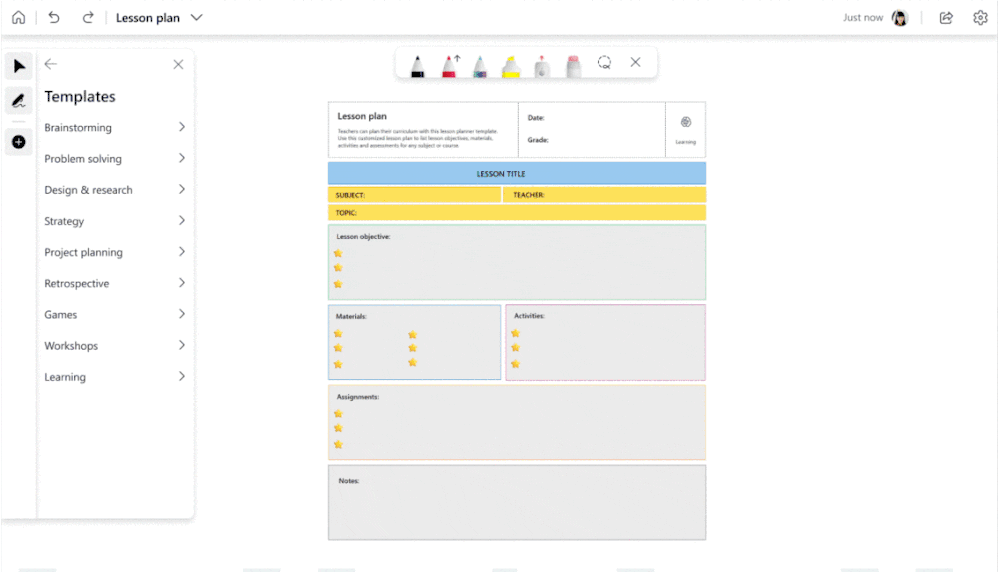 12 new sticky notes & note grids
We have some more color to be excited about! There are now 12 new colors for sticky notes that can better help you organize your thoughts, your notes, and your energies into a more cohesive and explainable canvas. Note grids help you create and build form and structure in your sessions.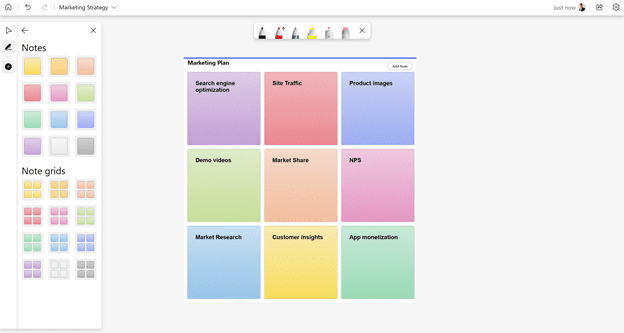 Reactions
By now, you are well aware of 'reacting' on social media. Whiteboard incorporates this quick and easy method of expressing one's interest and feelings for a subject by including contextual feedback with a set of fun, engaging, and meaningful reactions.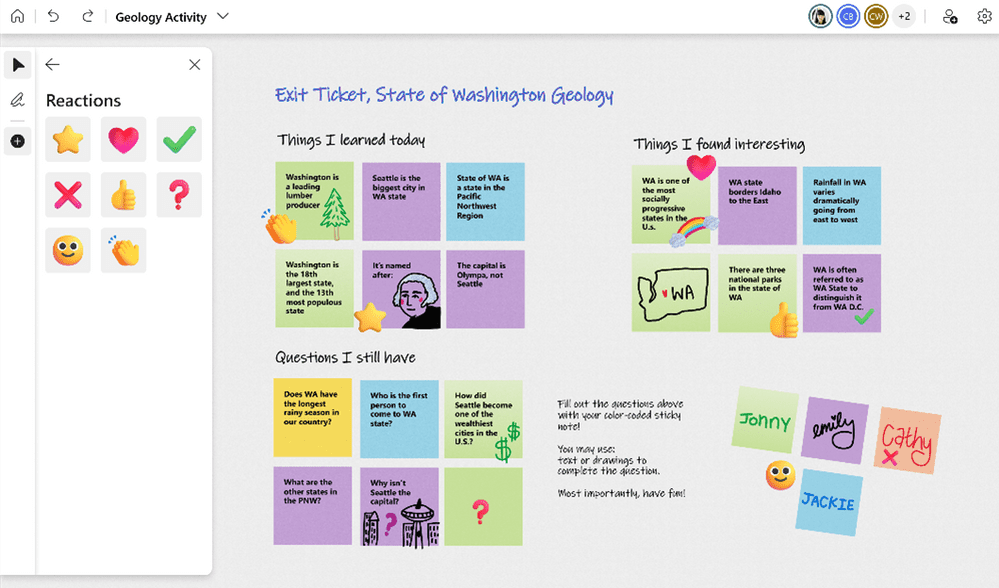 Insert images
You can now bring your session to life by adding photos and images to bring out more meaning to your visual ideas. You can use the insert image feature to download and insert images right onto your canvas.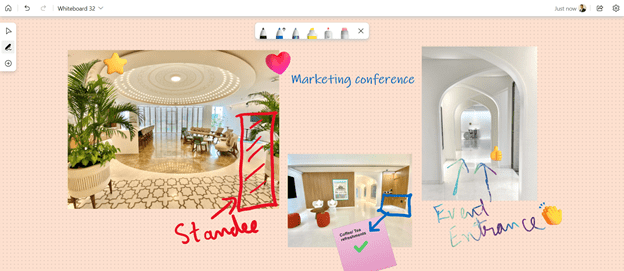 Shapes
Flowcharts and diagrams play important roles in articulating the processes you have on paper or in your mind. Basic shapes, lines, and arrows can now be added with the mouse or the tap of your finger.

Coming to Microsoft Whiteboard in October
New Whiteboard for Windows and iOS
Later this month, the new interface will start rolling out to Windows and to iOS devices.
Expanded support for consumer accounts
Based on the goal of making the Whiteboard experience accessible to everyone, Microsoft will soon support Microsoft Accounts (MSA) in the Android app and on the web. This functionality already exists in Windows and iOS apps.
Coming in the next few months
Collaborative cursors
Hop on a whiteboard with several other colleagues and watch the board come alive with cursors using different colors for each user! This will help guide your flow, as if you're all in the same room jotting down notes and ideas on a whiteboard.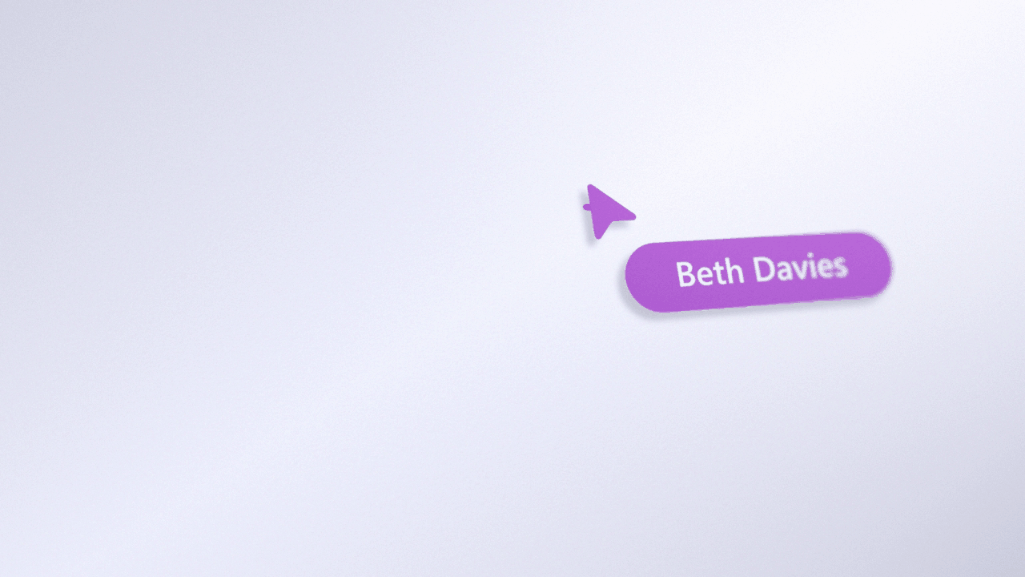 Wow! I don't know about you, but I'm really excited about the new experience Microsoft is rolling out. I already took a quick spin on the web and it is a dramatic improvement over the somewhat stark, and boring UI it's replacing. So, go take a look and browse out to the new Microsoft Whiteboard website!