Have you ever been scrolling through a large Microsoft Excel spreadsheet and stopped because you came across some cells with important data and it whips right past you? Well, Microsoft Excel engineers have been working to enhance this aspect of Excel for a long time.
When they set out to 'put the idea to code' for this enhancement, they very quickly noticed that tiny changes they made to make scrolling easier affected countless other aspects of the program. So, they spent many many months, and the fruit of their labor is finally here for us all!
Microsoft has heard from many of you that scrolling issues are prevalent, especially on large spreadsheets with a lot of data to keep track of. The main engineering reason is that Excel automatically snapped to the top-left cell as you scrolled. Although you may think this would be an easy fix, as I said above, altering 'a few lines of code', can affect a whole lot more.
Here's a partial list of what they found to be affected: freezing panes, cutting and pasting, filtering, resizing rows, cell styles, comments, dragging and filling, and much more!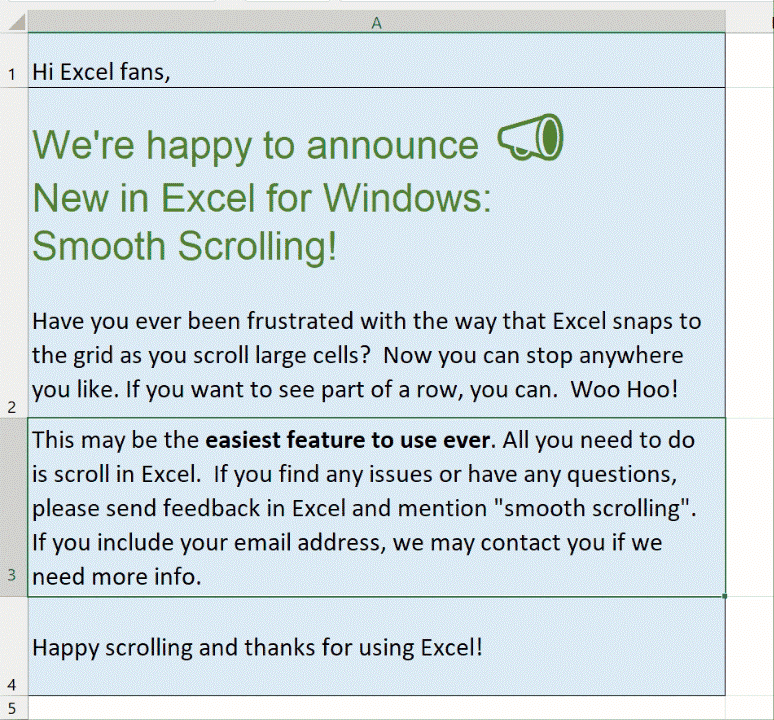 How smooth scrolling works in Excel
When you're scrolling in a sheet with very large or tall cells, the former way Excel snapped to the grid made it hard to view your data. Thanks to a lot of feedback and suggestions from end-users (feedback rocks!), they took it upon themselves to fix the issue by making the scrolling much smoother. There are two parts to what they updated:
First, it's smoother during the scroll function using the mouse wheel or the scrollbars. (Using the touch screen and touch pad already scrolls smoothly)
Second, you can stop scrolling partway through a row or column. Excel won't force you to go any further than you want.
Want to know more about smooth scrolling in Excel?
I will try to give you the 'Cliff Notes' version of the engineering explained in a recent blog post on the subject. Microsoft found two main types of issues because of not snapping to the edges and scrolling smoothly. One set dealt with how objects are positioned on the sheet. The other is related to how objects are displayed while scrolling.

Using your touch screen is similar. Excel calculates what should be in the place where you touched, and it always assumed the sheet would be snapped (to the upper left). If they scrolled partway through a row and tried to draw on the sheet, there would be a gap near the bottom of the sheet where Excel couldn't draw anything.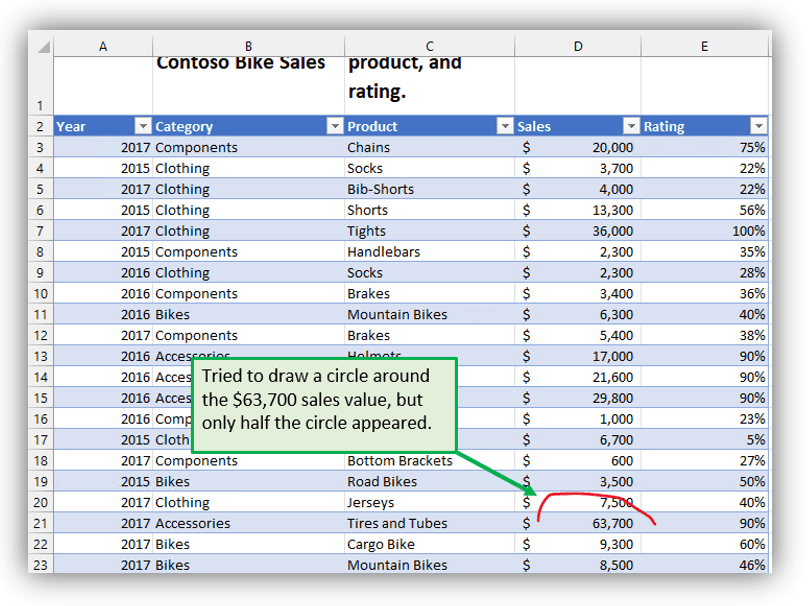 Remember that 'partial' list above detailing some of the features of Excel that were affected when the engineers and developers started work on this monumental task? Here's a nice word cloud showing the full extent!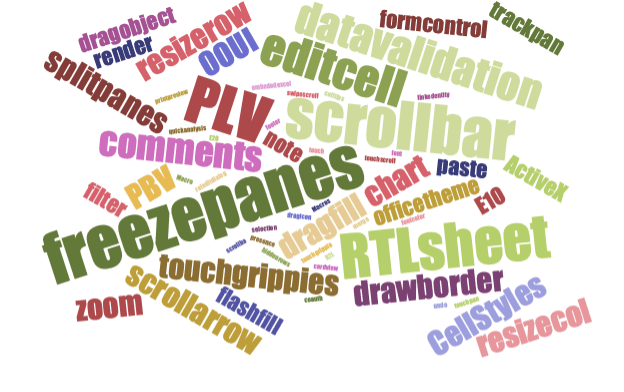 Feature availability
This new scrolling feature is available to Office Insiders on the Beta Channel or Current Channel (Preview) with version 2109 or higher (14430.20000). As Microsoft loves to point out, these features are rolled out gradually to make sure a large bug is not blasted out to 1 billion Office users at once. It is expected to be available to all Microsoft 365 subscribers by 1st quarter, 2022.