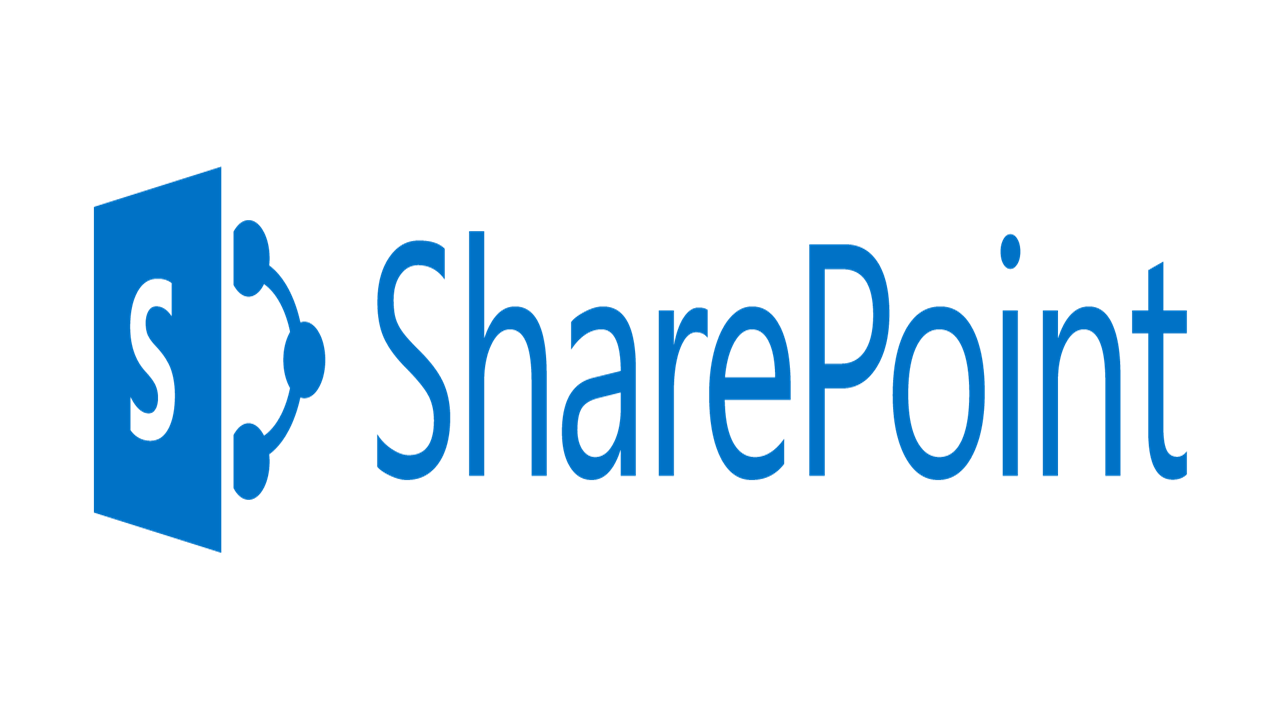 May 4th, 2016 was a special day. Not only because of the annual celebration of Star Wars (May the 4th be with you!) but also because of the online Microsoft Future of SharePoint event. Jeff Teper, the Godfather of SharePoint, laid down his and Microsoft's four areas of innovation for SharePoint Online and SharePoint on-premises for 2016 and beyond:
Simple and powerful file sharing and collaboration on any device.
The mobile and intelligent intranet, with modern team sites, publishing, and business applications on your desktop and in your pocket.
An open and connected platform that evolves SharePoint extensibility to embrace modern web development.
Investments in security, privacy, and compliance across Office 365.
The Future of SharePoint event started the rebirth of SharePoint. Back to basic! Mobile! Easy! You can read all my thoughts about the event here. This year, Microsoft hosted a brand-new event called the SharePoint Virtual Summit. The focus for 2017 and beyond are the following areas:
Share with confidence
Transform business process
Inform and engage employees
Harness collective knowledge
Manage
The event was, as expected, fantastic with loads of new features and updates! I hope you are as excited as I am. I would like to share my thoughts about the announcements with you. Let's take a closer look.
Share with Confidence
Sharing content has never really been SharePoint and OneDrive's strongest feature. That said, loads of improvements have been made over the past few years. Internal sharing became easy and intuitive. External sharing really works with OneDrive for Business but is still frustrating with SharePoint Online. Sharing is only going to get better with the new features and updates announced by Microsoft
New Sharing Experience
A new interface launched for sending a link or sharing a document. Let's look at sharing first: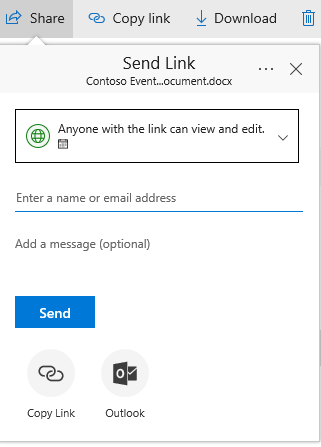 The Share option changes the permissions of the document (thanks to Greg Zelfond for a great blog about this topic). Every recipient, internal or external, of our sharing link can edit the document. You can change this by clicking the world globe icon: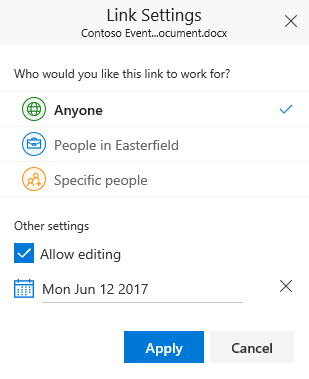 People in Easterfield refers to your company; Specific people is aimed at only the people receiving the sharing link. You can set the sharing to read-only and remove the sharing on a certain date. The same option applies to the Get link feature. Again, please read Greg's blog about this topic. That's not the only improvements around sharing:
Files On-Demand was announced during Build. Allowing us to view all the files, OneDrive and SharePoint, in File Explorer.
Once you share with external users, you can easily revoke access by clicking a button in the email you received. Handy!
Connect Existing Sites to Office 365 Groups
This feature was announced last year, but I am happy to see it's still on the roadmap. A lot of team sites are waiting to join the Groups family and extend collaboration for a group of people. Very exciting!
Add Groups Resources to Navigation and Pages
The power of Office 365 Groups is providing the Office 365 tools to a group of people for collaboration. You receive a SharePoint Team Site, Planner, OneNote, Office Online, Inbox, and Calendar. The navigation experience for Outlook Groups (in the browser) has been steadily improved over the past few years. That said, after opening a SharePoint Team Site, you lose the uniform navigation. This is being improved by adding links to resources such as the agenda or conversations: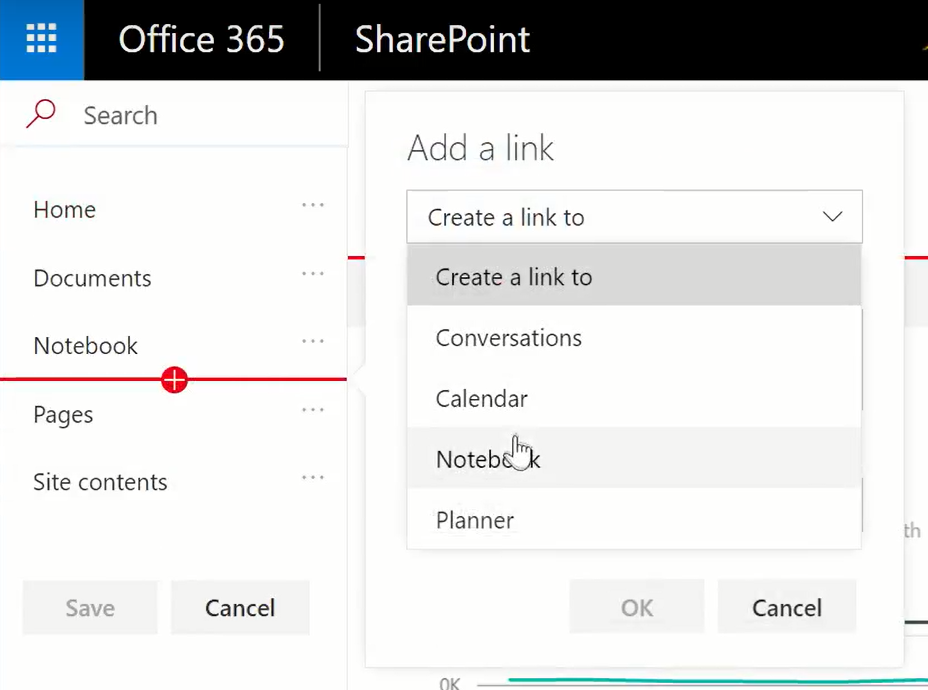 Transform Business Process
Workflow has never been SharePoint's strong suit. We really had to explore external tools such as Nintex to integrate business processes in our SharePoint Portals. The out-of-the-box workflows were very simple and not flexible. Since the release of Microsoft Flow, this changed drastically. Flow allows the creation of easy and simple workflows, integrated with Office 365, SharePoint, and even external services, and tools.
Years ago, I worked a lot with InfoPath. We are all aware that InfoPath died a slow death and no replacement, from Microsoft, has become available. Wait! There is finally a follow-up: PowerApps. We are able to build no-code forms with conditional formatting. Hereby an example of a new display form created with PowerApps: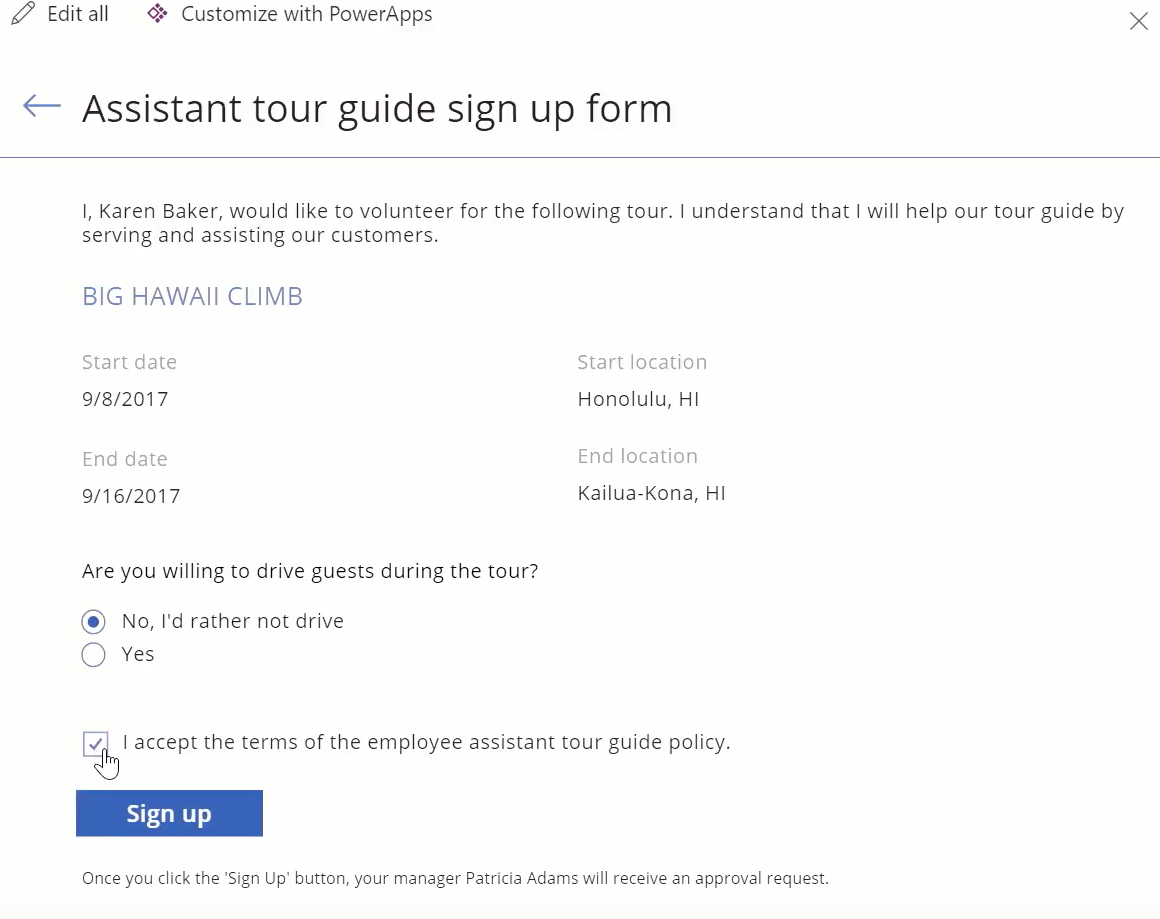 A PowerApps design studio is integrated with lists and libraries and available through the browser: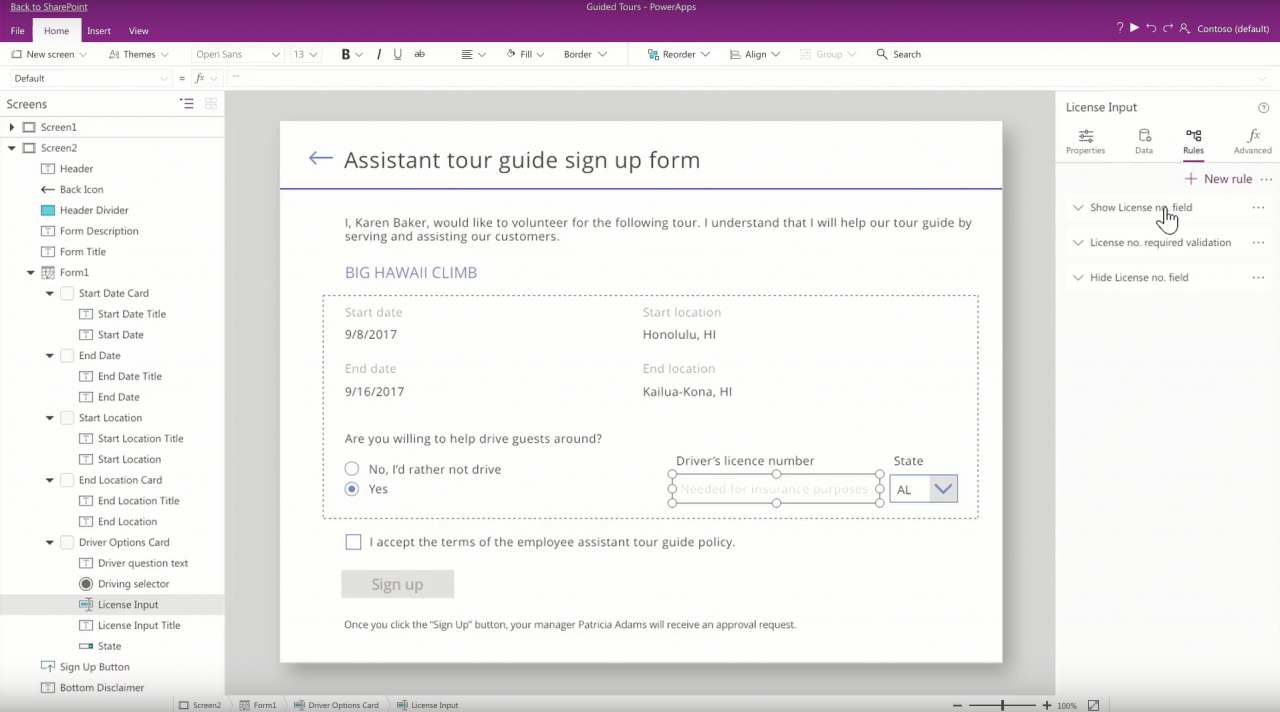 The demo from Microsoft was very impressive and enables many scenarios for our customers to automate business processes. I can't wait to get my hands on these new features.
Inform and Engage Employees
One of my favorite announcements during Ignite 2016 were the modern publishing sites. These are finally upon us and rebranded as Communication Sites. In the past, I have been very vocal about the future of the Intranet. That said, there needs to be a central location to communicate corporate news and information. This is where the Communication Sites are going to play a big part.
Communication Sites
The Communication Site is built on top of Office 365 Groups and makes use of the modern SharePoint experiences. From the start, I was a huge fan of the modern experiences because of two things: simplicity and support for mobile devices. But! The experience wasn't perfect and there was a lot of room for improvement. One of these was the page layout. We were only able to add web parts from top to bottom. Those days are finally over! We are getting the following columns: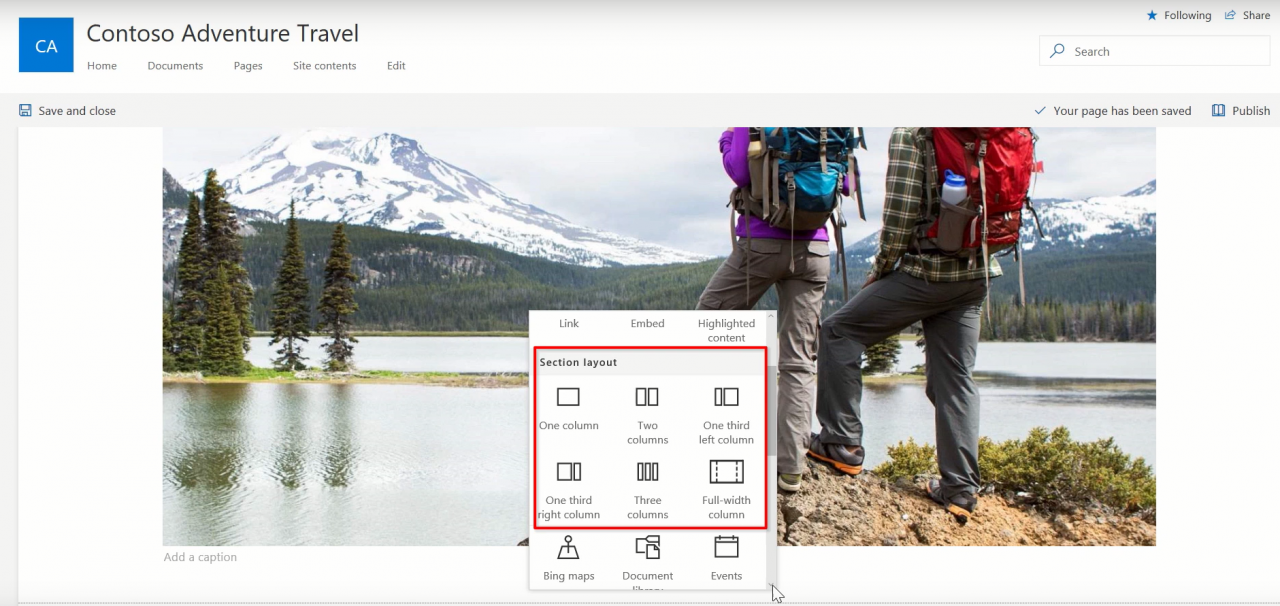 Awesome! This gives us so much flexibility compared to the existing situation. We are going to need these columns because the communication sites are aimed at building mobile and simple Communication Portals. We can create a Communication Portal from SharePoint Home. At first, we can choose between a blank or a portfolio template. In the near future, we can add our own templates. This really has a WordPress feel for me. That's definitely a good thing! There were so many improvements, it's impossible to cover all of them. Here's an overview:
We can change the image header within modern pages.
Drag and drop images in the text web part & page columns.
Series of new web parts: Hero web part for images & links, Stream for video, events with a calendar, improved Yammer web part with likes & comments and a people web part empowered with the intelligent people cards.
Usage statistics available! Unique users, page views, most viewed items, most liked items, comments, likes, and views for the modern pages.
Integration with the SharePoint Mobile App.
My main takeaway: Easy, fast, simple, and mobile.
Harness Collective Knowledge
It's a bit of an understatement but gathering and sharing knowledge is crucial for every organization. This allows people to work better, efficiently, and productively. Thanks to the Microsoft Gods for providing us with the Microsoft Graph. The Graph shows us relevant information and people. This really enables us to discover new content and colleagues. All aimed at sharing knowledge and expertise.
Intelligent Search in SharePoint Home
The SharePoint Home Search is connected to the Graph. Once you click in the search bar, personalized results are displayed. These are sites and content related to who you. That's going to save us a lot of time! The search results also empowered by the intelligent people cards. This allows us to quickly find experts and start collaborating.
Yammer
Yammer, good old Yammer! I don't think there is any service in Office 365 that has such a rollercoaster ride since the acquisition by Microsoft in 2012. I wrote down my thoughts about Yammer over a year ago. I am happy to see the commitment from Microsoft to keep developing Yammer. The following features were announced:
Easily share videos in Yammer from Stream and render these in the Yammer feed.
Share documents from OneDrive or SharePoint.
Integration with Office 365 Groups.
Dynamic Membership supported.
Manage
All these new features and updates are amazing. We tent to forget about the management of SharePoint and Office 365. Good thing Microsoft is on top of things! My highlight around management is the modern SharePoint Online Admin Center. The biggest win is the new overview of site management with the usability and look and feel of a SharePoint list: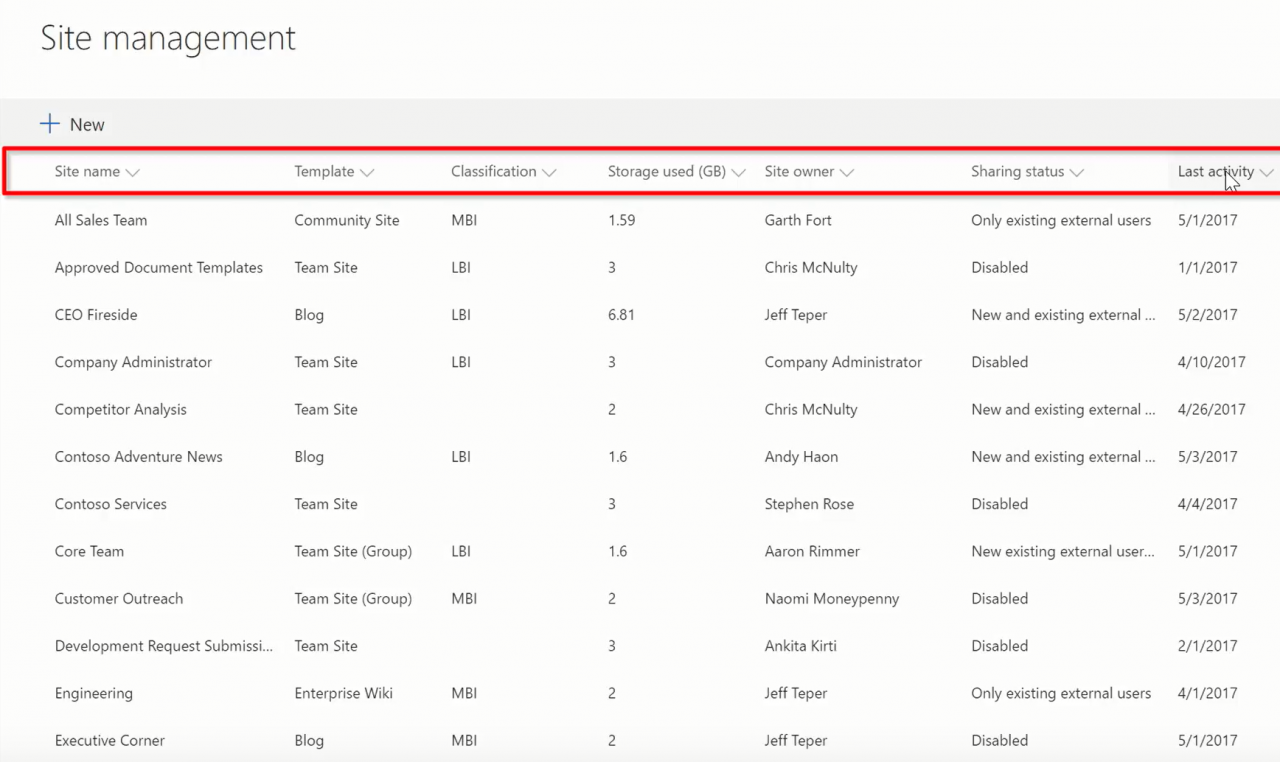 We are now able to filter, group by, and view Team Sites connected with an Office 365 Group. Yes! Here's an overview of other new features and improvements:
Insights are now available for SharePoint Online admins and not only Office 365 Global Administrators. The following insights are available:

Activity: views, edit, synced, shared and active sites

The Office 365 Message Center is available.
The Office 365 Service Health is available.
Multi-geo support for OneDrive for Business. Allow users from certain regions (e.g., Asia) to not share externally but people from Europe, for example, to share.
Service level encryption using customer keys.
Conclusion
SharePoint is here to stay. We knew this after last year's event but the SharePoint Virtual Summit confirmed this once again. Out of all the announcements, the Community Sites are definitely my favorite and I can't wait to get my hands on them. Loads of customers are going to benefit from this new release. I only touched a subset of all the announcements. Do you want to learn more? Watch all these amazing videos:
Read all the official blogs on blogs.office.com:
Don't forget the Microsoft Technical Community: