So you've signed into your new Office 365 business account, and you notice that there's an option on the screen for OneDrive. Formerly known as Microsoft Skydrive, Microsoft OneDrive can be very useful as a cloud-based document sharing solution for Office 365 users.
This article will give you a step-by-step tutorial on how to use OneDrive for Business to upload and share Office 365 documents, and we'll also walk you through how to access that document using an iOS device.
This document assumes you are using IOS; however, please note that even if you have an Android device the process will be conceptually similar.
Uploading Documents from your PC to Microsoft OneDrive
1. Sign in to Office 365, and you'll notice several options at the top of the screen. To start exploring document sharing via Office 365, you will need to click on OneDrive. Once you're logged in to OneDrive, the following screen options will appear.

Note: When browsing you may notice there is a similar look and feel to SharePoint 2013. This is because OneDrive was developed on cloud-based SharePoint technologies.
2. Double-click on the "Shared with Everyone" folder in the middle of the screen.

3. Click Upload in the middle of the screen to beginning uploading documents in One Drive.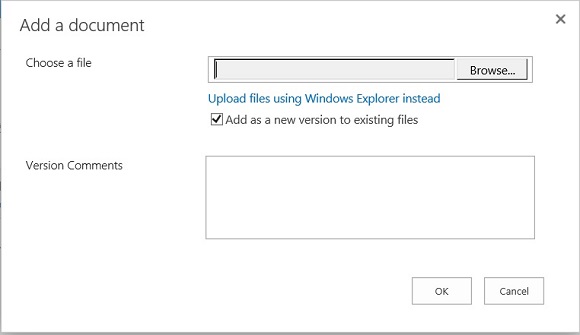 4. Click the Browse button to find the file you wish to upload.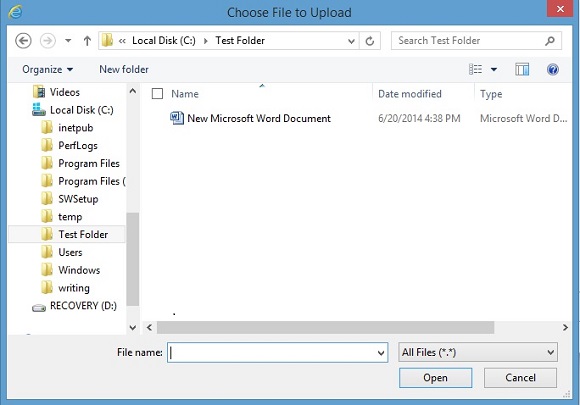 5. Choose the document you want to upload and then choose open.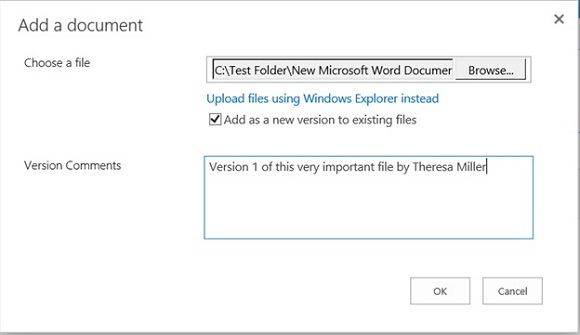 6. Fill in the Version Comments as deemed necessary for your document and then Click OK.

7. You'll see that the file has been saved and everyone within your Office 365 organization can access this document
Note: To verify that this is a shared document, look below the Sharing column. The picture of the people means the document has been shared with your team.
Document Upload from Mobile Device to OneDrive for Business
As the Bring Your Own Device (BYOD) trend is becoming more relevant and organizations are working to secure their corporate data, OneDrive is nice option for Office 365 business users. This section covers the steps required to access OneDrive Business on your mobile device and then save a document to your secured Office 365 business location.
Configure OneDrive to Access your Office 365 Business Account on your Mobile Device
1. Download and install the appropriate OneDrive for Business application to your mobile device. We'll use the iOS version of the OneDrive for Business app in this article, but the same instructions should apply for other versions as well.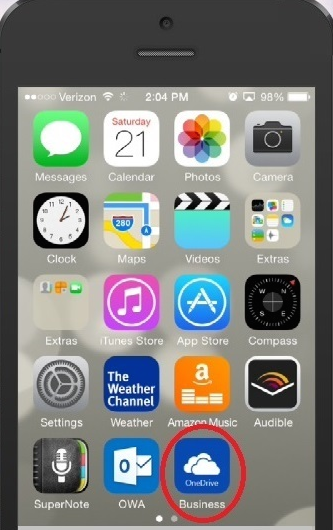 2. Configure the device to login to your Office 365 Business Account by opening the application on your device and putting in the appropriate credentials that are used to sign in to your OneDrive Business account and then Click Sign In.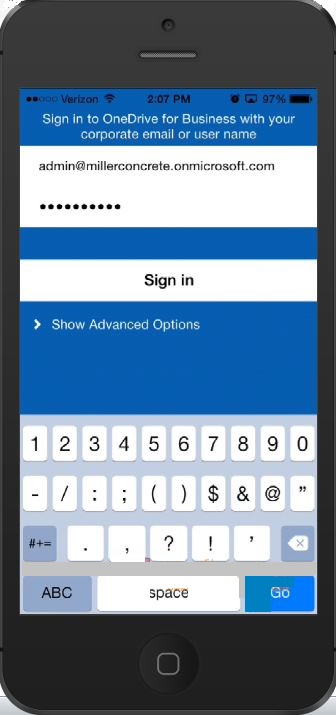 3. Once signed in, your documents will be available to you on your mobile device as shown below. This process also has OneDrive configured for adding additional documents from your email.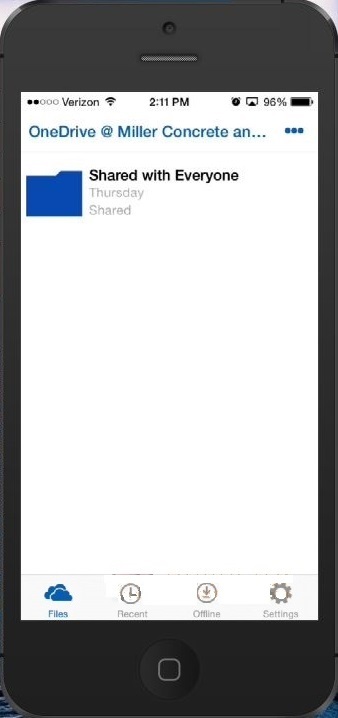 Save a Document to OneDrive from your Office 365 Email
1. You will need to download the appropriate Outlook Web Application (OWA) from your mobile device application store for Office 365 email. This will be the free version of OWA for iPhone or the pre-release version of OWA for Android. In this example we will be using OWA for iPhone.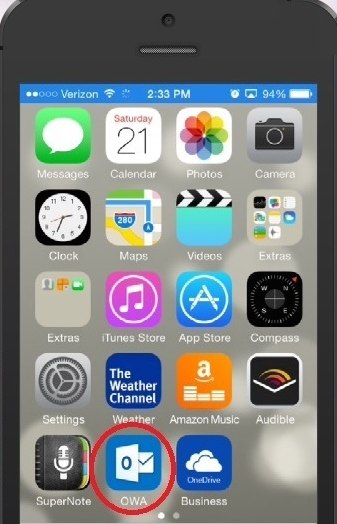 2. Open OWA on your device and click Continue to configure it to connect to your Office 365 email.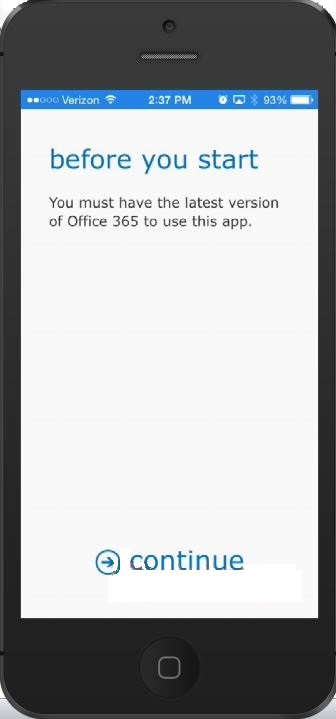 3. Fill in your Office 365 email address and password and then tap "Sign In" on your screen
Note: This information will be retained so that in the future this application will go directly into your email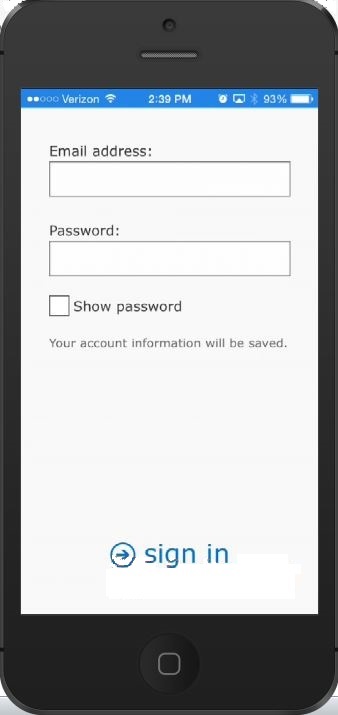 4. During first time setup there will be several screens on your device to look at for Helpful Tips. Work through these until you reach your mailbox.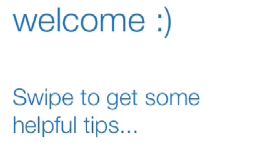 Save a Document from Email on a Mobile Device into OneDrive Document Sharing
In this example, we can see that our user has received an email message with an attachment that we would like to share with the rest of the team back at the office. We will save this document into OneDrive and then review it on our PC.
1. Now that we have configured OWA on our mobile device, we can see that our inbox has a message in it that has an attachment.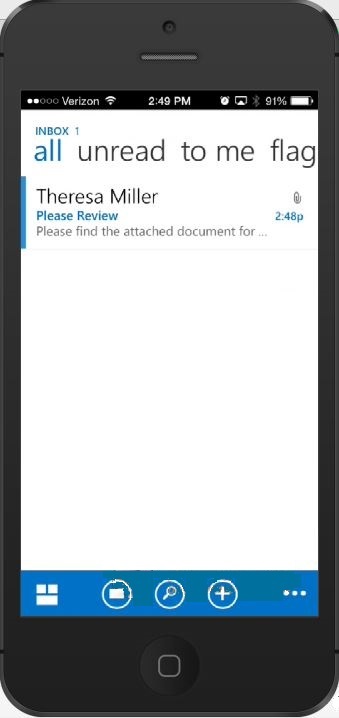 2. Tap the message to open the document and review.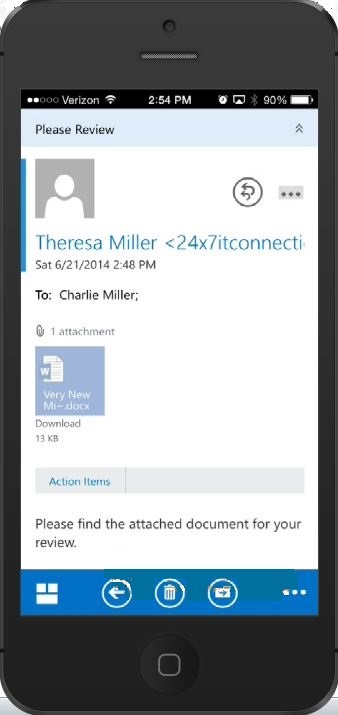 3. Tap the attachment twice to open it for review.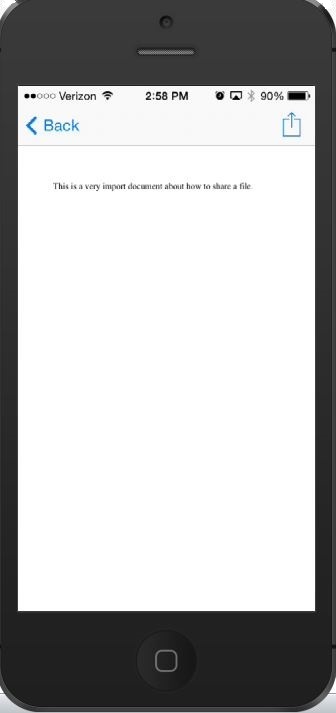 4. To save the file to OneDrive, tap the icon in the upper right hand corner.

5.  Choose Open In… on the bottom of the screen.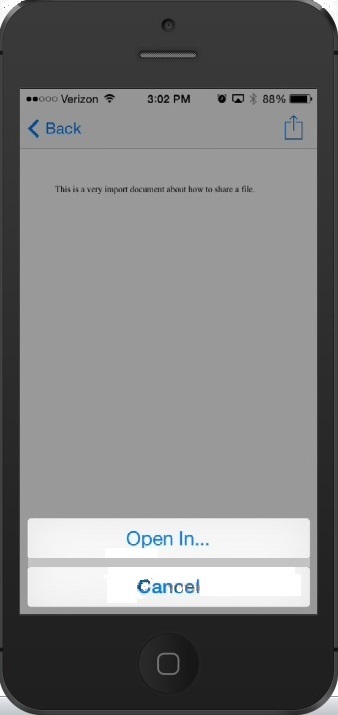 6. Choose "Open in Business."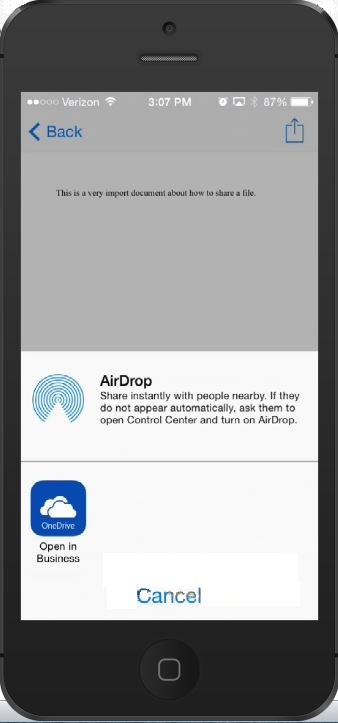 7. On the bottom of the screen tap "Upload to OneDrive for Business."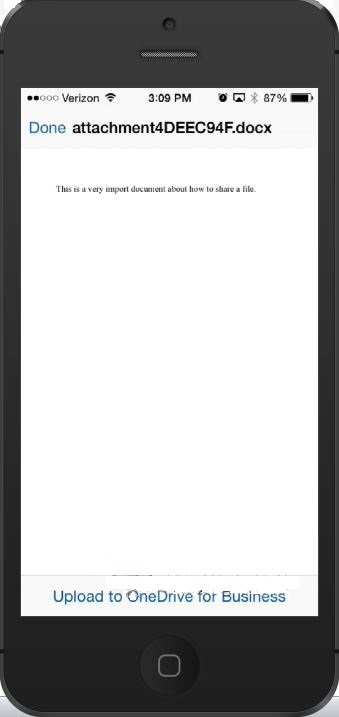 8. When complete you will be notified that the Upload was successful. Then tap OK on your screen.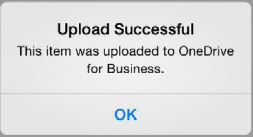 9. Then click Done in the upper left hand corner of the screen.
10. At this point you will no longer be in your email and will find yourself in the OneDrive application. Also, the file will have automatically been saved to the restricted area of OneDrive where only you have access to it.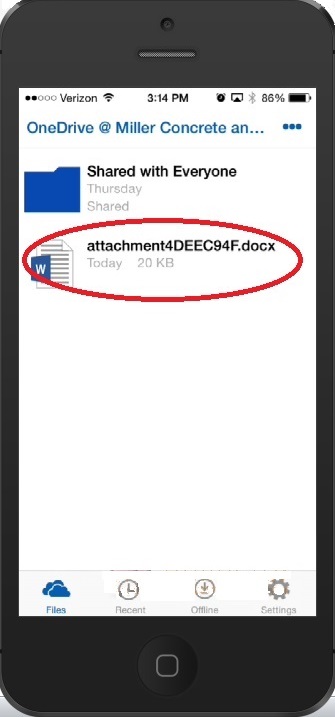 With these steps we can start our journey with Office 365 document sharing and providing our corporate users with a way to access and save business data available anywhere, anytime.