How can I retrieve my Windows 2000/XP/2003 or Office 2000/XP CD Key?
Sometimes you might need to retrieve the CD Key used to install Windows in order to find out if it's legally purchased, or just for safe keeping. I usually find myself in that position whenever I'm at a client's location, trying to see if the copy of Windows 2000 he's using is indeed legally registered.
Luckily for us, some programs exist that can help you do just that – retrieve license information from the registry, and allow you to copy it for safekeeping or for documentation purposes.
Magical Jelly Bean Keyfinder
This is a small freeware utility that retrieves your Product Key (cd key) used to install windows from your registry. It has the options to copy the key to clipboard, save it to a text file, or print it for safekeeping. It works on Windows 95, 98, ME, NT4, 2000, XP, Server 2003, Office 97, and Office XP.
This version (v1.41) is a quick update to make it work with Windows Server 2003.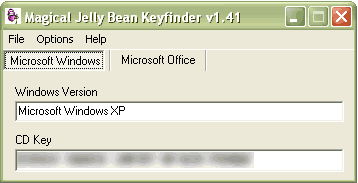 You can download it (kf141.zip, 251kb) on the author's website.
Note: This tool does not seem to be able retrieve the Office 2003 CD Key. However, a new version of this tool – v1.5B3 – does have the capability of seeing the Office 2003 CD Key, and also enables you to directly change the existing CD Key to another one.


You can download v1.5B3 from THERE (254kb)
Note that this tool is NOT a cracking tool, and it does NOT generate a serial for you. All it does is to extract your existing CD Key.
CD Key Reader
CD Key Reader is another small tool that can find and display registration information for Microsoft tools and software that is installed on your computer (i.e. Windows, Office and so on).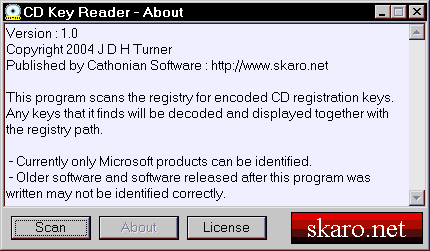 You can download it from the author's website (43kb):
www.skaro.net/cd-keyreader
BTW, there are quite a few other tools that do the same trick. If you know of a good one please let me know and I'll update this page .