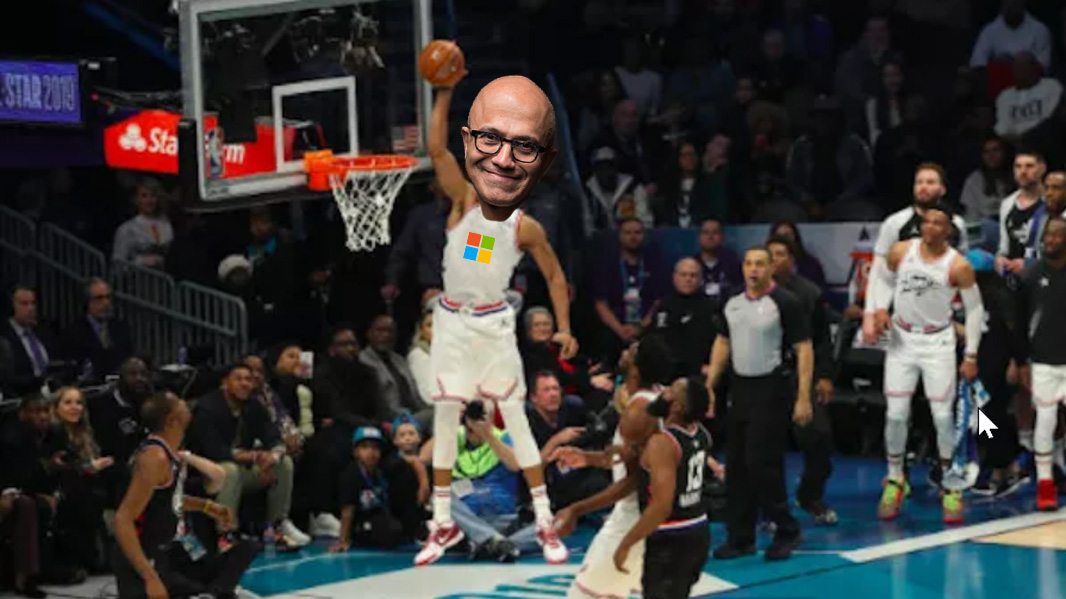 Because corporate executives are paid far too much, this edition of Short Takes looks at top Microsoft executive salaries, an ironic Windows 10 patch, a presidential candidate who mocked Bing, Apple's most pointless stat ever, and much, much more.
Top Microsoft executives received massive salary packages this year
With its stock price and market cap soaring, Microsoft's top executives are reaping the rewards. CEO Satya Nadella tops the list, naturally, with a 66 percent pay boost in fiscal 2019 to $42.9 million (!). "Under Mr. Nadella's leadership and ongoing commitment to long-term success, the Company saw a strong finish to a record fiscal year delivering more than $125 billion in revenue for the full year with double-digit revenue and net income growth in 2019," a Microsoft filing explains of the sport star-like sum. But he wasn't alone: CFO Amy Hood saw her pay jump 36 percent to $20.2 million. President Brad Smith experienced a 28 percent jump to $17.3 million. Sales president Jean-Philippe Courtois saw a 36 percent jump to $15.1 million. And executive vice president Peggy Johnson enjoyed a $10.4 million. Folks, there is no such thing as a human being who deserves that much money in one year, let alone a lifetime. That's insane.
"Microsoft Earnings: What to Look For"
Lots and lots of money, selective reporting, and an imaginary business called Commercial Cloud.
Irony alert
As you probably know, Microsoft has a monthly scheduled set of security and bug patch releases that's informally called Patch Tuesday. And that the software also reserves the right to deliver other patches, especially for Windows 10, as often as it can; and it does: Most months don't pass without at least 1-2 more major sets of patches. Well, this past month, in its second major monthly cumulative update for Windows 10 version 1809, the software giant delivered a patch that breaks Windows Defender Advanced Threat Protection (ATP). And this led to the ironic circumstance in which the software giant actually warned its customers not to install a patch it had issued. "We suggest that devices in an affected environment do not install KB4520062," the Microsoft releases notes, um, note. "We are working on a resolution and estimate a solution will be available in mid-November." Hopefully, that patch for the patch doesn't break something else. Like our sanity.
"Surface Neo and Surface Duo tell you everything about Microsoft's future"
Let me correct that for you. Surface Neo and Surface Duo tell you absolutely nothing about Microsoft's future.
Presidential candidate mocks Bing
Well, at least he's not alone. During the Tuesday night Democratic debate, presidential candidate Andrew Yang tossed down on Bing, Microsoft's would-be Internet search service. "There are absolutely excesses in technology and in some cases having them divest parts of their businesses is the right move, but we also have to be realistic that competition doesn't solve all of the problems," he said. "It's not like any of us wants to use the fourth-best navigation app. That would be like cruel and unusual punishment. There's a reason why no one is using Bing today. Sorry, Microsoft. It's true." Geesh. It's like kicking a defenseless child.
"Here's why Microsoft just invested $1.5M in a North Dakota high-tech farm project"
It wants to reap what it sows?
Apple keeps touting a stat that just doesn't matter
Every year, Apple releases a new version of iOS. And every year, like clockwork, the firm brags about how much of its user base upgraded to the new version and then it makes fun of Android, which dominates the market, because the update rate on the platform is much slower. So this week, it revealed that over 50 percent of all compatible devices have upgraded to iOS 13. Two things: It doesn't matter, since all iOS and Android apps runs on the past several versions anyway. And what Apple failed to mention is that, in the month since it released iOS 13, it has had to ship new versions that patch major bugs several times; one of them was even in development before iOS arrived, indicating that Apple knew it would ship a buggy product to customers. Apple, grow up: Sometimes waiting is actually better.
 "Forget Apple's iPhone 11, This Is The Smartphone To Buy"
The iPhone 11 Pro?
Google is shipping a new phone with a laughable security feature
This week, Google announced the Pixel 4 family of smartphones, which will ship with a facial recognition feature instead of a more secure fingerprint reader. But Google's implementation of facial recognition is particularly insecure, and that's saying something when you consider how bad Android-based facial recognition has been to date: It will unlock the phone even if your eyes are closed. And in case it's not obvious, that means that someone will be able to hold the phone in front of your sleeping face and unlock it. For a company that pushed trust, privacy, and "the helpful home" at its launch event, this misstep is particularly egregious. And it has to make one wonder, not for the first time, why anyone would ever trust this company with anything.
"Yahoo discontinues yet another relic of the past"
Itself?