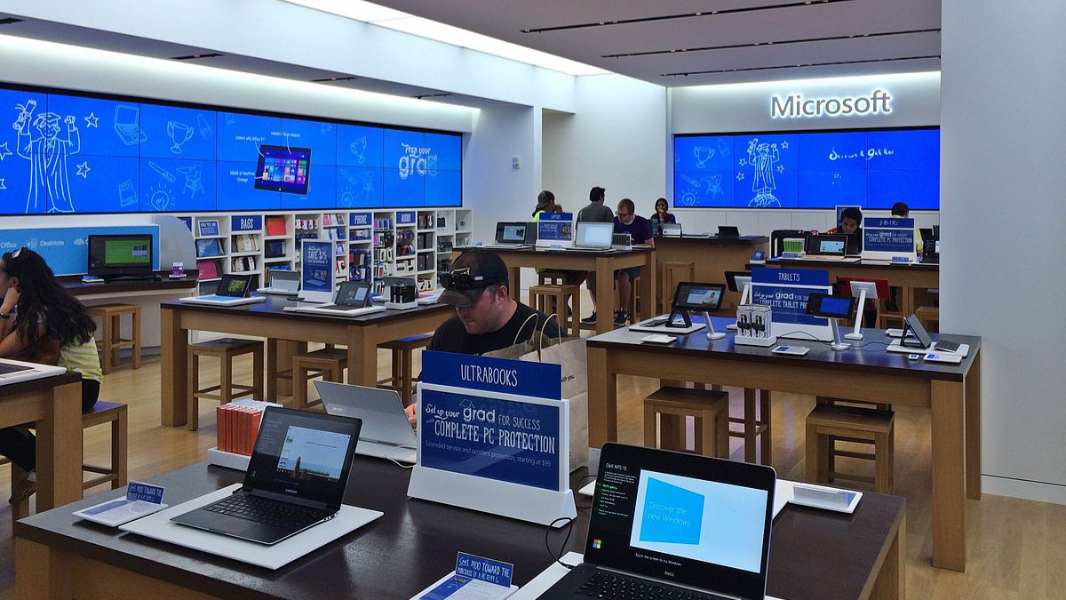 Because the earth actually rotates around Cupertino now, this edition of Short Takes looks at Microsoft's blockbuster retail announcement, a Senate initiative to curtail a huge HoloLens sales, a weird Skype consolidation, an expansion of Teams' capabilities to individuals, the death of Mixer, and so much more.
Microsoft is closing all of its retail stores
Microsoft's retail locations were unsustainable before the COVID-19 pandemic, but they are off the charts unsustainable now, and so the firm shocked us all this morning by revealing that it is closing all of its retail stores permanently. The good news is that all of its store employees are being retained—none will be let go, Microsoft tells me—and will transition to supporting customers remotely. Microsoft is also retaining four so-called Experience Centers—in London, New York City, Sydney, and at its Redmond campus—that will have in-person support for customers but no retail sales. We can joke all we want about the foot traffic and whatnot, but this is a tough one, both because it's such a visible defeat and because the Microsoft Store locations were vital for customers who wanted to see and touch expensive Microsoft hardware like a Surface or Xbox before making a purchase. A moment of silence, please.
"Microsoft stocks hit the $200 mark for the first time"
As a reminder, it was once stuck at roughly $35 for over a decade.
Senate considers blocking any Army purchases of Microsoft solutions
A U.S. Senate committee is looking into freezing half of the money made available to any U.S. Army program that is using Microsoft solutions, citing a lack of transparency in Microsoft's costs and the efficacy of its products. The move comes in the wake of a $640 million deal in which the Army signed on with Microsoft to adopt a customized version of its HoloLens augmented reality (AR) headset for use in a future heads-up display for ground forces. Apparently, the issue is that the Army bypassed the normal transaction authority to fast-track the purchase, and the Senate isn't pleased. But at $3500 a headset, HoloLens is reasonably inexpensive for the military, right? After all, this is an organization that's spent $10,000 on a toilet seat.
"Microsoft continues to extend security for all with mobile protection for Android"
And by "all," we mean just that tiny fraction of people who work for companies that spend an inordinate amount of money with Microsoft.
Microsoft, um, consolidates Skype on Windows
It's hard to even remember the many blind alleys that Microsoft has gone down with Skype, but in the past year or so, it reversed its most recent strategy, by which the Windows 10 client would become the standard going forward. Instead, it started updating the desktop client again and modernizing, and now that it's basically feature-complete and almost identical to the Windows 10 client, Microsoft is consolidating them. What this means is that there will still be a Skype client built into Windows 10 and a separate Windows desktop download from the web. But both will be basically identical to the other and both are built using the same technologies and will be kept up to date together.
"Microsoft's Windows 10 documentation is an unruly mess"
Weird, I've never had an issue with how it communicates to customers. LOL, kidding, kidding.
Microsoft slowly brings personal features to Teams
In March, Microsoft promised that it would bring personal features to Teams, but the announcement was so unclear that many people believed there would be a separate version of Teams for consumers. This week, Microsoft finally revealed how this would happen, and it just involves having two profiles, one for work and one for home, in the app. And it finally started rolling out the first personal features for Teams—text and video calling; list, document and calendar sharing; document collaboration, location sharing, and information storing and sharing—on mobile only, in preview. General availability of the new features, as well as expanding features to the desktop and web versions of Teams, is expected later this year, the firm notes.
"Microsoft Teams: Now Microsoft reveals when you can expect to see 49 people on screen"
It will be when you have that many friends.
Microsoft kills Mixer
And if you didn't know what Mixer was, well, that was part of the problem. This week, Microsoft quietly closed down its Mixer game streaming service after years of trying to make it work, and after spending tens of millions of dollars getting popular streamers to switch to the service. Despite the effort, Mixer never amounted to much, and it certainly never competed in any meaningful way with the market leaders, Twitch and YouTube. But the bigger issue, perhaps, is that Microsoft is partnering with Facebook, of all companies, to move its few Mixer users forward. Why Facebook? Because those two market leaders are owned by Microsoft's biggest cloud competitors: Amazon runs Twitch and Google runs YouTube. Oops.
"Microsoft Moves on from Mixer, Gives Amazon a Boost"
Yeah, Amazon had really been suffering.
Looks like Apple had its Surfacegate moment too
Intel's 6th-generation Core processors, codenamed Skylake, were so buggy that they almost killed Microsoft's PC lineup when the Surface Book and Surface Pro 4 went out the door with endemic hardware issues. The situation was so bad, I coined the term Surfacegate after Microsoft refused to even acknowledge, let alone fix, the problems for several months. But it turns out that Microsoft wasn't the only hardware maker stung by Skylake: This week, Apple revealed that it will transition the Mac from Intel processors to its own silicon, and a former Intel engineers claims that Skylake is what pushed Apple over the top to make this move. "The quality assurance of Skylake was more than a problem," former Intel principal engineer François Piednoël said this week. "It was abnormally bad … Basically, our buddies at Apple became the number one filer of problems in the architecture. And that went really, really bad. When your customer starts finding almost as [many] bugs as you found yourself, you're not [h]eading into the right place." Well, now Apple is heading to a different place. Good job, Intel.
"Microsoft admits there's a serious problem with Windows 10"
Is it the built-in crapware or the built-in advertising?
AMD does what Intel can't
And speaking of Intel screwing up, several years of not being able to figure out mobile is starting to cost the microprocessor giant, and not just because of Apple. AMD this week announced that it has improved the energy efficiency of its mobile processors by 37.1 percent since 2014, surpassing its goal to hit a 25 times improvement by 2020. "AMD exceeded the 25×20 goal it set in 2014 through improved design, superior optimization, and a laser-like focus on energy efficiency," Dr. Jonathan G. Koomey said of the milestone. "With a chip [that is] 31.7 times more energy-efficient than its 2014 predecessor, AMD has far outpaced in real-world efficiency gains what would be expected from a traditional Moore's Law pace as embodied in Koomey's Law." For those unfamiliar, Koomey's Law is like Moore's Law, except for energy efficiency. And AMD just kicked it, and Intel, squarely in the ass.
"Apple researching retractable keyboards to keep future MacBook Pro thin"
It should just consult with all the PC makers that have been doing that for decades.