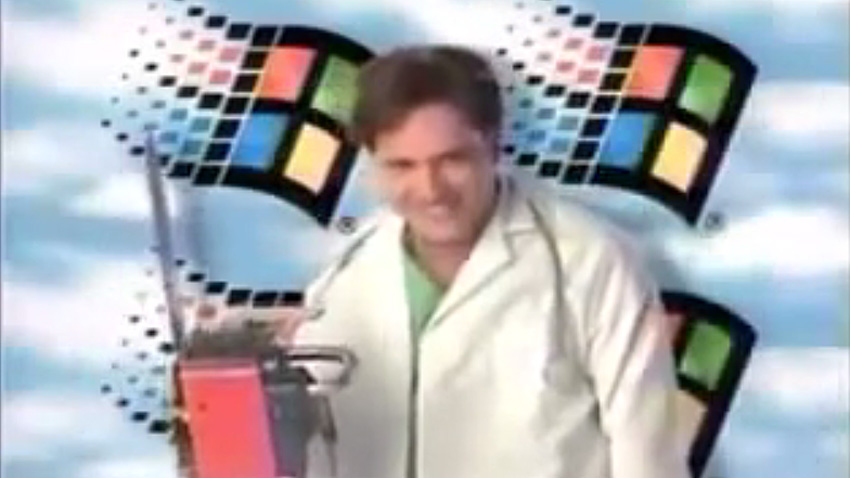 Because it's only four months until the new Star Wars movie, this week's other news includes the worst Windows infomercial ever made, the Windows 10 controversy of the week, Cyanogen's lame attack on Windows Mobile, Samsung's latest whatever who cares, Google gets more time to explain itself to Europe, and Facebook cancels an internship after intern points out serious privacy violations.
I challenge anyone to actually watch this entire video
Ice bucket challenge? Please. I challenge you to watch this: available on YouTube, HORRIBLE Windows 95 Commercial doesn't even begin to explain how horrible it really is. You will never unsee—or unhear—this. Beware.
Windows 10 controversy of the week: Search still 'phones home' when you disable web search
The tinfoil hat club is doing everything they can to discredit Windows 10. And with a spate of supposed privacy issues quickly proven to be completely innocuous—not to mention opt-in—this week we've moved into phase three of the Windows 10 FUD. According to a report in Ars Technica, if a user disables web search in Cortana, Windows 10 still pings Bing.com and requests a file that includes a random ID number that's tied to the PC. Dastardly, right? Nope. "As part of delivering Windows 10 as a service, updates may be delivered to provide ongoing new features to Bing search, such as new visual layouts, styles and search code," a Microsoft statement responding to the accusation explains. As for why PCs would be getting Bing-related updates when the user has explicitly turned off web search in Cortana, that's simple: Bing is also part of Edge, the user may change their mind, and the goal with Windows 10 is for all users to be on the same code base; if you leave out of-date-code on a PC, the experience will be out-of-date should the user re-enable that feature. And it could potentially include vulnerabilities. Seriously, people. No software is perfect. But Microsoft is not out to get you.
"Windows Phones are helping the NYPD fight crime"
Presumably because nobody wants to steal them.
Cyanogen throws down the gauntlet
You may have never heard of Cyanogen, but this spunky little company has established an interesting niche for itself in the Android world by bypassing Google and providing hardware makers—and users—with a pure, alternative Android OS. Which is fine. But now they're getting uppity. At a recent local event, Cyanogen's Adnan Begovic claimed the firm had "more users than Windows Mobile and Blackberry combined," which may or may not be a big deal depending on whether you think he really meant Windows Phone there. As it turns out, he can't have meant Windows Phone, since Microsoft alone sold over 40 million Windows phones in the past year alone, and Cyanogen's user base is about 50 million users. So maybe he should have just said that Cyanogen has more users than Palm OS and webOS combined. It amounts to the same thing.
"What Frequent Travelers Need To Know About The Apple Watch"
You are a mugging magnet when you wear one. And if you think it makes you look cool, rethink that.
Samsung never tires of the "same old, same old" playbook
Samsung may still be the world's biggest maker of smart phones, but that's a bit like saying that Microsoft is the world's biggest maker of PC operating systems. That is, it's true, but they don't exactly have to try very hard to win by inertia, even though many smaller players are nipping at their heels. But the thing I don't quite get about Samsung is how its smart phone releases are always just more of the same. This week, the firm released updates to the Note 4 and the Note 4 Edge, branding them as the Note 5 and the Galaxy S6 Edge Plus, respectively, with the most notable point being that weird brand change on the bigger device. They are exactly what they sound like, minor updates to last year's products, and should do absolutely nothing to improve or detract from Samsung's position in the market. Technology is so exciting.
"Google's self-break-up is a smart way to avoid Microsoft's fate"
Maybe they could buy Nokia next.
Google given an extension to reply to EU antitrust charges
The European Commission has given Google a stay of execution, allowing the monopoly-protecting search giant to take a few more weeks to respond to its antitrust charges. Google must now respond by August 31, or face the horrifying prospect of the EC simply extending the time limit yet again, since this is the second extension past the original deadline of July 17. I wish my kids were given this much leeway in school: they'd both be straight-A students by this point.
"HTC, Lenovo announce job cuts as losses mount in smartphone market battle"
Yeah, co-mingling one of the world's biggest tech hardware firms with one of the smallest makes plenty of sense.
"With iPad Sales Falling, Apple Pushes Into Businesses"
Sounds like a lot of effort. How about just lowering prices?
Facebook cancels internship for student who pointed out privacy violations
This one comes from the "you just can't make this stuff up" files. A Harvard student who was hired as an intern at Facebook lost his internship after he discovered that Facebook's Messenger app was secretly tracking users' locations and that that data could easily be used by stalkers to discover people's exact schedules. (And yes, this includes people you are not friends with on Facebook.) With Facebook seemingly uninterested in this discovery, the student made a tool that showed how you could easily track people. So publicly shamed, Facebook obviously did the right thing by reward the intern, perhaps with a full-time position, right? Nope. Facebook demanded that the intern take down the tool (which he did) and then withdrew his internship. And then it quietly made sharing geo-location data an opt-in feature. Cute.
Four months until the new Star Wars movie.
Just throwing that one out there.