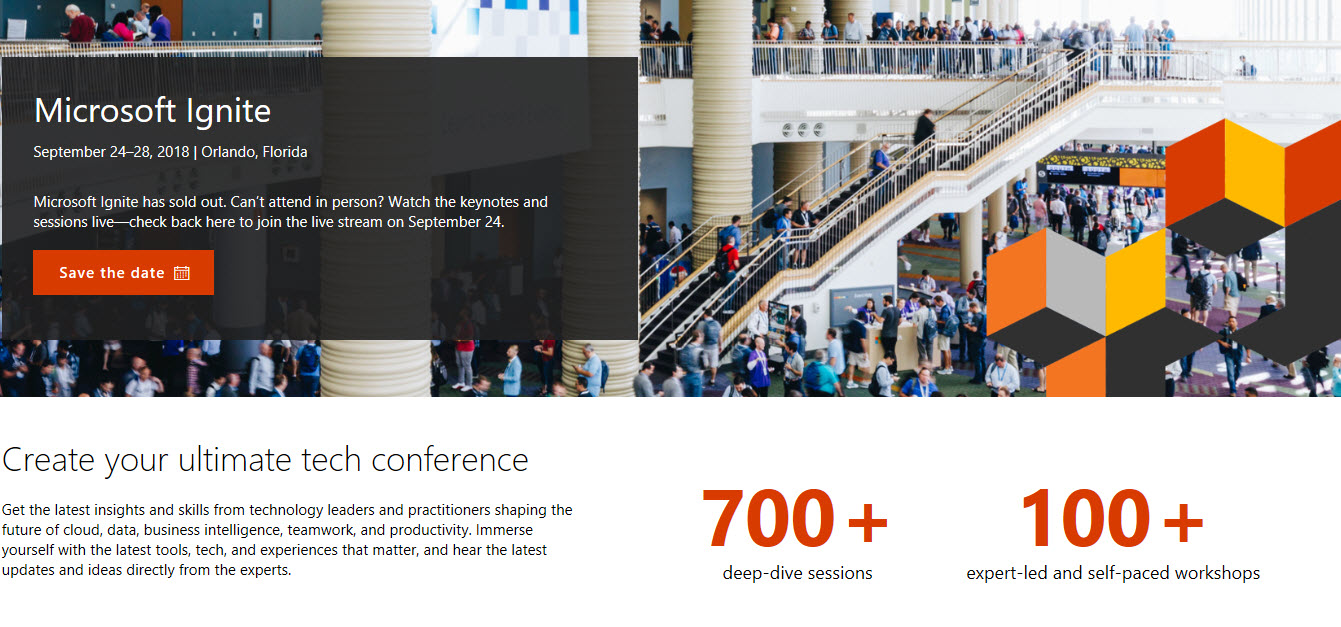 Lots to do at Ignite
The session catalog for next week's Microsoft Ignite conference boasts a total of 1583 keynote, theater (20 minute), breakout (45 or 75 minute), meet-up, and podcasts. The total includes repeats for some sessions. Even so, the 26,000 Ignite attendees have a wide spectrum to choose from over the five days, even without taking the hours occupied talking to vendors at the technology exhibition into account. It's good to know that Microsoft is making recordings of every session available in the Microsoft Technical Community to allow both attendees and those who can't get to Ignite to catch up later.
Ignite is Microsoft's premier vehicle for connecting to the IT Pro community, so the content selected for Ignite reflects the themes and messages Microsoft wants to communicate to that audience, and they naturally want to talk about all the shiny new products instead of the old boring stuff (that customers use).
Office 365 Sessions
A quick browse of the session catalog reveals that Office 365 is mentioned by 630 sessions. This is a raw and unfiltered number without close examination of the session abstracts, but it's good enough to give an overall sense of how much Office 365 content is at Ignite. By comparison, Azure is mentioned in 786 sessions, while Microsoft 365 receives 686 mentions.
If we go a little deeper and see how individual Office 365 workloads feature in sessions, we get the following:
Teams 264
SharePoint 174
OneDrive 99
Yammer 87
Exchange 65
Stream 47
Planner 25
Hot Teams
There's no surprise that Teams is at the top of the list. Remember, Ignite is all about getting Microsoft's messages across to the IT community and Microsoft really wants Teams to succeed. It's not just about deployment and the migration from Skype for Business Online. There's also a huge effort to convince ISVs and developers to build add-ons (bots, connectors, and apps) for the Teams platform to help Microsoft compete against Slack.
I'll be talking about "Running a Tight Ship: Controlling Microsoft Teams" at 10:15am on Wednesday. We'll cover topics like licensing, controlling team creation, expiration, and archival, managing guest users, compliance, avoiding channel chaos, and how to monitor the transition of workload to Teams. It's a lot to cover in 45 minutes, but I shall give it my best shot.
SharePoint Success Continues
I'm also unsurprised at the number of sessions given to SharePoint and OneDrive for Business. SharePoint is on a roll at present and appears to have recovered some of its mojo, while OneDrive for Business has steadily improved over the last few years. Getting a solid synchronization client was a huge step forward for both SharePoint and OneDrive. The close integration between SharePoint and Teams and Office 365 Groups is also important because it makes SharePoint a natural part of teamwork rather than a somewhat forbidding document management system.
No Love for Exchange
What is surprising is the relatively low number of sessions assigned to Exchange. Of course, given my long association with Exchange, you'd expect me to say that, but I am somewhat bemused to see the low number of sessions. After all, Exchange is one of the two base workloads inside Office 365 and almost every Office 365 user (all 135+ million of them) has an Exchange Online mailbox. Also, applications like Teams and SharePoint are depending on Exchange Online through connections like compliance records and the Files feature.
In the on-premises world, Exchange 2019 is on the horizon and customers will want to know what they need to deploy along with the newest version of Microsoft's enterprise email server (hint: an operating system upgrade is in your future).
Twenty-two years and counting, the low session count reflects the decline of Exchange in visibility but not in importance. Safe and secure delivery of email is still critical, even if it's considered boring by marketing. In any case, if you're interested in Exchange, come along and have an ice cream at 2 pm on Wednesday in Community Central (Figure 1).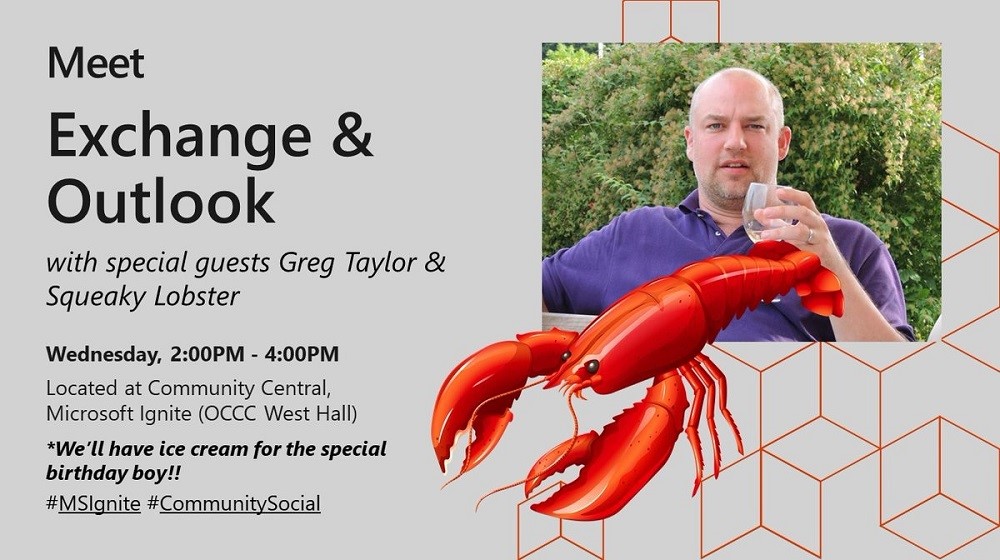 And if you're considering moving from on-premises Exchange to Office 365, come to my BRK3277 session at 9:30am on Thursday when I'll be talking about how things differ for Exchange administrators after moving to the cloud.
Yammer Still Loved (by Microsoft anyway)
I am baffled why Yammer has a third more sessions at Ignite than assigned to Exchange, if only because the number of organizations using the two technologies is so different. I know Yammer is used by some large companies, mostly in the U.S. and U.K., but Microsoft isn't willing to say whether Yammer is growing and I suspect that it's not. At least not like the growth in active SharePoint Online, Exchange Online, and Teams users.
Yammer's best days were soon after Microsoft bought the company in 2012 when Microsoft expended huge effort to convince everyone that Yammer was the answer, no matter what the question. Some, like the folks in Figure 2, were excited and bought the message. Others like myself were and remain less convinced. To be fair, Yammer celebrates its 10th anniversary this year, four of which was as an independent company.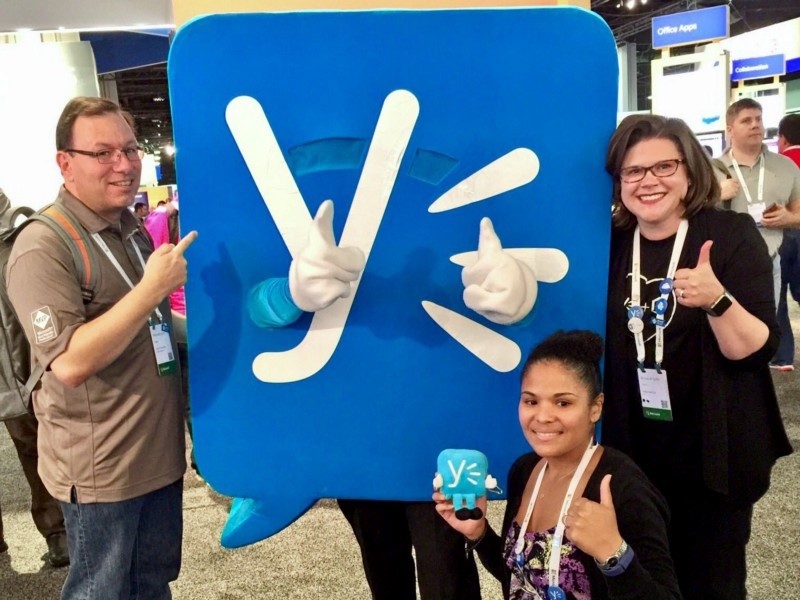 Yammer's star has been in decline ever since Microsoft launched Office 365 Groups in November 2015. Although I use Yammer networks hosted by Microsoft daily, I hardly ever encounter Yammer anywhere else. As a technology within Office 365, Yammer has its place for large-scale communication, but most tenants don't need their collaboration platform to scale that high. In a nutshell, Teams and Groups have removed a lot of Yammer's potential audience.
On a technical level, six years after its acquisition, Yammer remains poorly integrated with the rest of Office 365. Sure, Office 365 Groups manage Yammer group membership now, but its continuing lack of integration in search and compliance is remarkable. I think I shall go along to "The Future of Yammer: Vision and Roadmap" (BRK2094) session on Tuesday (9am) to see what Murali Sitaram, Yammer's new General Manager,plans to do to make Yammer well-integrated with the rest of Office 365.
Technical Writing for All
Finally, on a completely different note, I have a theater session at 1:45pm on Monday when I'll be talking about "How to be an author and write about technology." I might or might not know much about this topic, but hey, a theater session is only 20 minutes long, so what harm can I do?
Follow Tony on Twitter @12Knocksinna.
Want to know more about how to manage Office 365? Find what you need to know in "Office 365 for IT Pros", the most comprehensive eBook covering all aspects of Office 365. Available in PDF and EPUB formats (suitable for iBooks) or for Amazon Kindle.