Key Takeaways:

Microsoft has announced a significant update to its OneDrive cloud storage service, featuring a Fluent Design refresh and enhanced file management capabilities.
Microsoft OneDrive now integrates with Copilot, an AI-powered assistant, enhancing user productivity by simplifying file management tasks and providing intelligent recommendations.
Microsoft has added several new features for IT admins to streamline user management and improve data governance.
Microsoft unveiled yesterday OneDrive 3.0, a significant overhaul of its cloud storage service. This latest update includes a sleek Fluent Design makeover, integration with AI-powered Copilot, and enhanced file management features tailored for both businesses and consumers.
"The next generation of OneDrive includes new file views, governance controls, creation tools, and Copilot to help you quickly search, organize, and extract information from your files. And, these new experiences aren't just 'in' OneDrive, they are coming to Teams and Outlook for a consistent and rich file experience across Microsoft 365," said Jason Moore, VP of Product for OneDrive.
New OneDrive Home experience
First off, Microsoft has introduced a new OneDrive Home experience that should make it easier for users to find and access files. Users will see AI-powered file recommendations in the "For You" section that appears at the top of the home page. There are also new filters that let users quickly find PDF, PowerPoint, Excel, and Word files.
Microsoft is adding a new Add New button with built-in templates to help OneDrive users create professional-looking documents and presentations. This update also brings new personalization features that let users choose the color of their folders to stay organized.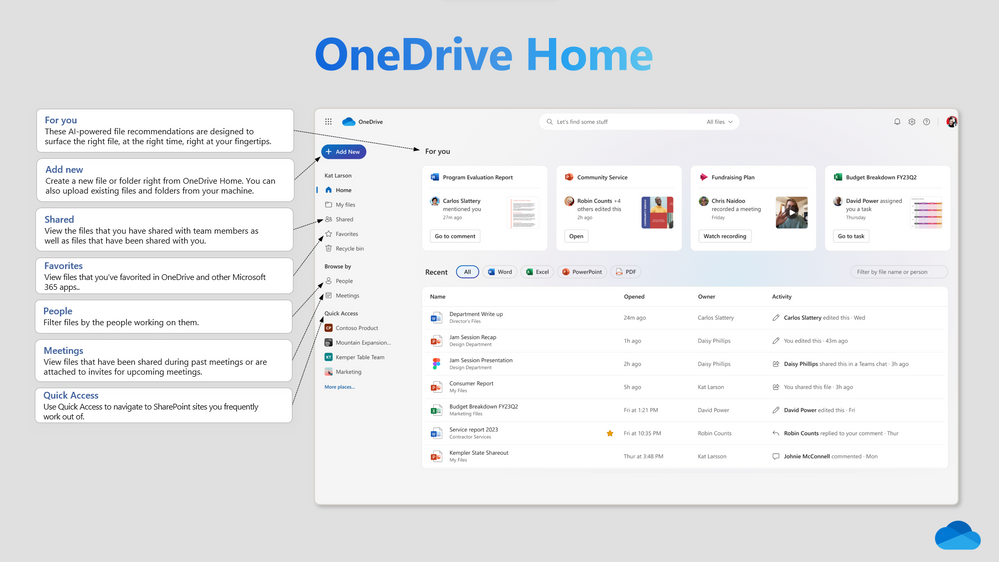 With the new Shared view, users can easily find files shared in Teams as well as through emails or the Share dialog box. Moreover, a new People view helps track files users work on with their colleagues. A new favorite view also makes getting back to files directly from the sidebar easier.
Microsoft detailed a Meetings view that shows upcoming and previous meetings with recordings, shared files, and pre-meeting materials. The OneDrive Home experience will add a new media view that provides quick access to all photo and video assets stored in OneDrive. Other capabilities, such as support for offline file access and Files On-Demand, will be available for OneDrive on the web in early 2024.
Microsoft OneDrive gets new Copilot integration
Microsoft has also unveiled plans to integrate its new Copilot AI assistant into OneDrive in December. The feature will enable users to find files shared by a specific person with natural language commands. They will be able to ask questions about files stored in OneDrive, SharePoint, or Microsoft Teams.
Copilot in OneDrive will generate summaries of the key takeaways of files, a folder, or a document library. It will highlight new comments and documents relevant to upcoming meetings and suggest follow-up actions.
New OneDrive features for IT Pros
Microsoft has also announced new features to help IT admins secure and govern all content in OneDrive accounts. The latest update allows administrators to move OneDrive accounts across Microsoft 365 tenants. However, all sharing links will continue to work after performing cross-tenant migrations.
With the new collaboration insights feature, IT Pros can identify usage-centric collaboration patterns with external users. Microsoft has added new granular conditional access policies to prevent data leaks in corporate environments. For instance, IT admins can enforce multifactor authentication policies for all users accessing confidential files. Microsoft says that administrators can enable restricted access control policies for the members of a specific security group.
Lastly, Microsoft will soon let IT admins export data into OneDrive sync client admin reports. The reporting capability will provide details about sync health, volume, and errors, and it's expected to arrive in public preview in January 2024.