Microsoft unveiled its plans to redesign Office.com and the Office app for Windows at Ignite 2021. Now, the company has announced that the new experiences in Office.com will be rolled out to all business and education consumers by the end of this week.
This release brings several enhancements that should make it easier for users with a work or school account to create, find, and share documents. First up, the revamped Office.com experience includes a new Home page with a Quick Access section that surfaces important Office files. It also supports new customizable filters that let users easily find documents based on the file type, collaborators, and more.
Furthermore, Microsoft has introduced a new My Content pane that highlights all the important content (such as meeting recordings, files, and Loop) across Teams, OneDrive, SharePoint, and Outlook. There is also an Infinite Scroll on the My Content page, which eliminates the need to jump between search results pages.
Lastly, the new Office.com UI adds a Create pane on the left that provides a built-in templates tool to create content across Microsoft 365. "Just select the type of content you wish to create and you'll be presented with various template options across multiple apps all at once so you can decide which option works best for you," the company explained. There is also an option for IT admins to upload branded templates for employees in their organization.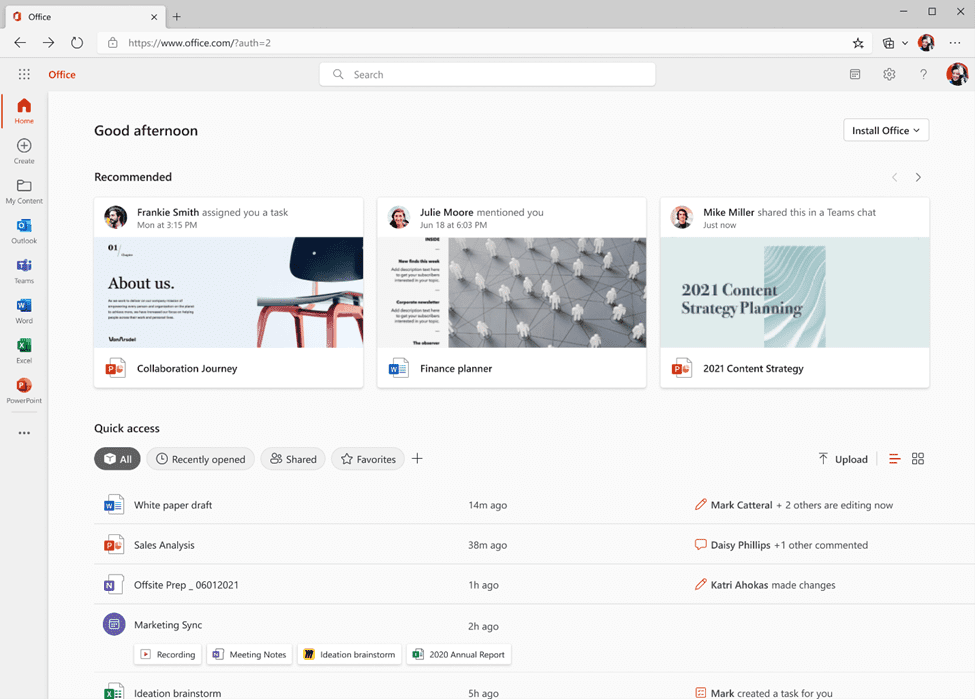 Microsoft is bringing the revamped Office.com UI to Microsoft 365 personal subscribers
To get started, Microsoft says that users will need to log in to Office.com with their work or school accounts. The update is also available in the Office app for Windows that comes pre-installed on new devices, and it's also available in the Microsoft Store.
Microsoft noted that these Office.com improvements should help to improve the productivity of commercial customers. Meanwhile, the Redmond giant plans to roll out the new Office design to all Microsoft 365 personal subscribers later this year.