Within the last few months, Microsoft has released a number of new Azure features for extending or adding functionality to traditional on-premises IT. Microsoft sometimes refers to these kinds of features as "on-ramp" services, as they're the sort of cloud technologies that IT staff are less likely to fear. These services also provide staff with the ability to discover and dip their toes into the potential of the public cloud, where Microsoft hopes that they eventually embrace more cloud features. In my own experience, these are the kinds of elements of Azure that Microsoft's value added reseller partners are developing services around. So let's talk about these recent additions and how they relate to IT pros today.

Operations Management Suite Add-On for System Center
System Center is no stranger to extending its services using the cloud. System Center Advisor was an in-cloud monitoring solution that offered additional intelligence over in-cloud or on-premises servers and applications. Advisor could be used by itself or it could add additional data to System Center Operations Manager (SCOM).
System Center Advisor gave way to Operational Insights, a preview Azure service, and Operational Insights is evolving into a component of Operational Management Suite (OMS), also known as Microsoft Operational Management Suites (MSOMS). OMS, announced at Microsoft Ignite, is a suite of additional management for on-premises physical or virtual machines or in-cloud machines.
The OMS Add-On For System Center is a bundling of services, including:
Operational Insights
Azure Backup
Azure Site Recovery
Azure Automation
You can continue to use these services separately via a normal Azure subscription. However, System Center customers can step-up their purchase by acquiring the OMS Add-On for System Center at a significantly discounted price than the individual services it is comprised of. Here is the catch: the Add-On is only available to System Center customers. For every System Center Server Management License (SML) you buy, you can purchase the equivalent OMS Add-On: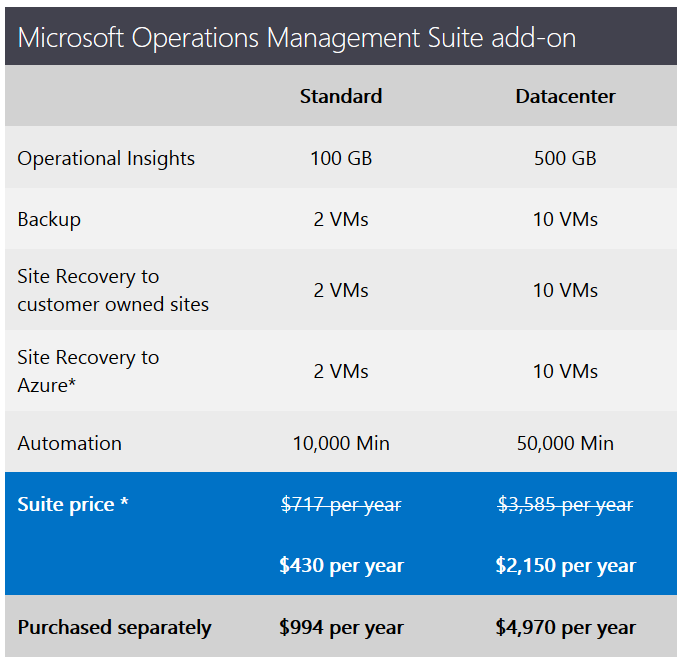 Improvements to Azure Backup
I started promoting Azure to Microsoft resellers when Azure was made available through open licensing. The then pricing of Azure Backup, which has been reduced numerous times since August 2014, absolutely hammered the competition. However, there have been a few issues that greatly restricted the number of enterprises from using the very affordable online backup solution:
Lack of centralized management
Without System Center Data Protection Manager (DPM), you can only backup files and folders with the basic agent deployment — no system state, no Exchange, no SQL Server, no Hyper-V, just files and folders and nothing but files and folders (I deliberately repeat this because someone always asks about something). Did I say that the Azure Backup agent can only backup files and folders without DPM?
Pricing became difficult to understand when Microsoft changed from a simple back-end storage sizing model (per GB used in Azure) to a complex instance size, plus storage used model.
Some Microsoft's announcements are aimed at solving these issues. New features will be added to Azure Backup later this year:
A new Azure Backup agent adds DPM functionality to support protecting more than just files and folders.
Azure Backup for IaaS virtual machines. This service was already in preview, so maybe it will be going GA soon.
A centralized management console for Azure Backup. We can guess what this might be like by looking at the management features in the preview of Azure Backup for IaaS virtual machines.
Note: The original text of the Microsoft announcement on Azure Backup stated that these features would were available now for customers of Azure OMS Add-On for System Center. The text has since been changed to state that all Azure Backup customers, including OMS Add-On, will get access to these improvements later in the year.

Backup vSphere Using DPM
The most intriguing piece of news is that a future release of System Center Data Protection Manager (DPM) will be able to perform agentless backups of vSphere virtual machines. Many VMware customers deploy System Center for monitoring and orchestration, and soon, they will be able to add backup/restore services, including the ability to forward selected data to Azure Backup.