Microsoft has recently released a major update for its Microsoft Lists app. The company detailed that the latest update brings several new capabilities and performance optimizations for Microsoft List users.
Under the hood, Microsoft has made various enhancements to make the Lists app twice as fast as before. Users should now notice faster loading times, better responsiveness, and smoother scrolling while using the app.
"We've supercharged Lists in the browser, in the PWA, and inside Teams to load in half the time. Whether you're driving Lamborghinis or Lists, performance is the ultimate feature. So if you stop reading here, and don't change a thing about how you work with Lists, you're still going to enjoy a summer of lightning-fast views, forms, and fields," the company explained.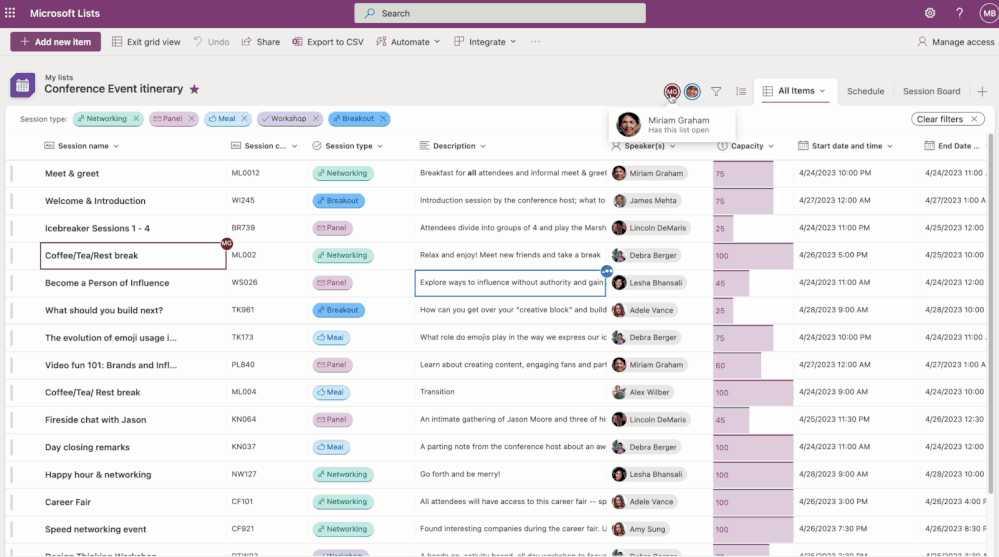 Additionally, Microsoft unveiled a set of UI and UX optimizations to make Lists more consistent with other Microsoft 365 apps. Microsoft Lists now features a modern and cleaner look to improve the usability and accessibility of the app. The company has introduced support for different views, filtering and sorting options, as well as conditional formatting and rules.
Calendar view improvements
Microsoft Lists Calendar view is getting a new top-requested week layout feature. This means that users can now choose between the month and week views to visualize list information. The new week layout enables users to get a more detailed view of tasks that are scheduled for the week.
Microsoft Lists to get a new forms experience
Microsoft has released a new forms experience that should make it easier for users to collect information, track tasks, and stay organized within Microsoft Lists. Moreover, the app is getting a range of formatting options such as user-friendly questions, custom logos, descriptions, and names. Users can create multiple forms for the same list, which could be useful for event organizers.
Turnkey Templates
Microsoft has announced plans to bring support for organizational templates to all Microsoft 365 tenants worldwide. These include approvals integration, custom list templates, as well as Power Automate flows packaged into custom List templates.
Commenting feature coming to the Microsoft Lists mobile apps
Lastly, Microsoft detailed several improvements coming to the Lists mobile apps. The company expects to release MSA support to the Lists iOS app later this month, with Android support to follow by the end of June. Furthermore, Microsoft Lists will soon allow users to view and edit comments on iOS devices.