Microsoft 365 Universal Print Now Generally Available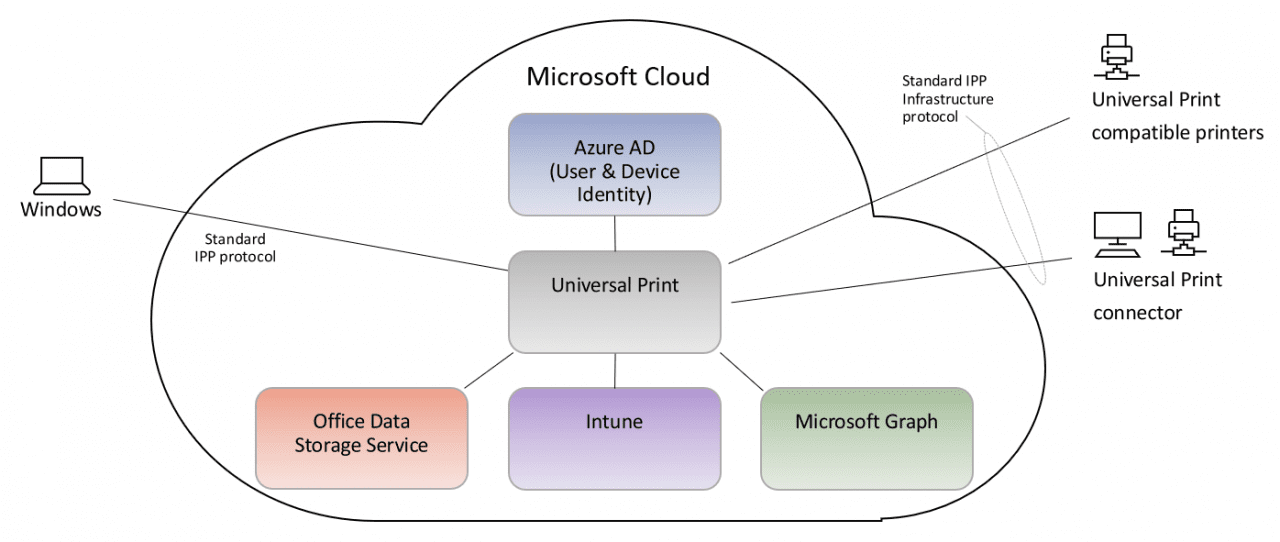 Microsoft officially announced today the general availability of Universal Print at its Ignite conference, which is running March 2nd to 4th. Microsoft 365 Universal Print is a cloud solution designed to enable endpoints to print anywhere without the need for a print server. Universal Print has been available in public preview since May 2020. It provides a simple, rich, and secure print experience for users and it reduces time and effort for IT.
Universal Print doesn't need any on-premises infrastructure if you have Universal Print-compatible printers. Universal Print runs in Microsoft Azure, it is fully integrated with Azure AD, and it supports single sign-on. If non-Universal Print-compatible printers are used, then a Universal Print connector application must be deployed on-premises.
Image #1 Expand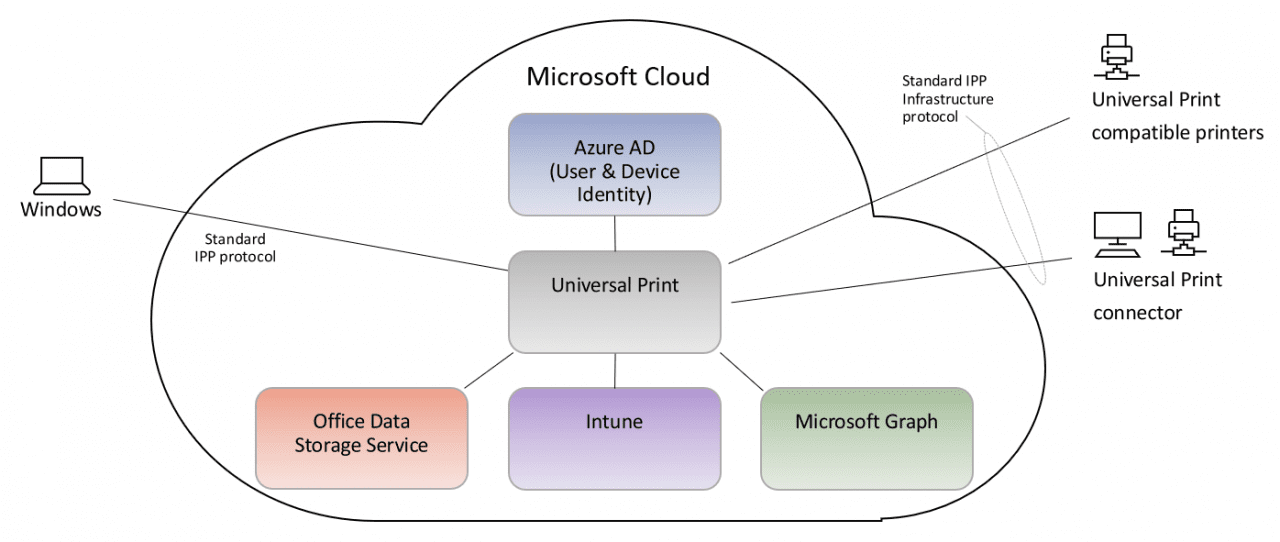 Users can print from Windows devices to Azure Active Directory (Azure AD) registered printers. Printers registered with Universal Print work with Windows 10 version 1903 and later. And in addition, users can print documents directly from OneDrive for Business using any supported browser. Microsoft adds:
Major printer manufacturers such as Brother, Canon, Epson, HP, Konica Minolta, Lexmark, Toshiba, Ricoh and Xerox support Universal Print, so customers can get started immediately. A robust set of software partners address customers' unique business need with software tools and cloud services.
Universal Print vs Hybrid Cloud Print
Hybrid Cloud Print lets users easily access printers in environments where devices are hybrid joined to Azure AD. Hybrid Cloud Print connects devices to AD-joined print servers. But it is a complex solution that requires on-premises Windows Server AD be synchronized to Azure AD. And a Mobile Device Management (MDM) service, like Microsoft Intune, is required to configure print settings on devices. Hybrid Cloud Print also needs Windows Server 2016 print servers and some on-premises infrastructure, like a dedicated connector server.
Universal Print doesn't require any on-premises infrastructure. It runs in Microsoft Azure and it is fully integrated with Azure AD, including support for single sign-on. Microsoft says that there's a series of benefits for IT departments, including:
A print solution to unblock the move to the cloud and support print for Azure AD users
Managed printing in zero-trust networks
Eliminates the need to manage print servers or the need for complex hybrid print solutions
A centralized portal that enables robust management capabilities
Visibility and insights into your print with reporting
Print data stored in the same manner as other Microsoft Office data, in accordance with Microsoft's data management guidelines
Printer deployment and default printer configuration on end-user devices using Microsoft Endpoint Manager (Microsoft Intune)
Microsoft 365 Universal Print for a distributed, remote workforce
Universal Print is quite basic compared to a Windows Server print server. But in a world where more users are working remotely, distributed cloud printing is a feature that Microsoft can now provide its customers. Universal Print is generally available to customers with Windows and Microsoft 365 enterprise and education subscriptions, and through a stand-alone license.
For more information on how to use Universal Print, check out How Does Microsoft 365 Universal Print Work? on Petri.