Microsoft 365 Universal Print is a cloud-based service that provides organizations with a simple and secure print infrastructure that is easy for end-users and requires minimum time and effort for IT departments. It is designed to help organizations move away from managing local print servers to a more flexible cloud-based infrastructure that works for today's distributed workforce.
Universal Print eliminates the need to install printer drivers because the experience is based on the Internet Print Protocol (IPP) standard that's built-in to Windows 10. Universal Print works with on-premises printers and devices outside of an organization, and with zero-trust networks when users are authenticated via single sign-on (SSO) to Azure Active Directory (AD).
According to Microsoft's recent announcement, there's a series of benefits for IT departments as well, including:
A print solution to unblock the move to the cloud and support print for Azure AD users
Managed printing in zero-trust networks
Eliminates the need to manage print servers or the need for complex hybrid print solutions
A centralized portal that enables robust management capabilities
Visibility and insights into your print with reporting
Print data stored in the same manner as other Microsoft Office data, in accordance with Microsoft's data management guidelines
Printer deployment and default printer configuration on end-user devices using Microsoft Endpoint Manager (Microsoft Intune)
While Hybrid Cloud Print lets Windows 10 devices joined to Azure AD access on-premises printers, it's a complex solution that requires several different components, including Azure AD Application Proxy, new Internet Information Services (IIS) service endpoints, a dedicated connector server, and a dedicated print server. But when compatible printers come to market, Universal Print won't require any on-premises infrastructure.
For more information on the differences between Universal Print and Hybrid Cloud Print, see How Does Microsoft 365 Universal Print Work? on Petri.
Universal Print is secured using HTTPS
Users will be able to access printers in Windows in the same way as printers shared by Windows Server. Universal Print is secured using HTTPS and it doesn't require any ports to be open inbound on Windows 10 clients. Registered printers are represented as objects in Azure AD and they are backed by X.509 certificates.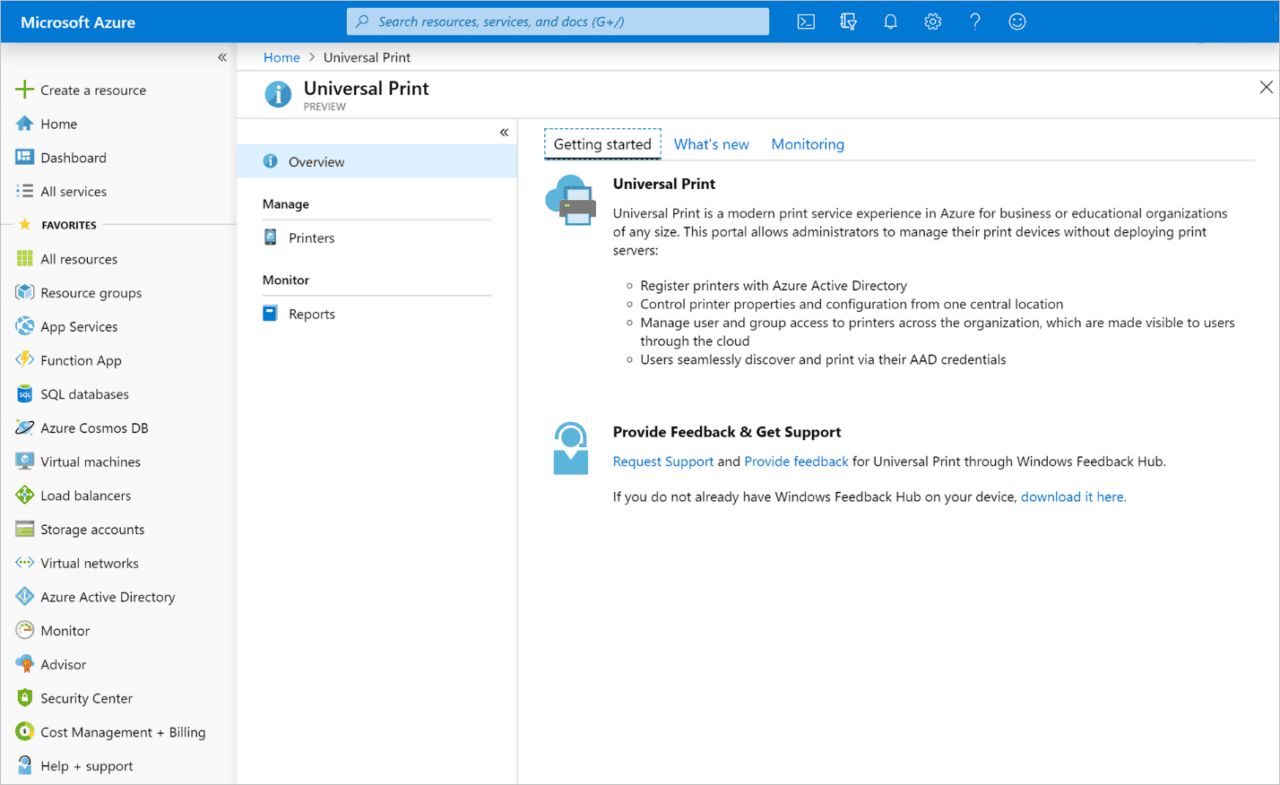 Currently, there is a basic set of reports available to administrators. But Microsoft says it is possible to download a raw data stream of completed print jobs using the Microsoft Graph API for creating custom reports.
Universal Print public preview rollout
Universal Print will only be available to customers with certain Microsoft 365 subscriptions. July 2020 saw the rollout of the public preview to Microsoft 365 E5/A5 customers. This month should see the preview made available to customers with Microsoft 365 E3/A3 subscriptions. Windows 10 Enterprise E3/E5 and Windows 10 Education A3/A5 should see the preview this month also. And finally, Microsoft 365 Business Premium/F3 are expected to get access sometime in September 2020.
Microsoft says that the public preview is a fully supported service, but it won't be available to those using trial Microsoft 365 subscriptions. Partners, like Canon, Brother, HP, and Lexmark, are promising to support Universal Print on new devices and potentially with updates to firmware on existing printers. In the meantime, printers can be connected to Universal Print using a connector application installed on any Windows 10 device or Windows print server.
Plans for the future
Microsoft says that it hopes to support non-Windows mobile devices with Universal Print at some point in the future. Mac support might also be coming. Microsoft is working with its partners to provide security protections, like requiring a PIN. And an announcement about PowerShell support is expected soon.
For more information on accessing the public preview, check out Microsoft's website here. You can also subscribe to Universal Print Announcements on Microsoft's Tech Community website. Universal Print is expected to be generally available in Q1 2021.