Key takeaways:

Microsoft is launching Microsoft 365 Copilot on November 1, an AI assistant powered by OpenAI's technology for enterprise customers.
Microsoft 365 Copilot brings generative AI capabilities to Microsoft Office apps and can summarize emails, analyze data, and rewrite content.
Microsoft also announced Microsoft 365 Chat, Copilot Lab for training, and Bing Chat Enterprise support for Microsoft Edge mobile users.
Microsoft is gearing up to launch Microsoft 365 Copilot to enterprise customers, with a scheduled launch on November 1. The company announced this morning that this AI-powered assistant will be accessible to specific Microsoft 365 business and enterprise plans, with a pricing set at $30 per user per month.
Microsoft 365 Copilot is powered by cutting-edge AI technology from OpenAI, and it brings generative AI capabilities to Word, Excel, PowerPoint, Outlook, and Teams. It allows users to summarize Outlook emails, analyze data in Excel, and rewrite content in Word. Microsoft 365 Copilot scans an organization's content (such as agendas, emails, files, as well as chat messages) to deliver responses.
Currently, Microsoft is testing the AI-powered tool with select organizations through its early access program. At launch, Microsoft 365 Copilot will only be available for commercial customers with Microsoft 365 E3, E5, Business Standard, and Business Premium subscriptions.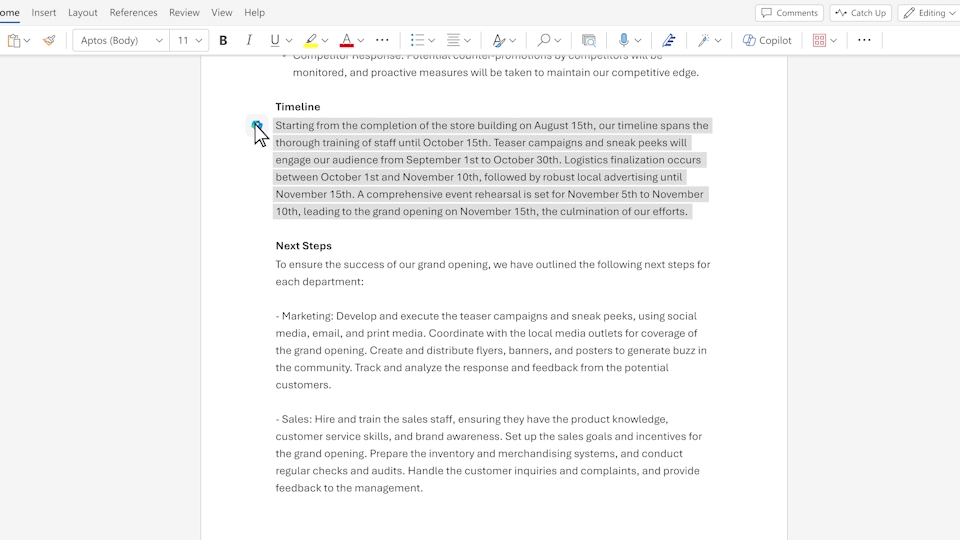 Microsoft 365 Chat
Microsoft also announced today a chat experience that is coming to Microsoft 365 Copilot. With Microsoft 365 Chat, it's possible to ask questions and quickly find important content in files. The chatbot also integrates with other Microsoft 365 apps and services. Starting today, enterprise customers can access Microsoft 365 Chat in preview in Microsoft Teams and Microsoft365.com.
"It's a powerful new capability in Microsoft 365 Copilot that goes far beyond simple questions and answers to tame the complexity, eliminate the drudgery, and reclaim time at work. Like an assistant, it has a deep understanding of you, your job, your priorities, and your organization. It can find whatever you need in your files (even the files you forgot existed), connect the dots across all your content and context at the speed of light, and even integrate with the apps you use to run your business," Microsoft explained.
Microsoft launches Copilot Lab
Microsoft also announced the launch of Copilot Lab for enterprise customers. The new platform allows Microsoft 365 commercial customers to learn how to use the AI assistant to boost their productivity. It helps employees to improve prompt writing skills and share their favorite prompts with colleagues.
Bing Chat Enterprise now available in the Microsoft Edge mobile app
Last but not least, Microsoft noted that its Bing Chat Enterprise service is now available for Microsoft Edge users on mobile devices. It's also getting a new image creator tool and support for multimodal visual search. Bing Chat Enterprise is available at no additional cost for organizations with a Microsoft 365 E3 and E5, Business Standard, and Business Premium subscription. It's a good alternative for Microsoft 365 customers who are not willing to pay for Microsoft 365 Copilot.
Bing Chat Enterprise offers enhanced security capabilities to help customers protect data in enterprise environments. Microsoft reassured customers that it won't use customer data or prompts to train its machine learning models.