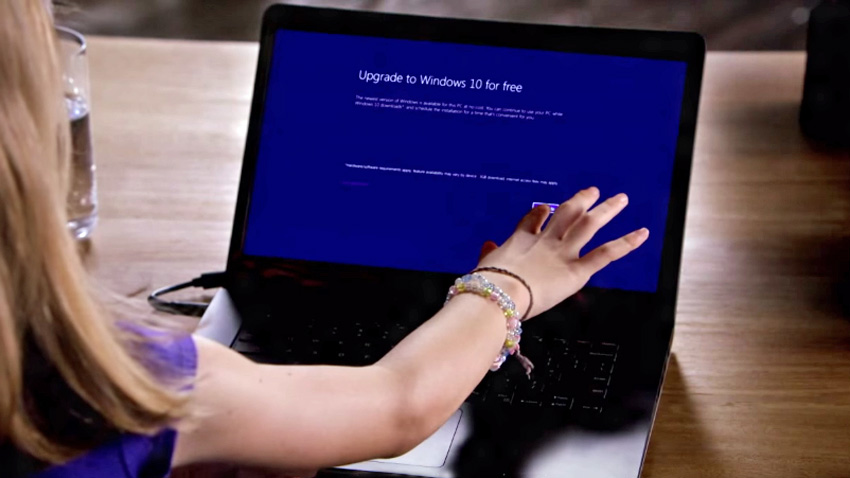 Last week, Windows 7 and Windows 8.1 users began noticing a little Windows flag icon in their system tray, advertising the coming free upgrade to Windows 10. But as many are noticing, this advertisement is unsolicited and cannot be rejected or even turned off unless you really know what you're doing. In Microsoft's mad quest to push over a billion people to Windows 10 as quickly as possible, has the software giant gone too far?
The answer, clearly, is yes. And it doesn't have to be this way.
A few months back, Microsoft began shipping a set of Windows Updates to Windows 7 and 8.1 users that, at the time, had very vague descriptions. KB3035583, for example, "enables additional capabilities for Windows Update notifications in Windows 8.1 and Windows 7 SP1." And KB2976978 "ensures compatibility for customers who are seeking to install the latest Windows operating system."
A few things have happened since those updates were slipped into the Windows Update vortex. First, they've both been changed from "optional" updates to "important" updates, meaning that the vast majority of PCs out there will silently install them in the background without users' knowledge. And second, we now know more about these updates.
KB3035583 is the update that triggers the "Get Windows 10" advertisement notification in the system tray. It exhorts you to "reserve" your copy of Windows 10 ahead of the July 29 launch date, but offers no way to tell Microsoft you don't want this upgrade offer, nor any way to remove the advertisement. (Those irked by the icon can hide it in the hidden icons area, or can uninstall the update if they know where to look.)
KB2976978 helps your system run a compatibility check—essentially the Upgrade Advisor part of Windows Setup to ensure that your PC's hardware and software is compatible with Windows 10. That way, you can accommodate any necessary changes ahead of July 29.
As for why anyone would need to reserve an upgrade that will be free for the first year, there's actually a pretty good reason: After Microsoft "finalizes" Windows 10, and ahead of the July 29 launch, it will begin drizzle-downloading the upgrade bits to users' PCs. That way, no one needs to fight a crowd on day one, and everyone can upgrade offline without having to worry about bandwidth issues.
That sounds altruistic, but it really helps Microsoft more than users, and as I've explained many times, there's no real rush anyway since Windows 10 is almost certainly going to be a mess when it first launches. I recommend that most people wait at least a month to ensure that the upgrade kinks are worked out and let other people be the guinea pigs.
But the issue isn't that Microsoft wants to distribute Windows 10 early.
The issue is that users are receiving this unsolicited advertisement on their PCs but then have no way to decline or defer an offer that is valid for a full year. There's a "Reserve your free upgrade" button in the wizard that appears when you click on the "Get Windows 10" icon. But no buttons for "No, thanks" or "Maybe later." And once you reserve your copy of Windows 10, there's no obvious way to then change your mind and decline it.
On the flipside, many users who do want to reserve Windows 10 are not getting the upgrade offer. Microsoft is not displaying the upgrade advertisement on domain-joined PCs, those running an Enterprise version of Windows, or on versions of Windows acquired through MSDN or TechNet. Some users are unsure why they've not received the upgrade offer and are worried they will be left out. Windows Insiders, many of whom have selflessly been beta-testing Windows 10 since October, are not being offered this early upgrade offer either (though they will most certainly be getting Windows 10 for free too).
In an age of almost casual privacy violations from firms like Google and Facebook, complaining about Microsoft pushing its own software on users may seem almost quaint by comparison. It's not. Automatic Windows Update delivery of critical and important security fixes is both useful, and for many, required. And letting users explicitly opt into additional software is absolutely OK as well. But silently shoveling an advertisement onto users' PCs is a step in the wrong direction. And we should expect—no, demand—more of both Microsoft and Windows.