Installing Ubuntu 9.10 as a Virtual Machine in Windows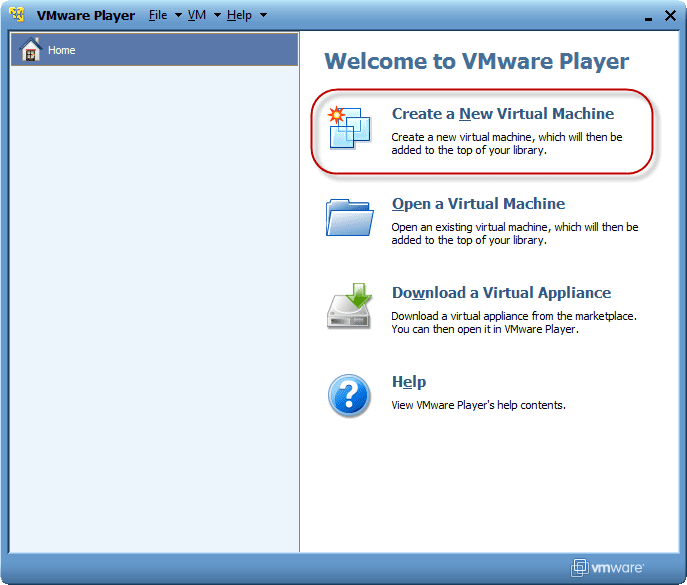 Introduction
This tutorial will provide instructions on how to nest Ubuntu Linux 9.10 Karmic Koala into Microsoft Windows using only free, as in beer,  software.
Getting Started
The first step in the tutorial is to download and install VMware Player. VMware Player is a free download, and the installation is very straight forward. Download VMware Player from the VMware homepage. Download and install the latest version. At the time of writing, VMware has recently released the 3.0 version of the software. One of many improvements in this version, is the ability to create new virtual machines. In earlier versions this ability was only available in VMware Server, VMware Workstation or VMware ESX.
The second step is to download Ubuntu Linux. You can download Ubuntu for free from the Ubuntu website. The download will be a disk image of Ubuntu with an extension of .ISO. The download will be about 700MB, so depending on the speed of your Internet connection, it may take several hours to download completely. To enable the fastest download, pick a mirror closest to your physical location.
Creating a new Virtual Machine in VMware Player 3.0
Since we can create new VMs in VMware Player now and we don't have to resort to any hacks or workarounds like we had to in previous versions, we'll get right down to installing the virtualized Ubuntu 9.10 instance.
Start VMware Player, and find the "Create a New Virtual Machine" option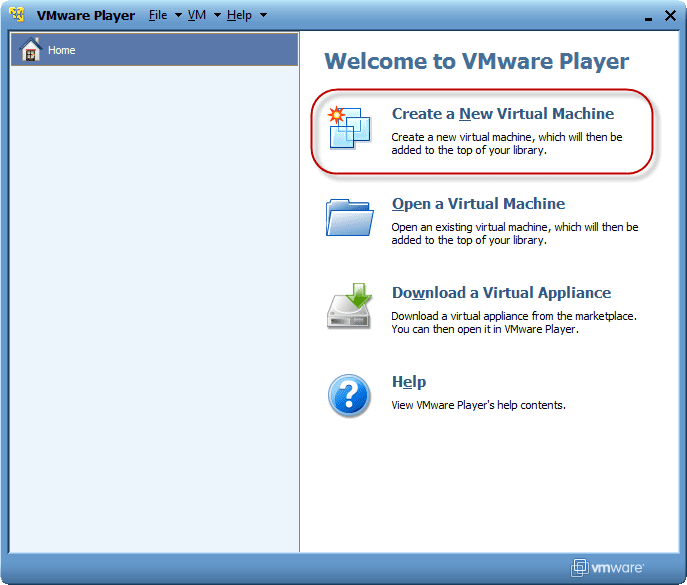 This will in turn show you the "New Virtual Machine Wizard" where you select the installation method. Since we already downloaded the Ubuntu 9.10 ISO image, we'll be using the "Installer disc image file (iso)" option.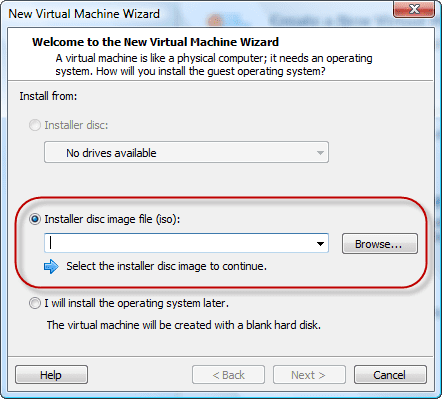 Click on "Browse" and find the folder where you downloaded the Ubuntu ISO file and click "Open"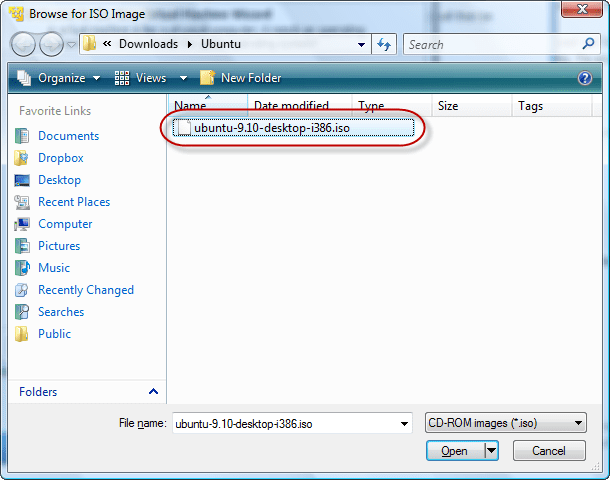 Notice that VMware Player automatically detects that you are trying to install Ubuntu 9.10 and that this operating system will use the new Easy Install feature.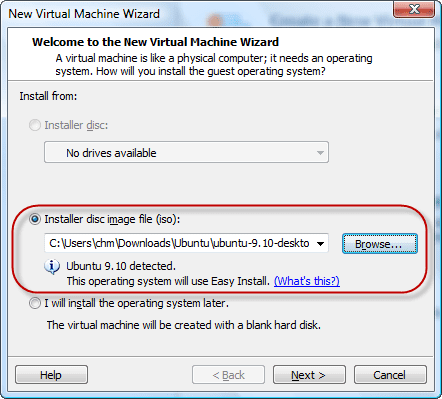 This means that VMware automatically configures the Virtual Machine definitions and triggers an automatic installation procedure after you fill out some basic configuration data like Full Name, User name and password: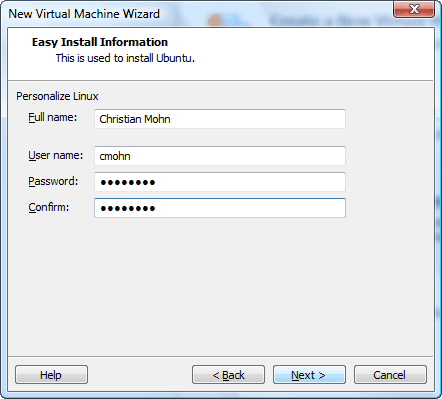 Click on "Next" and fill out the details regarding the Virtual Machine Name and disk Location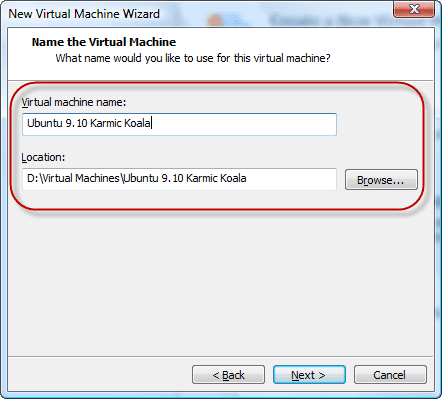 Click "Next" and specify the disk size. VMware Player automatically recommends a 20 GB disk size, so we'll stick to the defaults.
If you need more disk space, feel free to configure it otherwise. By default VMware Player virtual disks are "thin provisioned". This means that the disk file only takes up the space it actually uses, instead of dedicating the entire size of the disk when created. The size you set in VMware Player is the disks maximum size, and it will grow until it reaches the predefined size.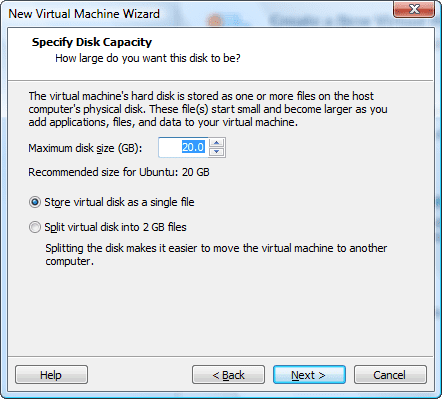 Click "Next" and review your settings.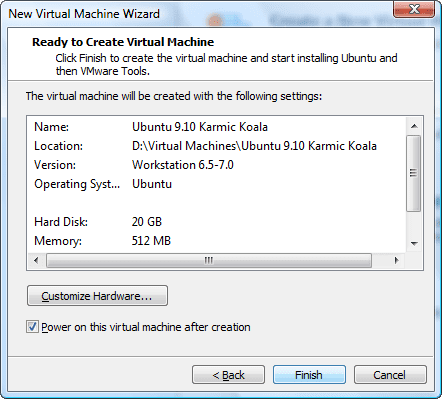 Installing Ubuntu 9.10 Karmic Koala
As we are happy with the defaults, we'll click "Finish" and let the installation start. Click on the screenshots below for details on the installation process:
All we can do now is to wait until the installation is done. The rest of the installation process is automated by the combination of the Ubuntu installation and the VMware "Easy Install" feature, so you can kick back and do something else while the installation finishes.
When you get to a text window explaining that you need to wait for the  VMware Tool installation to finish, that's just what you should do.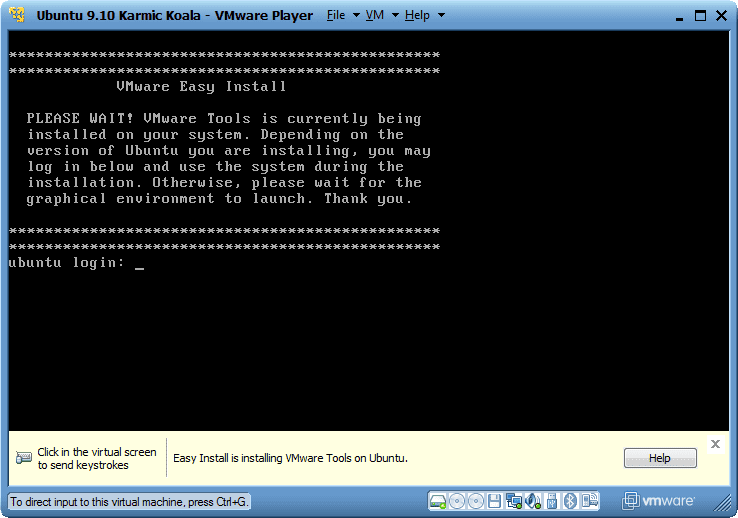 Hold your horses, and wait for the pretty graphical log in screen to magically appear in a couple of minutes.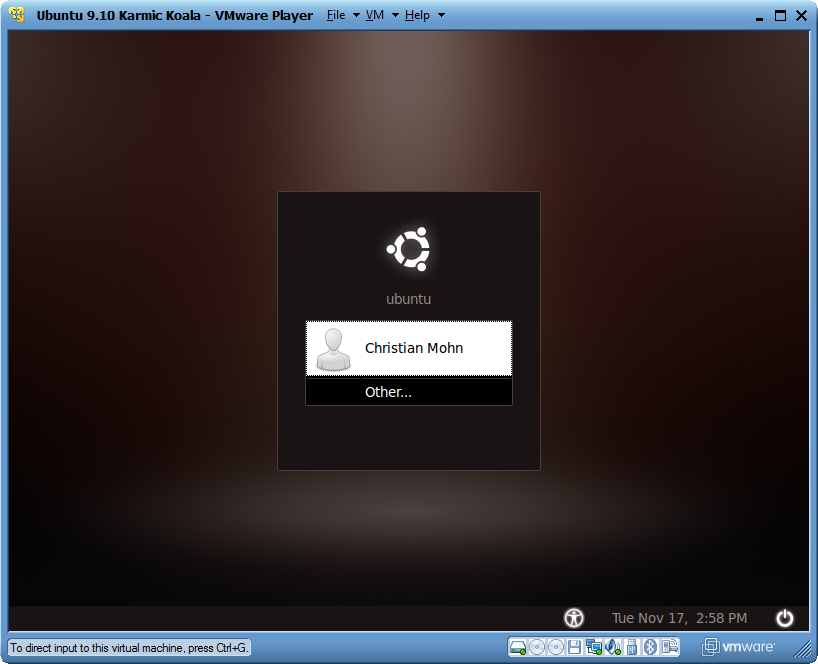 You are now ready to log on with the user name and password you defined when initially creating the VM in VMware Player. Log on and you're ready!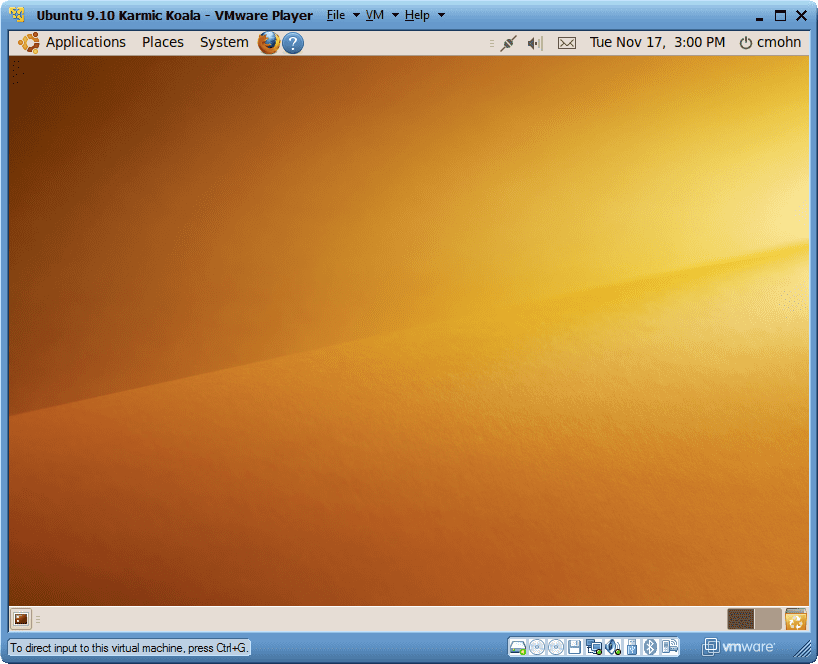 By default VMware Player sets up your networking in bridge mode, which means that a virtual network card is created on your host machine and the virtual machines access your network through that. As long as you have a DHCP server available in your local network, network access is automatically enabled in your virtual machine and it's ready to use!
Summary
You can try out other flavors of Linux by following the same routine however, the Easy Install installation procedure is only supported on Ubuntu 7.10 and later as well as Red Hat Enterprise Linux 3 through 5 (and Windows versions from 2000 and newer).
Other Linux flavors are absolutely installable, they just won't use the Easy Install procedure. The instructions shown above will work equally well in both Linux and Mac as host operating systems.
Virtualization is a powerful tool that can be used for many purposes.
If you are comfortable with this process and your computer has enough memory, you can install Linux as a server and run a LAMP (Linux, Apache, MySQL, and PHP) server from within Windows. Ubuntu also offers a server version which will automate the process of setting up Apache, MySQL, and PHP. Ubuntu Server is available at the Ubuntu homepage and is significantly smaller in size. In addition, the download and installation process is much shorter due to it not being shipped with a graphical user interface by default.
Got a question? Post it on our VMware Forums!