IDC: PC Sales Experienced Record Decline in 2015 As Expected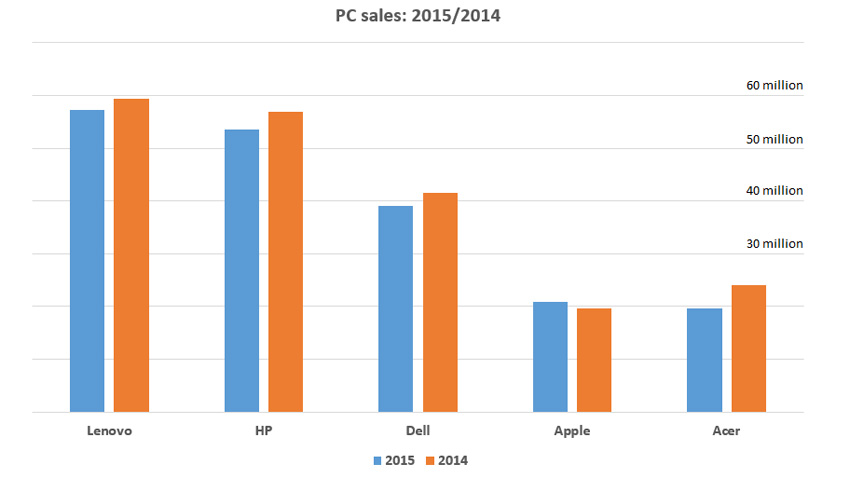 Despite a modest improvement in the fourth quarter, PC sales in 2015 met expectations and delivered the largest year-over-year decline in history, with PC makers selling fewer than 300 million units for the first time since 2008.
These results are from the market researchers at IDC only. I'm still waiting on Gartner for a more complete view of the PC market, as IDC miscounts some PCs as different types of devices. But IDC's view is clear enough: 2015 was bad for the PC industry, but the firm expects some improvement, finally, in 2016.
"The PC market remains competitive and the economic environment weakened further with the recent drop in the Chinese stock market," IDC vice president Loren Loverde said in a prepared statement. "However, PC replacements should pick up again in 2016, particularly later in the year."
PC makers sold 71.9 million units worldwide in Q4 2015, IDC says, a year-over-year decline of 10.6 percent. (IDC reported that 80.4 million PCs were sold in Q4 2014.) Those sales were in line with IDC's "already conservative expectations," the firm reported. For the year, PC makers sold 276 million units, compared to 308 million in 2014.
Assessing blame for the PC industry's continued ills, IDC said that there were multiple factors at play.
First and most obviously, PCs enjoy much longer life cycles in the past. This is in part due to higher quality, and in part because users are splitting their computing time with competing devices such as smart phones and tablets.
Economic issues around the world continue to weigh on the PC market as well. IDC cited "falling commodity prices and weak international currencies, as well as social disruptions in EMEA and Asia/Pacific that disrupted foreign markets" as a "larger factor for 2015."
And then there's Windows 10. With Microsoft choosing to jump start Windows 10 adoption by giving away the OS for free to upgraders, many consumers in particular have simply chosen to derive more value from their existing PC investments. Windows 10 is free to upgraders through mid-2016.
Despite the gloom, there were some positive signs in 2015. Premium PCs, like Apple's Mac, were a bright spot. And "detachable tablets"—what others call 2-in-1 PCs—are growing quickly, IDC says. If they were included in its PC sales for 2015, detachable tablets would have bumped the results by 6 percentage points in the fourth quarter alone, and 3 percent for all of 2015. So the shortfall in Q4 would have been only 5 percent, not 10.6 percent.
Detachable tablets should obviously be included in PC sales, and this is a fundamental issue with IDC's numbers. Gartner does count detachable tablets towards PC sales as should be the case. Microsoft's Surface, for example, is considered a detachable tablet. The Surface products are clearly PCs.
Looking ahead to 2016, IDC sees some signs of hope.
The firm believes that the "commercial transition to Windows 10" will be faster this year "than we saw for prior versions of Windows," which would certainly be a boon to the industry. "Commercial adoption of Windows 10 is expected to accelerate in 2016," Mr. Loverde said.
And consumer buying should also "stabilize by the second half of the year," Loverde believes, when the free Windows 10 upgrade offer expires. "Most PC users have delayed an upgrade, but can only maintain this for so long before facing security and performance issues," he notes. "We continue to believe that a majority of these users will purchase another PC, motivated by new products and attractive pricing."
IDC says that Lenovo was the world's biggest maker of PCs in 2015, with over 20 percent market share for the year. Following Lenovo in the top 5 were HP, Dell, ASUS and Apple. Of the five, however, only Apple saw unit sales growth in 2015, though ASUS declined only very slightly in the year.
The top 5 PC makers in the US are HP, Dell, Apple, Lenovo, and ASUS, according to IDC. But Apple and Lenovo are essentially tied in the US and Lenovo surged 21 percent in the 4th quarter to 28 percent of the market, well above Apple's growth of 8.9 percent. (Even ASUS outgrew Apple in the US, with 11 percent growth.)
There's no doubt that 2015 was a tough year for the PC. But I'm looking forward to Gartner's evaluation so we can have a more complete view of what really happened.