Getting work done in a business setting today is a unique animal. There is a fine line between sharing too much and not enough. Most companies are not set up to share files in the cloud or to participate in enterprise social networks. IT staff today are stretched thin and rarely get time to experiment with new tools or develop training for the rest of the company. So before I get specific on different tools, let's look at all the Office 365 tools as a whole and see how their capabilities relate to each other.
A major question looming in the back of everyone's mind when talking about the cloud is, "who can see what I am doing?" The chart below breaks down generally who can see what and what different tools are used for different settings. This chart is not perfect and may need some explanation. First, the private column does not mean confidential, because emails you send can be forwarded or shared. 'Private' includes communication that's initially visible to only the people you include.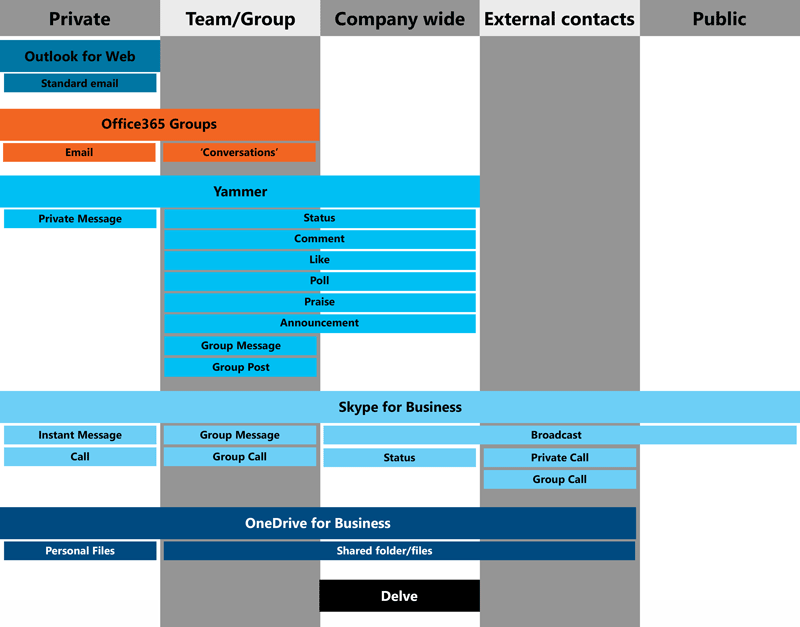 Yammer is Microsoft's enterprise social network and stands as a good example of how new forms of communication are different from email. On Yammer, a status, poll, like, etc., are generally visible to others in your company. This type of communication is passive and fulfills a different roll compared to email or chat. Ideally, people can remain up to date on the status of a project by following along on Yammer without their inboxes being filled up with lots of small updates.
OneDrive for Business provides the cloud storage backbone to Office 365. However, the sharing of these files usually occurs via email, Yammer, Delve, or even Skype for Business. Files can be stored in individual employees' OneDrive for Business accounts or the files and folders can be saved to a space, which is 'owned' by company and permissions are dictated via Yammer group or Office 365 Group memberships. There are options when sharing files and folders, such as 'can edit' or 'can view', and these settings can be adjusted for individual users or domain groups to meet your specific needs for that file or folder.
Microsoft's real-time communication tool for enterprises is Skype for Business (previously Lync). Recently, Microsoft has been investing in Skype for Business to compete with traditional enterprise tech by enabling broadcasting and a cloud PBX. The broadcasting feature is for conference calls and enables companies to communicate with people external to their network, such as customers or a large scale conference call. For the most part, communication via Skype for Business occurs in real time and is only visible to the people who have been invited into the conversation or call.
One unique capability of Office 365 and possibly Microsoft's most confusing product is Delve. Delve is a tool that helps solve the problem of data overload and organizing files that are stored all over the place. The app works to understand the connections between employees and helps facilitate discovery of useful or relevant files; Delve is the poster child for a unique tool, which is only possible when files are stored and shared in the cloud.
Hopefully these chart are help make Office 365 more understandable and less daunting. Many of the tools are similar but are missing different features. Use these charts to plan your team's communication strategy. If there are any corrections or amendments that should be made, please let me know!