Everything You Need to Know About Office 365 – May 2019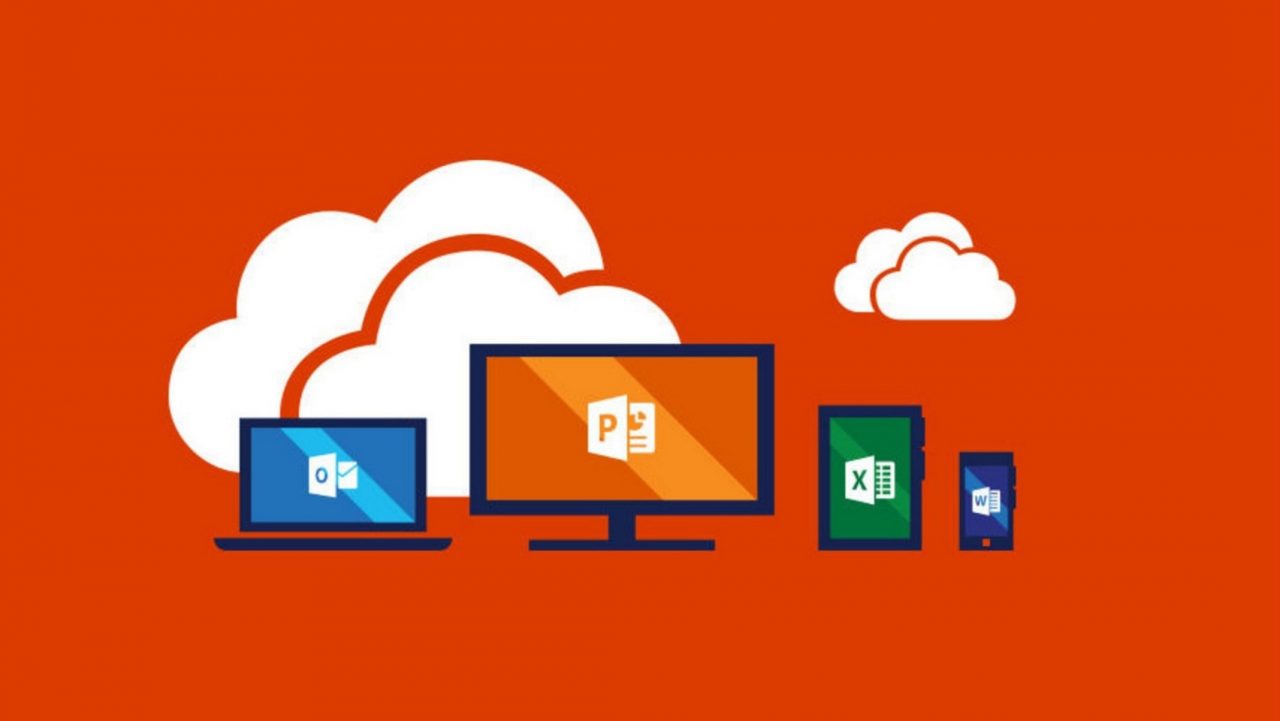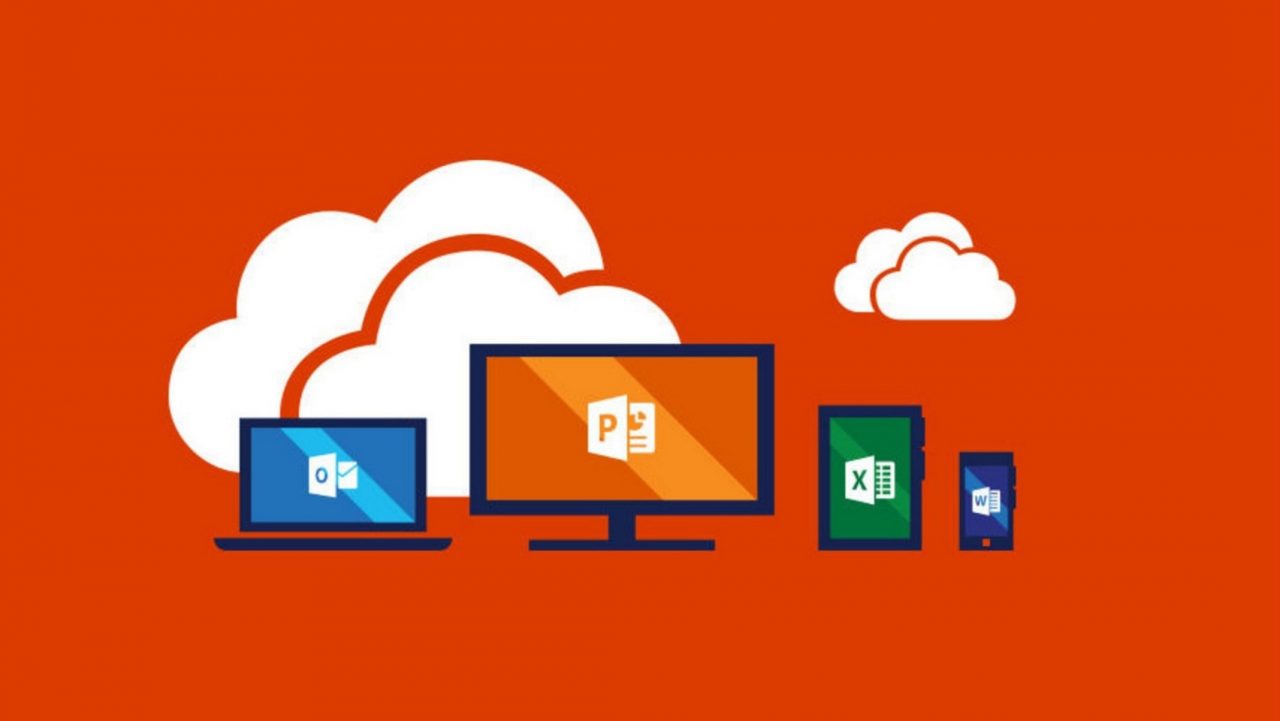 This month I use cool too much. Not sure why but I did so deal with it. The good news is that means there is a lot of quality, positive (aka cool) announcements below. Really only OneNote Dark Mode gets mocked. So kick back with a cool drink and enjoy Microsoft Search, Forms, OneDrive, Teams, and my favorite child PowerApps.
Microsoft Search – THIS IS COOL!
My favorite part of SharePoint was always Search. Internet historians might even know I wrote a book on Search around 2008 that sold seven copies. My mom said it was a good book. Anyway, Microsoft Search was announced at Build and it so cool. Basically, it is all of the search smarts we have had for a long time but searching more data across Microsoft 365 and being surface in more places APIs and Bing. Yes, that is right, after 30 seconds of config by your O365 Administrator you can see your intranet and internet search results in your browser. Check out the screenshot below where I searched for Chewy. As long as you find it normal, my dog has a proper O365 account; it is all pretty cool.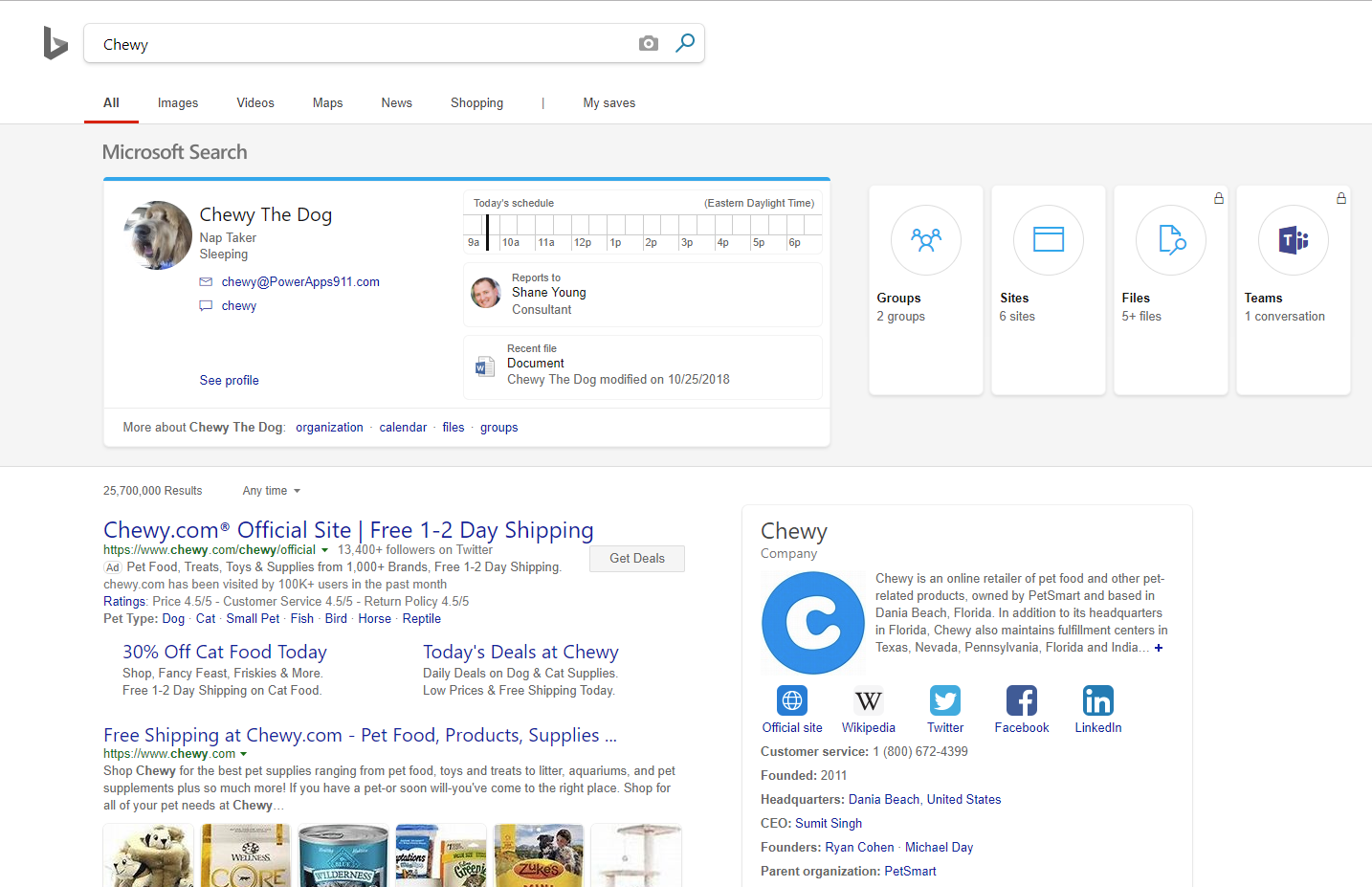 Search is also more contextual in more places and coming to Windows 10. Tony has a nice walkthrough on Getting Started with Microsoft Search you should check out.
Microsoft Forms transform ownership
Apparently, Forms is doing pretty well. Who knew people wanted a simple way to collect data online? As its growth has mostly been the cool kind (viral), we know that can lead to some management headaches. One of those being who owns the Form or worse yet, what do we do when the Form owner wins the lottery? In this new support article, the Forms team explains how to use the recently announced functionality for sharing ownership of a Form or reclaiming a Form. Not super elegant yet but a giant step forward for those companies where Forms are becoming the norm.
Dark Mode is the new Black for OneNote
Maybe I need to return my nerd card, but I just don't get how Dark Mode is the new hotness in products. But clearly, it is as OneNote is about the millionth product to announce they now have a Dark Mode. I mean seriously, what is next? Are we going to start having style guidelines for what color you run your apps in? Just like you can't wear white after Labor Day you can't run Dark Mode after St. Patrick's Day? I really want to yell, "Get off my lawn!" right now. If you are craving Dark Mode, it is out for Insiders now and should be available to everyone with OneNote for Windows 10 in the next few weeks.
Also, make sure to take a look at everything Tony covered this month as well.
OneDrive announcements stole the SharePoint Conference for me
As part of the SharePoint Conference, the OneDrive crew pulled together this post on What is new with OneDrive. I will not recite the article to you, but I will give you a couple of nuggets. One of them is around the wording they use "OneDrive is the files app for Microsoft 365". I don't know why, but that seemed very direct to me. Like I read that as why are you not storing everything in OneDrive. Which is a fair question. The other thing is the Sync client got more performance enhancements by increasing the types of files they can transfer deltas instead of the whole file when it changes. I like it. Especially as I have moved to the model where all of my files are on OneDrive, and I let the sync client just magically keep them available. OneDrive is super important to me and all of the enhancements keep scratching the itch. Very cool!
Companion devices for Microsoft Teams
As every month I feel compelled to talk about Microsoft Teams. Scarier? I actually use it daily. I keep warning you guys Microsoft wants it to be the center of the universe and I have moved to acceptance. To that end, I saw this pretty cool blog post about how you can connect to a meeting from two devices at once. The idea is you can connect from your PC for the screenshare/video and then your phone for audio. I didn't realize how much I needed that until they made it.
PowerApps announcements at Build
Microsoft Build is a developer conference so that makes it not cool but the PowerApps story was so cool that I decided to share anyway. There were announcements about custom controls with the new PowerApps Component Framework, embedding PowerApps thanks to a new SDK, a new Azure connector, Blockchain something fancy, and more. For me it was a lot of PowerApps being what it is – A platform for letting us non-developers build really cool solutions to business problems. Check out the write up I wrote, Microsoft's Bringing New Feature to its PowerApps Platform and be excited.