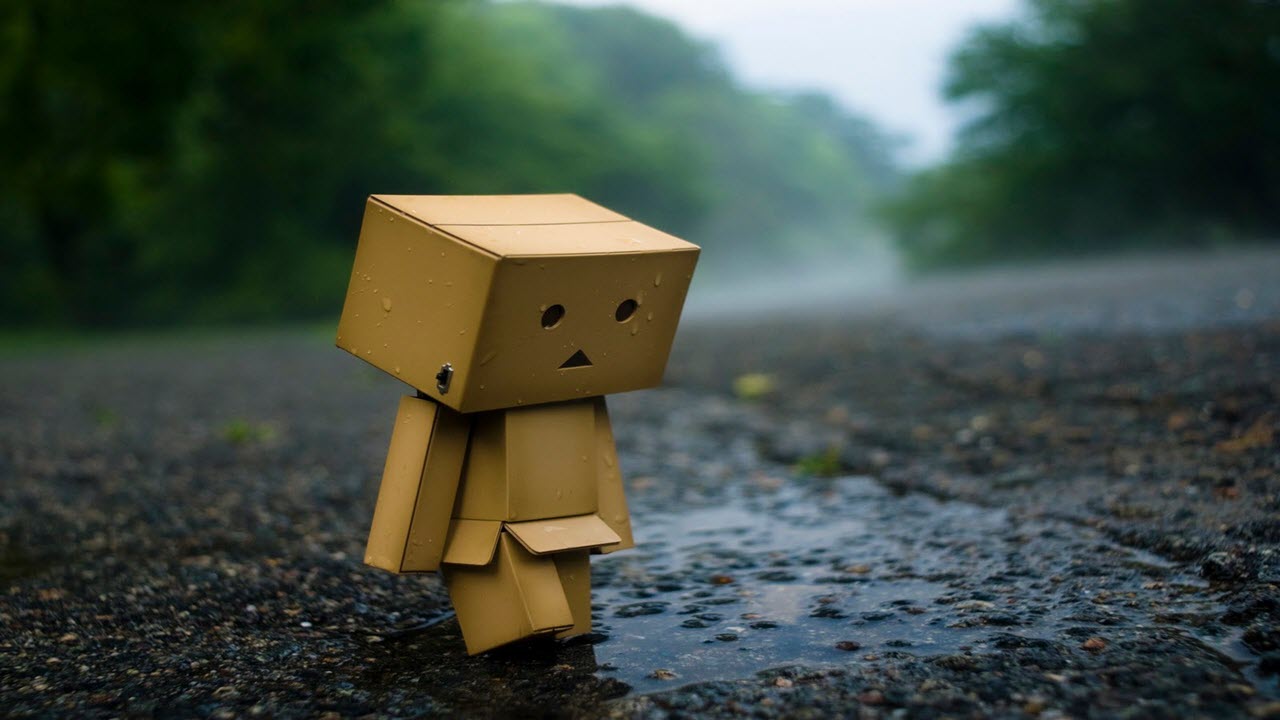 Before I kick off, I want to thank Petri IT Knowledgebase for giving me a platform to cheer, rant, and share love and frustration about SharePoint and Office 365. My goal in life is helping everyone out there in the SharePoint and Office 365 space. Believe me, you are going to need it. Just a small warning: This article is going to
Just a small warning: This article is going to slam SharePoint content types and the content type hub. Don't get me wrong, I love content types and the concept behind the hub. Unfortunately, there haven't been any major developments around content types and the hub since SharePoint 2010. That's a long, long, long time. Maybe you are wondering, what are these content types you are referring to? My dear friend Benjamin Niaulin wrote an excellent article on this topic. I want to start the article on a positive note, so I am going to address the reasons I really like content types.
Office Templates & Corporate Branding
Most customers have put a lot of time and money into creating Office templates with their corporate branding. For a good reason: You want a uniform look and feel for all your internal and external communication materials. Imagine you are building a project portal in SharePoint Online. The portal contains a document library for storing project related documents such as proposals. You want to automatically provide users with the corporate proposal template. Just take a look at the following figure: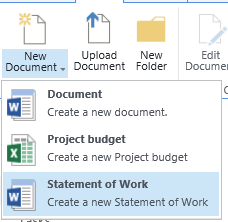 The Statement of Work is available, as a content type, in all of the document libraries. The content type is connected to an Office template: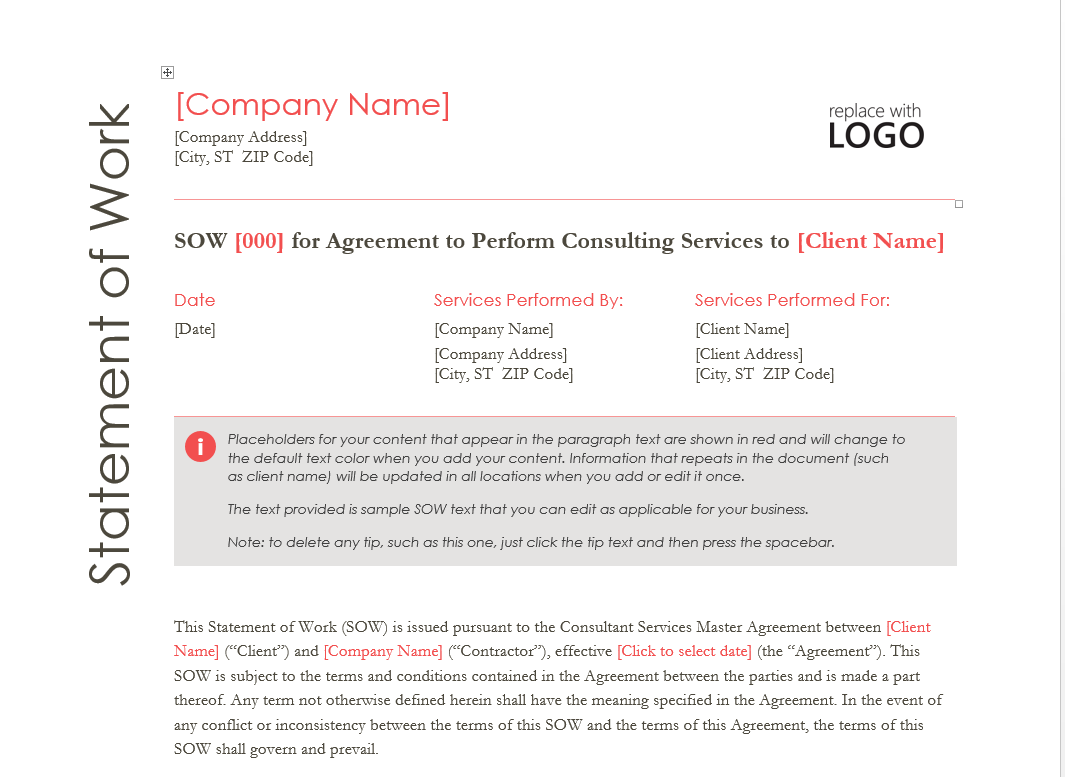 Unique Metadata Per Content Type
Metadata is unbelievably valuable in structuring and finding documents. Content types assist you by allowing unique metadata per content type. This gives you a lot of flexibility when organizing your content. Check out the following example: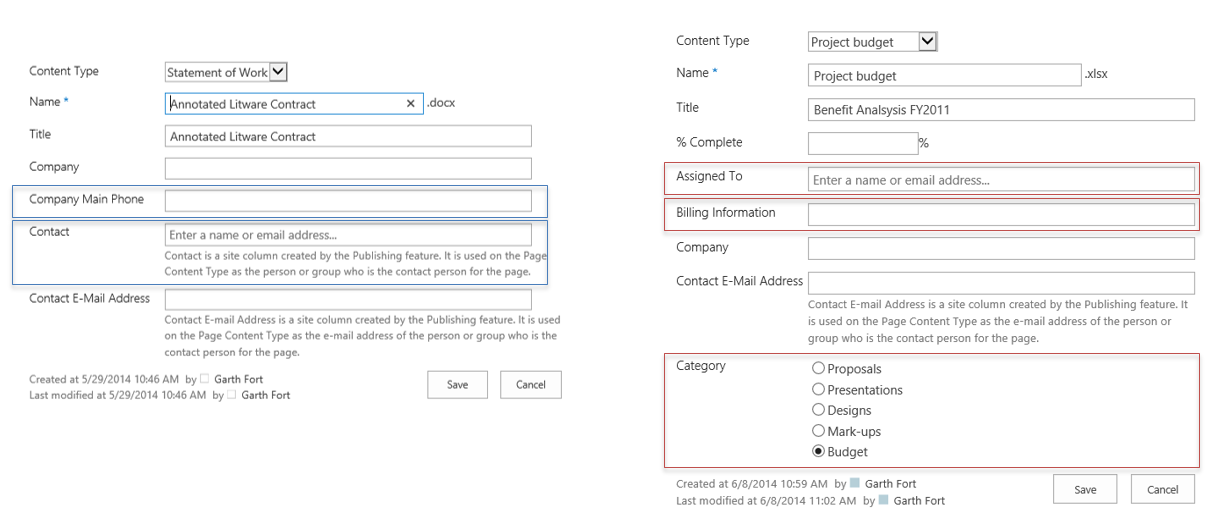 Both content types share similar metadata but also have their own unique metadata.
Re-usability
Going back to the project portal scenario. Imagine, you have multiple sub sites. You don't want to create a content type per site. Luckily, you don't have to do so. You can add the content type in the document libraries of the sub sites.
I do have one major issue with content types: You have no idea where they are applied within SharePoint Online. Is this important? Yes! There have been many occasions in which I haven't been able to delete a content type because it was in use somewhere. Frustrating? Yes. Do you also want Microsoft to fix this? Please vote for the UserVoice item here. Believe me, Microsoft really looks at UserVoice and listens to the community. Let your voices be heard!
Content Type Hub
By now you hopefully have a clear understanding of what content types are and why they are great. Next up: The Content Type Hub. Why is the hub so important? I mentioned the re-usability of content types. Unfortunately, this is limited to a site collection. You must recreate your content types in every SharePoint site collection. This is going to be really time-consuming when your company, or customer, has many SharePoint site collections. It's also fault sensitive and not manageable. This is where the hub steps in! You can create, configure, and maintain your custom content types within one central location. Sounds amazing, right? The reality isn't that amazing. I have been losing my faith in the SharePoint Content Type Hub over the past year. Why? There are multiple pain points. Let's take a closer look.
SharePoint Online Timer Job
The content types are deployed to all the SharePoint Online site collections (more about this later) by a "magical" timer job. Sounds great, right? Well, it isn't. The timer job runs once every hour and you have no idea when this "magic" moment happens. You can imagine the impact on your configuration & test activities. You must manually refresh the site settings page, to see if the content types are deployed. My solution: The hub should deploy the content types more often and/or display the time within the Office 365 Admin Center when the timer job is going to be kicked off.
SharePoint Online Site Collections
Your newly created content types are deployed to all the SharePoint site collections. Is this an issue? Not necessarily, but it creates unnecessary clutter and confusion for SharePoint site owners. They have no idea where all these content types are coming from and why they exist. My solution: The Content Type Hub should offer the ability for you to select the SharePoint site collections in which you want to deploy the content types.
Deleted Content Types Still Being Deployed
One of our customers has been facing this issue for months. We retracted a content type from the hub and deleted it. Unfortunately, the content type is still being deployed to newly created site collections. This issue has been with Office 365 support for more than a month. My Solution: Microsoft should prevent issues likes this by making the hub a stable service.
Microsoft Support Content Type Amount Recommendation
One of my contacts was told, by Microsoft Support, not to add more than 20 content types in the hub. Really? For larger deployments, this amount is very slim and that's an understatement. My solution: Lift the recommended limit of 20 SharePoint content types.
Deployment of Site Columns
A content type contains unique metadata provided by site columns. The SharePoint site collections receiving the SharePoint content types can contain the same site columns. This results in the SharePoint content type not being deployed. Unfortunately, you aren't notified about this prior to you publishing the SharePoint content type. You must go to the site settings in the site collections and view a not so user-friendly log. Believe me, before you fixed the issues, your work day has come to an end. My solution: The Content Type Hub should run a test before the deployment and provide a warning about any upcoming issues.
Are You Depressed, Yet?
Are you already crying or screaming out of frustration? My tears dried up a while ago and I decided to stop using the Content Type Hub due to the reasons I listed in this article. In my eyes, it's out-of-date and completely unreliable. My recommendation is to talk with your developers to create a site provisioning solution to include your custom content types. This is going to save you a lot of frustration and time. I understand, this isn't really a solution. The hub is an out-of-the-box solution; it should work. The only party able to fix this issue is Microsoft. I really urge the company to get back to the drawing table and fix all the limitations of the content types and the hub.