Correcting Display Direction for Text-based E-mails in Outlook 2007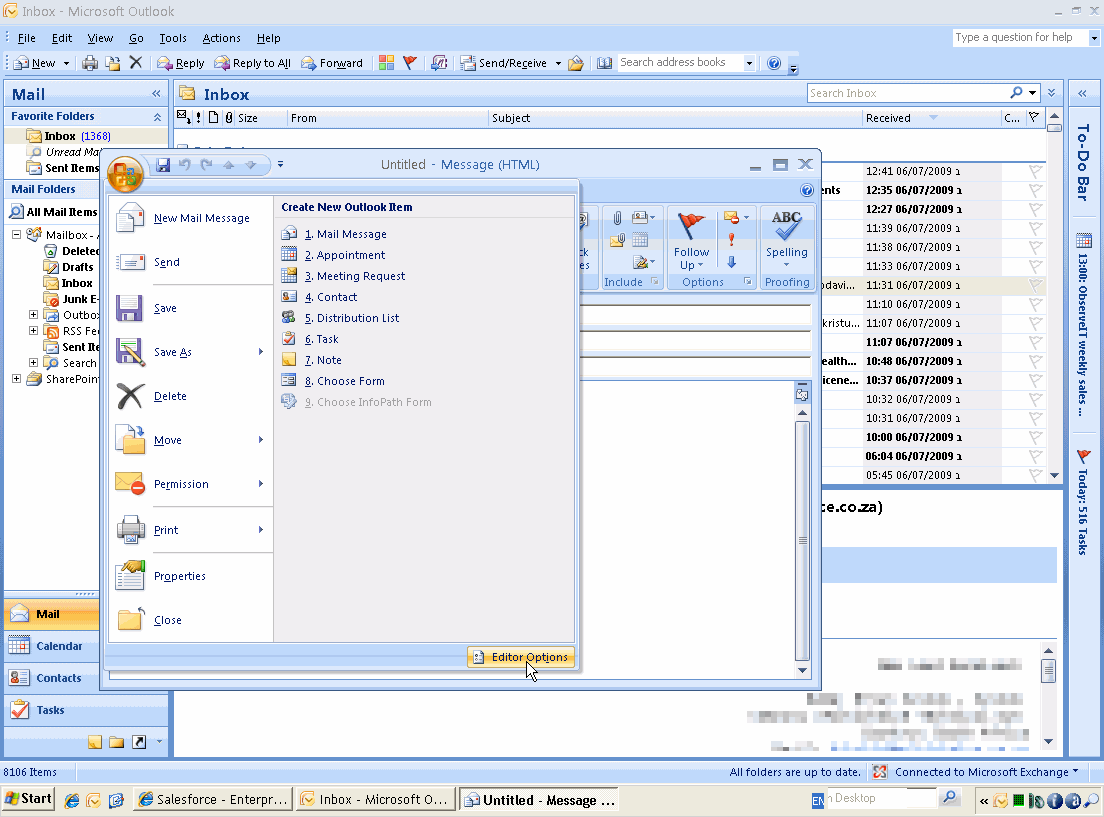 This is a major annoyance in Outlook 2007 for many users that work with languages that are written and read from right to left, such as Hebrew and Arabic.
It seems that Outlook 2007 wrongfully displays e-mail messages that are written in plain text (i.e. not rich or HTML texts). When such an e-mail message is received in Outlook, and when the local system locale is one of right-to-left format, the e-mail is displayed from right to left in the preview pane, and also when you open it in a separate window. This is fine as long as the e-mail is written in a right-to-left type of language such as Hebrew and Arabic, but what if the message was in English for example (or in any left-to-right type of language)?

For example, this message is in English:


Notice how the entire text is displayed from right to left.
If you want to switch it to the right display format, meaning left to right in this case, you need to open the message, forward or reply to it, and press CTRL+A to select all text, and then switch language direction by using the LEFT SHIFT+ALT keys.
So how can you fix this annoyance?
What I found is that all you need to do is to change one language setting in any Office 2007 application. I've used Outlook in this example, as it's the one Office 2007 application that suffers the most from this.
1. Open a new e-mail message.
2. Click on the Office button, the big round thing in the top-left corner of the e-mail message window.
3. Select "Editor Options".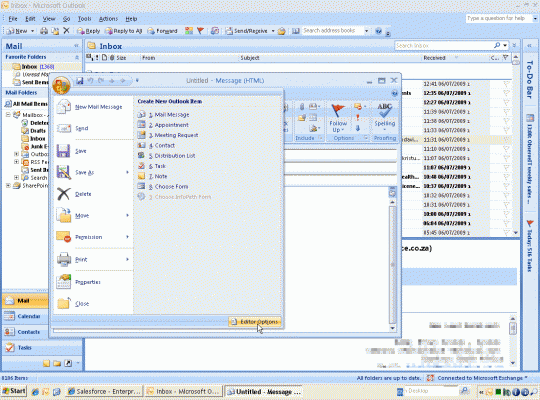 4. In the Popular area, click on the "Language Settings" button.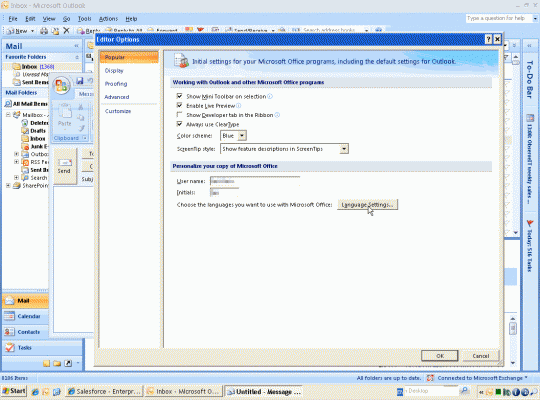 In the "Microsoft Office Language Settings 2007" window, in the "Primary editing language" area, you should see "Hebrew" (or any Arabic language, if that is your case).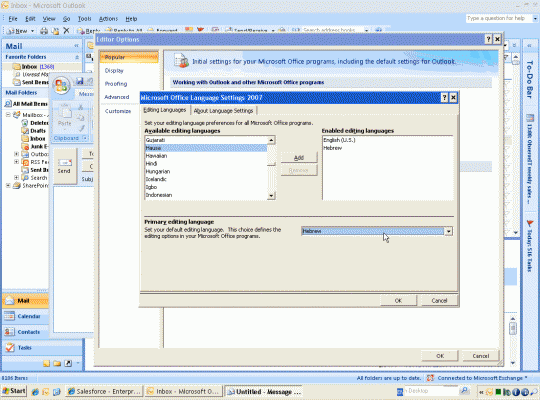 5. From the drop down list, select English (US) and click Ok. You can use any language of your choice, but beware, the moment you click to select a language, it will automatically move to the "Enabled editing languages" list. So only click on the language you want.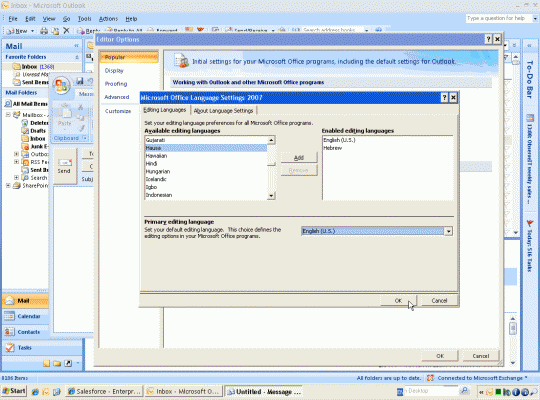 6. Next, click Yes in the profile change prompt.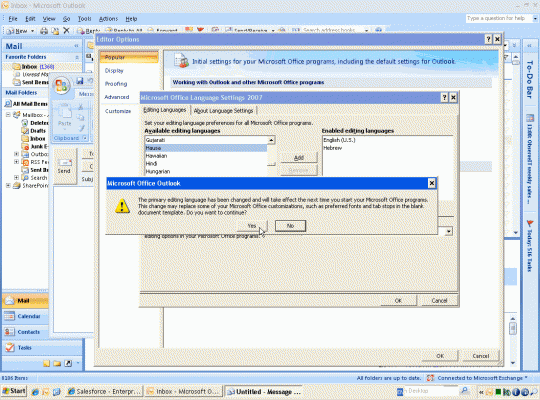 7. Close Outlook and re-open it. Now navigate to the same e-mail message and you'll see it being displayed the right way, i.e. from left to right.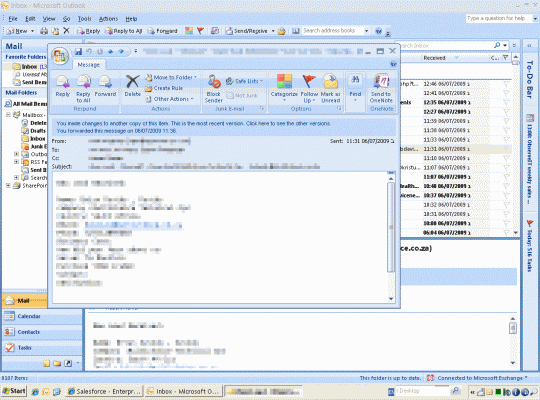 If this doesn't help, you can try the following:
1. Click on Start > All Programs > Microsoft Office > Microsoft Office Tools > Microsoft Office 2007 Language Settings.
2. Click on the Editing Languages tab.
3. Change the (Primary Editing Language) to English.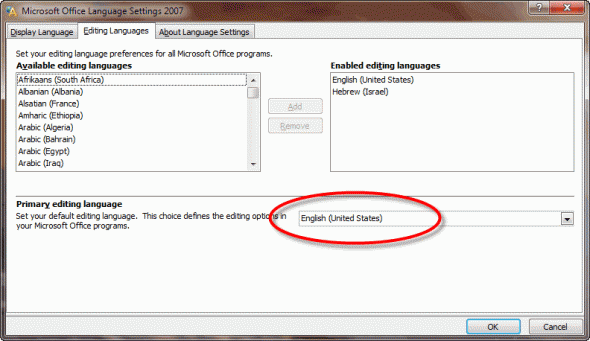 4. Click OK, then restart Outlook.