At TechEd Europe 2014 I had the pleasure of helping Microsoft Learning with staffing needs as a MCT Ambassador. Out of this role, you help attendees by answering questions on Microsoft certification, certification tracks, and where to find exam information. I was additionally asked to present a 'Chalk and Talk' session to explain the difference between taking Office 365 exams or taking Exchange, SharePoint and Lync exams separately.
Although this session was originally planned to take 30 minutes, we ended up in having a very good and interactive discussion that lasted 90 minutes. I though this was a good topic to address on the Petri IT Knowledgebase, as this question is actually pretty popular.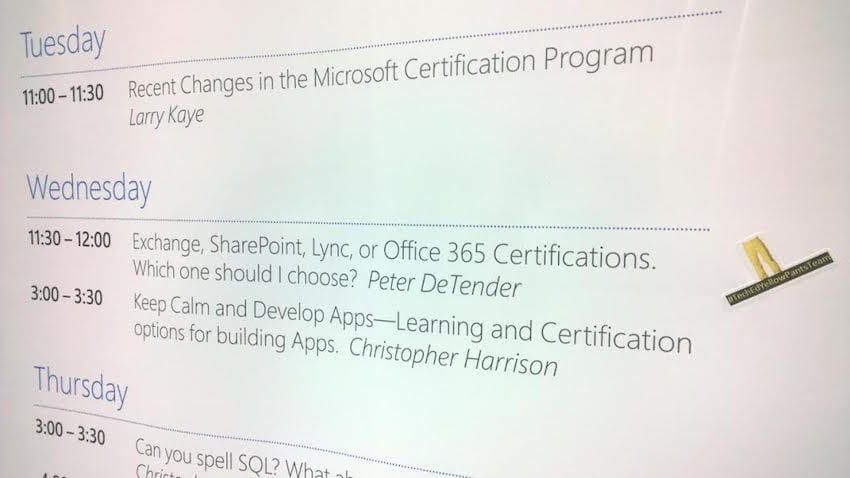 Exchange, Lync and SharePoint 2013 Certifications Explained
Let me start by providing you with an overview of the traditional, existing exams with a bit more details about each. Exchange, Lync and SharePoint 2013 are classified as Microsoft Certified Solutions Expert (MCSE), which require you to have the Windows Server 2012 MCSA certification as prerequisite. This puts these certifications on the same level as the MCSE Desktop Infrastructure, Server Infrastructure or Private Cloud certifications, which are commonly referred to as an advanced certification.
Each technology track is also comprised of two different exams, which includes a Core Solutions and an Advanced Solutions component. You need to pass both to receive the MCSE credential.
Office 365 Certifications Explained
Office 365 on leans towards the Microsoft Certified Solutions Associate (MCSA) credential, which is considered as a more entry-level certification. To obtain the valid credential, you need to pass two exams. The first is exam 70-346, which is focused on Identities that focus on Active Directory, DirSync, and Active Directory Federation Services. The second is exam 70-347 and is focused on the technical solutions, which includes Exchange Online, Lync Online, and SharePoint Online.

Which Microsoft certification track do I choose?
Now you know the differences between the two main tracks, we try to find an answer to your question. The answer is actually pretty easy: it depends. That doesn't really answer your question, does it? Let me give you a few thoughts on this based on my perspective from being both a Microsoft trainer and consultant.

Find your answer starts with finding out what technologies you are focused on. Maybe not today, but let's say within the next year or so. Also, keep in mind the speed of changes that we're seeing in cloud technologies recently.
If the core of your job requires you to have deep understanding of the technical solutions in an on-premise environment, then I would recommend taking the MCSE path. As an example, let's say you are an Exchange 2010/2013 system administrator, and your organization or customers are primarily implementing on-premise infrastructures. In this case, you would personally benefit more from this credential.
However, if you or your customers are mainly performing Office 365 implementations, then the obvious path is the MCSA track for Office 365.
To make things a bit more complicated, there is also a hybrid path that you can take. Let's imagine that there are parts of your organization's IT infrastructure that are still running in your own data center and parts are being moved to Office 365. In this case, the answer is a bit harder. From a technology perspective, it is clear to take an Exchange or SharePoint exam, as these focus on the core components of the technology. But because Office 365 is a collection of multiple technologies, it might be a more difficult one to take, even where it is only an MCSA-level exam. Alternatively, let's think of this as if you are an Exchange admin. Taking the Exchange 2013 exams might be easier for you then taking the Office 365 exams. In this case, you are 100 percent focused and within your comfort zone with Exchange Server. In the other case, only 30 percent of the questions will be around your specific technology.
Another challenge you might face is the MCSA/MCSE classification. Again, let's start with an example, this time imagining that you are the SharePoint infrastructure administrator for your company. Ninety percent of your job is working inside SharePoint. Why should you care about the pure server OS infrastructure layer since it's managed by another department? If you decide to take the SharePoint MCSE exams, then it might be a huge challenge to first take and pass the three MCSA prerequisite exams on Windows Server 2012 R2.
During the discussion, this was countered by someone in the audience that said although Office 365 is based on Exchange, Lync and SharePoint, it is not 100 percent identical, where the specific technical parts might be pretty easy to understand, a challenge lies in the interaction between all components, as well as towards Active Directory, ADFS, DirSync and more.
The last topic we discussed during this session was why there is a difference between MCSA and MCSE. Feedback from the audience indicated that Office 365 should have been classified as an MCSE exam and not as a lower or easier MCSA exam. So far, I couldn't get any feedback from Microsoft Learning on this question. With that said, I'll make sure I get this question answered.
My personal opinion that I shared with attendees is that it is currently very hard to keep up with the technologies and related exams, especially cloud-related ones. In about every Microsoft product, there is interaction and deep-integration that's possible with a cloud solution. But, as the cloud-component is changing and updating rapidly, it is not easy to keep up with all these changes in the exam-development cycle. Considering that there finally is an Office 365 track available, I'm pretty sure new more cloud-specific exams will be published soon.
For all additional information about currently available exams and how to prepare for them, you can visit the Microsoft Learning landing page. Please do not hesitate to shoot me a question or share your own experiences in the article comments below.