Build 2015: Microsoft Bridges the Windows 10 Gap for Developers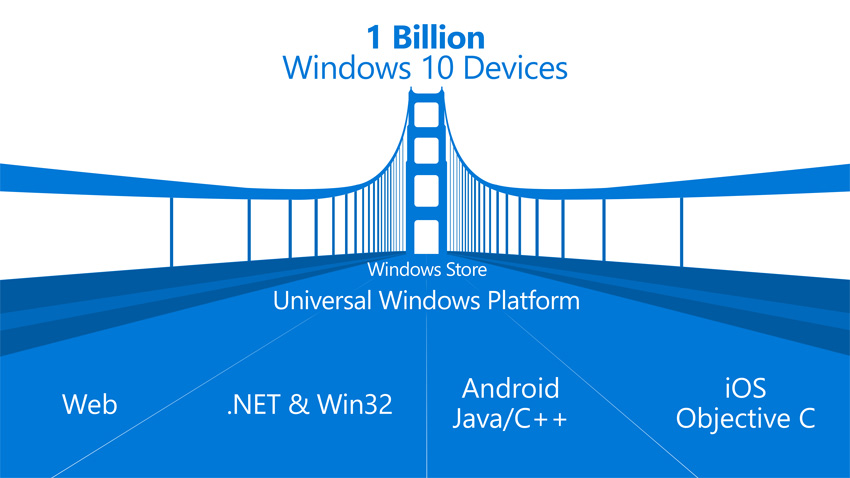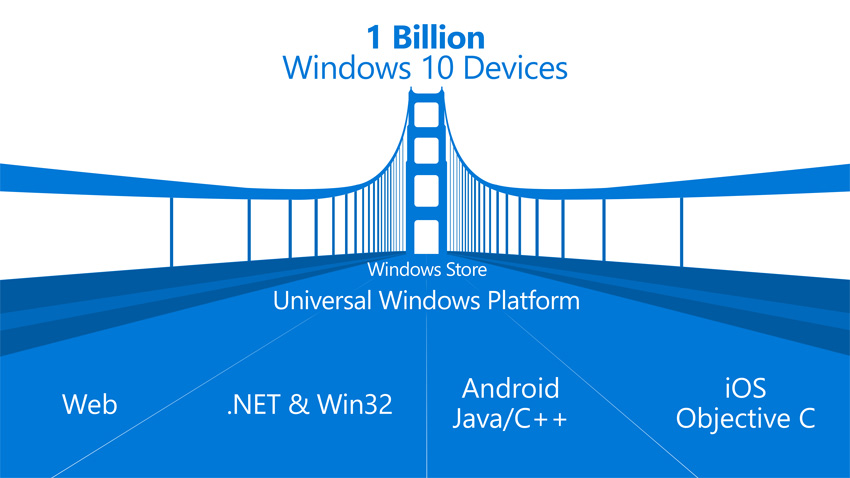 With a bridge-building theme as a backdrop, Microsoft on Wednesday announced a series of changes that fundamentally alter the relationship developers have with Windows 10. Now, Microsoft is embracing web and legacy desktop applications, and it will let developer easily port Android and iOS apps to Windows 10 too.
Folks, this is not your father's Microsoft.
"Today we shared our bold goal –to see Windows 10 on one billion devices within two to three years of Windows 10's availability – the first platform version, in any ecosystem, to be available on one billion devices," Microsoft executive vice president Terry Myerson wrote in a post describing the Build announcements. "We will accomplish this by delivering Windows 10 with a free upgrade offer, making it easy for customers and businesses to upgrade quickly, and with great new devices."
Here are the key bridge-building announcements Microsoft made for Windows developers on Wednesday.
For Windows developers. Microsoft will enable developers to adapt existing Windows desktop applications (Win32, .NET, Windows Forms and so on) and distribute them in the same Windows Store that currently offers only Modern/Metro and universal apps. These desktop applications will need to be modified slightly to use an application virtualization technology that will sandbox them in order to offer some of the benefits of Windows Store apps.
For iOS developers. Via "Project Islandwood," iOS developers will be able to take existing XCode projects and compile them with Visual Studio into native universal apps with minimal work. Microsoft has been secretly testing this system for months, and some high-profile apps in the Windows/Phone Store—including "Candy Crush"—already utilize this system.
For Android developers. Via "Project Astoria," Windows users will be able to run Android apps on Windows 10 phones, devices and PCs alongside Windows apps. These apps will use an-on device emulator that will be included with Windows 10, but as with iOS apps, they will need to be modified slightly by the developer.
For web developers. Microsoft will enable a new hosted web apps platform that will let web developers run hosted web apps on Windows 10.
In addition to these advances—each of which involves a new SDK release—Microsoft also made a number of other announcements related to Windows 10 during the Build keynote:
Windows Store for businesses. Businesses will be able to adapt the Windows Store to display a special tab for their business, and include lists of approved public apps and private LOB apps.
New payment instruments. Today, only Windows Phone offers carrier-based payments, which is key for many emerging markets, so Windows 10 will extend this support to all Windows devices, including tablets and PCs. And it will support business payment options, including purchase orders.
Continuum for phones. On tablets and 2-in-1 PCs, a new feature called Continuum helps users switch between the traditional desktop view and a new full-screen Touch mode. At Build, Microsoft showed off Continuum for phones, which will let you use a Windows Phone with a Bluetooth-based keyboard and mouse, and with an external display, essentially turning the pocketable device into a full-blown PC.
HoloLens. Microsoft showed off a more complete version of its HoloLens augmented reality system and how universal apps would work with the device. They also showed off some third party apps for the first time, including a gorgeous version of the USA Today app.
Microsoft Edge. Microsoft's new web browser—previously codenamed Project Spartan—will be called Microsoft Edge. The firm made some noise about the name being about users "on the edge of consumption and creation," but the real reason for the name is that it lets them use a familiar "E" logo on the icon. Yes, really.
Be sure to check out Thurrott.com for more coverage of today's Windows 10 announcements at Build.