AWS Panorama Provides Computer Vision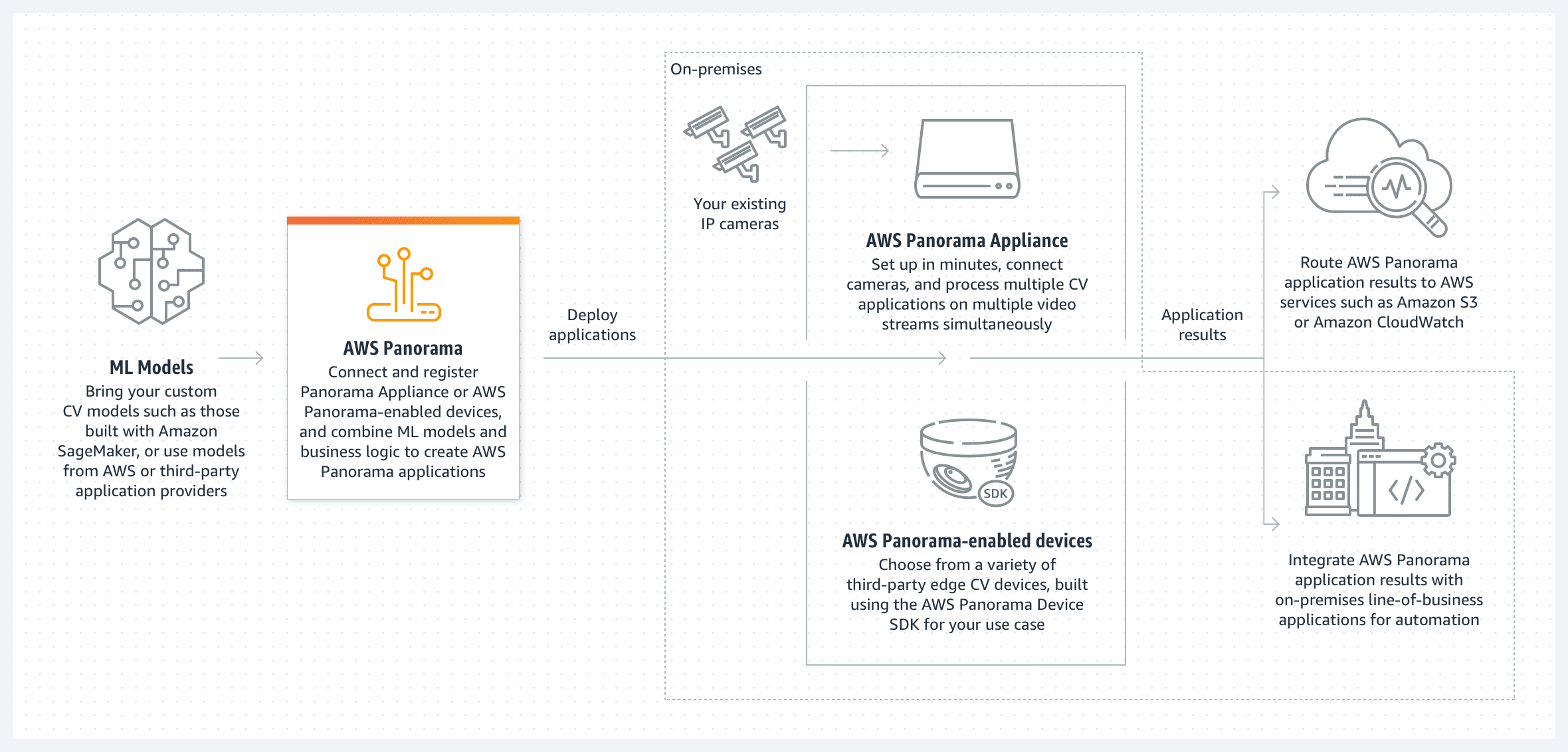 This past October 20th, 2021 Amazon announced the general availability of their new AWS Panorama appliance. Adding to their ever increasing number of on-premises solutions, AWS Panorama shows exactly how seriously AWS takes the hybrid cloud market.
What is AWS Panorama?
The AWS Panorama appliance is a computer vision (CV) appliance that uses Machine Learning (ML) to analyze images provided by your on-premises cameras. AWS Panorama is designed to enable businesses in industries like manufacturing, hospitality, logistics, and retail to make decisions faster and optimize their operations. For example, it could be used to perform physical inspections of production lines to spot defects in the manufacturing process.
Automate tasks that would normally require human interactions
The appliance enables businesses to automate tasks that would normally require human interactions. For instance, some businesses use manual processes like watching video feeds in real time to monitor processes or other work conditions. This can be tedious, expensive, and difficult to scale.
Alternatively, some existing smart cameras can provide real-time visual inspection. However, replacing existing cameras with new smart cameras can be costly. In addition, some customers capture and then forward video feeds to external third party servers for processing and analysis but this requires significant internet bandwidth, which can be costly and in some cases slow.
AWS Panorama is an on-site hybrid appliance
AWS Panorama is a ruggedized IP62 rated appliance that is designed for edge deployments. It's both dust proof and water resistant. It is intended to locally process video feeds enabling you to control where your data is stored and to analyze video feeds locally in milliseconds allowing businesses to save on bandwidth costs and to use it in locations with limited internet bandwidth.
The appliance supports RTSP-enabled IP cameras and allows you to add IP cameras that support the ONVIF standard. It uses a built-in Nvidia Xavier GPU for fast machine learning processing. It supports connecting to multiple camera streams and running multiple ML models per stream. AWS Panorama stores versioned copies of the assets like ML models and the business logic deployed to the appliance in the AWS cloud.
Fender guitar uses AWS Panorama to track production metrics
Fender, the guitar manufacturer, was an early adopter. Michael Spandau, SVP Global IT for Fender guitar stated, "Many unique components go into each guitar and each instrument is carefully crafted. With Panorama and help from the Amazon Machine Learning Solutions Lab, we can have real-time visibility into metrics for the first time, such as how long it takes to manufacture different types of guitars, and how much time each process requires. We can use these metrics to spot bottlenecks, optimize efficiency, and improve overall operations."
Costs and availability
AWS Panorama has a one-time charge for the appliance of $4,000 per device.  In addition, there is a charge of $8.33 per month for each unique camera video stream processed on the appliance as well as Panorama application cloud storage that costs $0.10 per GB-month.
There may be additional charges if the business logic used by the accesses other AWS services. The AWS Panorama service is currently available in US East (N. Virginia), US West (Oregon), Canada (Central), and Europe (Ireland). Additional Amazon Web Services (AWS) Regions are planned for the future. You can learn more at AWS Panorama.